According to the 2022 ABIA (Brazilian Food Industry Association) annual balance, the food and beverage industry is the largest in Brazil, responsible for processing 58% of everything grown in Brazilian fields, generating more than 1.8 million jobs. In 2022, this industry invested around R$15b in research, development, and innovation, and Mintel Brazil is honored to be part of the innovation movement of this category for the past 10 years. 
In 2023, Mintel Brazil celebrates 10 years of serving clients in the region! To celebrate this important milestone, we've looked back over the last decade to explore how changing consumer behavior has impacted food and beverage innovation and spotlight the trends Mintel identified first in the industry.
From 2013 to 2023, here are 10 food and beverage trends that highlight the shifts and evolution of CPG food innovation and consumer behavior over the last 10 years. 
2013: Sugar, fat, and salt—oh my!
Around 2010, the food and beverage category placed significant emphasis on offering options with 'reduced' or 'no' amounts of certain components, particularly sugar, fat, salt, and calories. According to Mintel Global New Products Database (GNPD), in 2013 approximately 13% of the food launches in Brazil made this claim, which was one of the highest percentages among health-related claims. For example, Yoki Popcorn with a 0% trans fat claim on the front of the package had the biggest percentage of launches with this claim. Mintel research from 2013 anticipated the possibility of new legislation, regulations, and government initiatives focusing on high sugar, fat, and sodium content. This was well before the implementation of the new Brazilian label laws and regulations, which introduced warnings and came into effect at the end of 2022.
Since then, as Brazilian consumers continue to prioritize their health, limiting sugar (52%) and salt (58%) has emerged as a top preference for consumers seeking to adopt healthy eating habits and maintain a healthy diet. 
2014: Sustainability messaging surges
Over the past decade, sustainability has gained significant importance both globally and within Brazil's food and beverage industry. Alongside claims focused on health and well-being, there has been an increase in the significance of sustainability. Specifically between 2013 and 2014, there was a substantial surge in the number of food and beverage launches featuring claims such as 'ethical-environmentally friendly packaging' and 'ethical – recycling.' According to Mintel GNPD, around 22% of all food and drink launches had at least one of those claims in Brazil. 
One noteworthy example of this trend is Coca-Cola Crystal Water, which introduced a 500ml bottle made of 100% recyclable material. This innovative packaging solution utilized 20% less plastic and incorporated 30% plant-based materials, resulting in enhanced recyclability. Upon its launch, the new bottle received mixed opinions due to its reduced rigidity compared to traditional bottles. 
However, the brand successfully addressed these concerns through a comprehensive campaign that explained the reasons behind the design choices. This campaign not only increased visibility but also paved the way for the continuous release of updated, sustainable versions of the product, maintaining a strong focus on environmental responsibility.
2015-2017: 'Whole' claims—not just about diets anymore
The years 2016-2017 stood out as a time of increased launches featuring 'whole' claims, accounting for over 4% of all food and beverage introductions in Brazil. Some were associated with a 'zero' claim, which was more prevalent earlier in the decade and often linked to specific diets. 
The majority of Brazilian consumers in 2015 disagreed that 'whole grainswhole grain products are only for those who are on a diet' compared to 30% who agreed. This shift indicated a growing recognition among Brazilian consumers that whole grains and whole grain products offer benefits beyond just being suitable for dietary purposes. An example is the Wickbold Wholegrain and Zero Sliced Bread which launched in 2016. 
2018-2019: Protein and plant-based emerge
Over the last 10 years, there has been an increase in the availability of products focusing on 'high/added fiber' and 'high/added protein,' aligning with growing interest among Brazilian consumers. Three-quarters of Brazilians agreed that consuming food and drinks with added benefits is a good way to make sure that they're consuming all the nutrients they need (eg fiber, proteins, vitamins).
According to Mintel GNPD, in 2019, there was a significant surge in the percentage of launches with the claim 'high/added proteins', accounting for nearly 5% of all beverage and food product launches in Brazil. So far in 2023, 56% of new nutritional drinks, 10% of new snacks, and 8% of new dairy product launches carried this claim. For example, Danone YoPro has 15g of protein and contains whey and protein-rich casein. 
A second trend emerged during this time,  all about plant-based foods. According to Mintel GNPD, the percentage of new meat alternative product launches in Brazil increased by 117% from 2014 to 2018. Throughout the past decade, plant-based launches have become more diversified, appealing to more than just younger consumers' curiosity. From 2018 to 2019, food and drink launches with plant-based claims in Brazil grew 147%. In 2020, 2.5% of all food and drink products launched in Brazil carried a 'plant-based' claim.
Futuro Burger was one of the most iconic plant-based meat products launched in this period, due to its flavor and texture similarity to real meat and for being a Brazilian food start-up. 
2020: All about immunity
During the pandemic, there was a heightened emphasis on immunity and related claims as consumers became increasingly concerned about their health and sought ways to strengthen their immune systems. A third of Brazilian consumers said, at the time, they were having more food and drinks with added ingredients to boost the immune system (eg turmeric, vitamins). Following this, brands leaned into the trend and responded with new product innovation, resulting in a 77% increase, between 2019 and 2020, in food and drink product launches with 'functional – immune system' as a claim.
As a result, beverages packaged in small or individual portions, such as the Piracanjuba ImunoDay, gained visibility and market presence within this category. Specifically, these beverages capitalized on the popularity of 'immuno shots' seen on social media. Many of these beverages contain fiber or probiotics focusing on digestive health as an important aspect to help consumers build a strong immune system.  
Three-quarters of Brazilians agree that it's important to them that the brands they buy from follow ethical or sustainable business practices and 63% agree that it's important to practice fair trade (ie paying fair prices in developing countries for products or labor). In the past decade, food and beverage product launches were far more focused on sustainability, specifically packaging solutions, instead of ethical claims. One example, launched in 2020, was the snack bar Nestlé + Gerando Falcões. Nestlé claimed that this product is the first socially responsible food and drink item launched in Brazil. In fact, 100% of the profits from this product are allocated towards projects in favelas (low-income communities).  
Another key trend at this time centered around mental health. Even before the COVID-19 pandemic, the importance of emotional and mental health was prevailing as a trend. A third of Brazilians were showing interest in options that improve mental agility, 29% to relieve stress, 28% to enhance sleep quality, and 23% to improve mood as far back as 2016. But during and after the pandemic, this trend gained huge momentum: 73% of consumers agreed that having healthy eating habits was as important for emotional/mental health as it was for physical health. 
Tea brand, Matte Leão, offers a variety of mental/emotional benefits and uses well-known ingredients to support relaxation, rebalancing, and energy enhancement.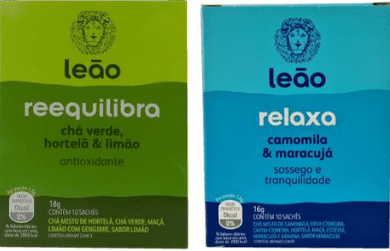 While Gen Z has garnered significant attention in terms of research, studies, marketing, entertainment content, and product innovation, the nostalgia of the Millennial generation has proven to be a rich and successful wellspring of creativity across various domains, including the realm of food and beverages. 91% of millennials agree that familiar flavors and ingredients evoke emotional comfort for them and 51% of Brazilian consumers expressed a fondness for flavors that evoke memories of their childhood. An example of it is the Cheetos Bola relaunched in 2023 to respond to consumers' requests on social media. 
Source: Instagram @Cheetos_brasil
What's next
The food and beverage industry in Brazil continues to offer companies and brands ample opportunities for innovation, providing solutions that enhance the lives of Brazilian consumers. Over the last decade, Mintel has continuously provided the latest market research, innovation insights and consumer trends from across the Latin American food and drink industry.