Data center cooling systems are used in various industries, such as information technology (IT) and telecom, banking, healthcare, finance, insurance, and retail. As servers in a data center run continuously (24/7), they increase the core temperature of the operating system, and if not controlled, can lead to data center outage; thus, cooling has becomes a standard part of data center operations. 
Excessive heat and humidity produced during operations can damage appliances and equipment while leading to malfunctioning. Hence, accommodating innovative data center cooling systems in retrofits or newly built data centers has become the need of the hour. 
According to the BIS Research report, the global data center cooling market was valued at $17.82 billion in 2021 and is expected to reach $44.52 billion by 2027, growing at a CAGR of 16.99%. With the increasing number of data centers and government initiatives for energy-efficient data centers, this market is projected to experience rising demand. 
The data center cooling market is in the developing phase currently and is expected to address major environmental issues, such as water scarcity issues, through the adoption of data center cooling technologies.
Data Center Cooling Sustainability Trends to Watch in 2023
Companies to invest in clean energy sourcing: Companies such as Microsoft, Amazon, and Google are committed to carbon-negative strategies, which has prompted several other companies to focus on carbon-neutral energy sourcing as well. With sustainability in mind, Microsoft announced a deal in November 2022 to acquire 900 megawatts of additional solar and wind energy to increase clean energy sourcing. By purchasing renewable energy credits and carbon offsets, companies such as Intel, Cisco, and Equinix are also boosting sustainability by regulating the actual volumes of carbon that their operations release into the atmosphere. More such investments are expected as several companies are planning to go completely carbon-free and invest in clean energy sourcing. 
Next-generation sustainability technologies: By utilizing technologies such as AI, tech companies could deliver much more significant energy and carbon savings. AI can easily identify issues with cooling systems before they are about to fail and can prevent costly shutdowns. Several other technologies are trending in the coming year. For instance, Intel will create a reference design for immersion cooling, which is a technique involving immersing servers and other equipment in non-conductive liquids that enable hyper-efficient cooling. Additionally, Microsoft is planning a successful proof-of-concept in 2023 to show that hydrogen cells might replace backup diesel-power generators in the company's data centers. 
Growing awareness of water efficiency: Not just energy consumption but water consumption has also been at the front and center of conversations about data center sustainability. With respect to this, companies are pledging to become water-positive, which means they are focusing on saving water. Microsoft, Google Cloud, and Amazon have taken the initiative to disclose their comprehensive water usage effectiveness data to provide a simple means of comparing water sustainability effectiveness across the world. 
The Future of Data Center Cooling
With several emerging data center cooling technologies available, there are plenty of opportunities to retrofit data centers. Moreover, data center infrastructure management (DCIM) can also be facilitated with better and more efficient cooling techniques. Along with this, the priorities for 2023 are set to step toward attaining sustainability goals. 
Learn More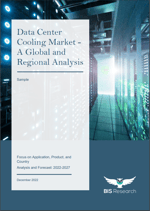 For more information on this fast-growing market, please see Data Center Cooling Market – A Global and Regional Analysis and Forecast – 2022-2027. This detailed 311-page report is packed with data and insights covering data center cooling market segmentation, recent developments, market demand, drivers and challenges, the competitive landscape, and key players. 
This report draws on extensive primary and secondary research to help industry players design the right business strategies for this competitive, ever-shifting market.
---
About the Publisher: BIS Research is a global market intelligence, research and advisory company that focuses on emerging technology trends that are likely to disrupt the market. Its team includes industry veterans, experts, and analysts with diverse backgrounds in consulting, investment banking, government, and academia.
---
Additional Articles