The active pharmaceutical ingredients (API) manufacturing market is poised to achieve significant growth amid rapid technological advancements in the next few years, according to expert forecasts published in a new report by The Business Research Company.
An active pharmaceutical ingredient is a chemical that is responsible for the pharmacological activity in the living body and is used as a major basis for the preparation of drugs that treat a wide variety of diseases such as cardiovascular diseases, rare genetic disorders, infections, metabolic disorders, cancers, respiratory diseases, and others.
Following is a brief overview of the key data, trends, and insights covered in the pharmaceutical API manufacturing market research report.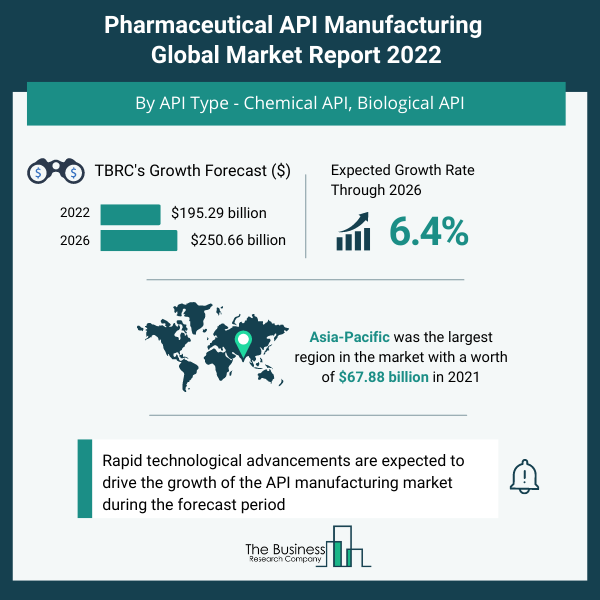 1. The Pharmaceutical API Manufacturing Market Will Be Worth $250 Billion By 2026
The global pharmaceutical API manufacturing market size is expected to grow from $179.05 billion in 2021 to $195.29 billion in 2022 at a compound annual growth rate (CAGR) of 9.1%. The pharmaceutical API manufacturing market is expected to reach $250.66 billion in 2026 at a CAGR of 6.4%.
2. Rapid Technological Advancements Are A Major Driver for the Market
Rapid technological advancements are expected to drive the growth of the API manufacturing market during the forecast period. Continuous technological advancement promises a faster and more agile approach to API development and manufacturing. For example, in March 2020, Quartic.ai and Bright Path Laboratories inked an agreement to jointly develop an artificial intelligence technology platform designed for continuous manufacturing of active pharmaceutical ingredients and other small-molecule drugs. The collaboration will build on Quartic.ai's AI manufacturing expertise and Bright Path Labs' continuous flow reactor technologies.
3. Asia-Pacific Was the Largest Region in the Pharmaceutical API Manufacturing Market in 2021
Asia-Pacific was the largest region in the pharmaceutical API manufacturing market and was worth $67.88 billion in 2021. The pharmaceutical API manufacturing market in Asia-Pacific is supported by the presence of a large end-user population in countries such as China, India, Japan, and other Southeast Asian nations, and rising cancer prevalence. Improved access to healthcare and favorable government initiatives to improve healthcare aided the market for API manufacturing in the region.
4. Pfizer Inc. Held the Largest Share of the Pharmaceutical API Manufacturing in 2021
Pfizer Inc. was the largest competitor in the pharmaceutical API manufacturing market in 2021, with a 0.94% share of the market. As per the pharmaceutical market analysis, Pfizer's growth strategy emphasizes product approval as a means of expanding the company's global reach and growing its manufacturing sites by launching new research centers.
For example, in May 2022, Pfizer Inc. inaugurated a global research centre in Chennai, India, which will develop APIs, finished dosage forms (FDFs) such as complex/value-added formulations, controlled-release dosage forms, device-combination products, lyophilized injections, powder-fill products, and ready-to-use formulations. Also in 2018, Pfizer CenterOne (CDMO) of Pfizer Inc. received approval for its green-chemistry progesterone API, Enviero®, to be used in a drug product developed by French pharmaceutical company, Effik, for the first time in the EU. The European Medicines Agency (EMA) has granted Effik, an Italfarmaco Group subsidiary, permission to use Enviero® in its ESTIMA® therapy.
5. Pharmaceutical API Manufacturers Are Adopting Sustainable Practices
Companies in the API manufacturing market are focusing on continuous improvement and green chemistry to increase the sustainability of API manufacturing operations. Players in the market are concerned about the adverse impact of their operations on the environment, which cannot be reversed. Hence, they are making efforts to achieve a strong and sustained reduction in emissions of carbon dioxide (CO2), other greenhouse gases (GHGs), and waste streams to limit climate change and damage to the environment.
For example, in October 2021, the IQ Green Chemistry Working Group, a US-based not-for-profit organization of pharmaceutical and biotechnology companies, adopted the Green Aspirational Level (GAL), originally developed by a Germany-based pharmaceutical company, Boehringer Ingelheim, as a standardized green efficiency goal for API manufacturing processes. The consortium also developed a Green Scorecard to show the value-added impact of green chemistry and other improvements, including process simplification.
Pharmaceutical API Manufacturing Global Market Report 2022
Regional information on key drivers, opportunities, and strategies can be found in The Business Research Company's Pharmaceutical API Manufacturing Global Market Report 2022. The report provides an overview of the pharmaceutical API manufacturing market, analyzes and forecasts pharmaceutical API manufacturing market size, pharmaceutical API manufacturing market players, pharmaceutical API manufacturing market trends, pharmaceutical API manufacturing market segments and geographies, and the market's leading competitors' revenues, profiles, and market shares.
About The Business Research Company
The Business Research Company is a market intelligence firm that excels in company, market, and consumer research. Located globally it has specialist consultants in a wide range of industries including manufacturing, healthcare, financial services, chemicals, and technology. Find the company on LinkedIn, Twitter, Facebook, or YouTube for more.