The growing prevalence of various types of cancer, especially different forms of lymphoma and leukemia, is expected to support the growth of the global CAR T-cell therapy market during the forecast period.
According to Globocan, the number of new cancer cases reported in 2020 was around 19,292,789. Out of this, the most prevalent types of cancer were breast, lung, colorectum, prostate, and stomach cancer. Similarly, Non-Hodgkin lymphoma ranked at the 12th position, while leukemia stood at the 14th position with 544,352 and 474,519 cases reported respectively for each type.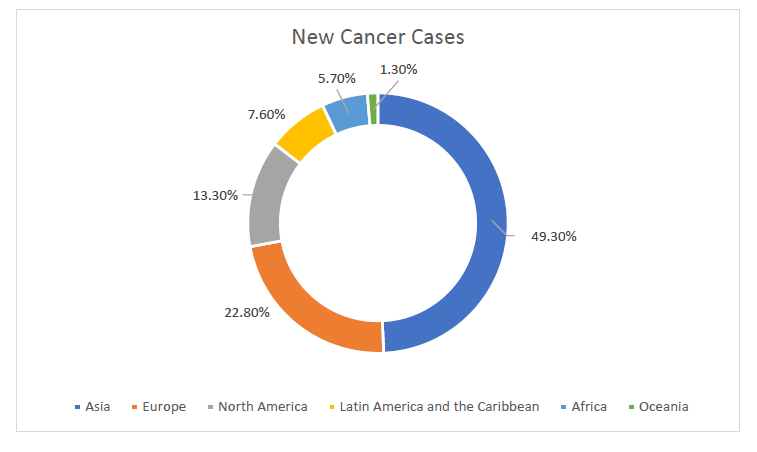 With the approval of the first CAR T-cell therapy "Kymriah" in 2017 by the US Food and Drug Administration (FDA), CAR T-cell therapy has shown potential to revolutionize cancer treatment. This therapy is a type of very intricate and particularized immunotherapy employed for treating cancer, in which a person's T-cells are genetically modified to possess chimeric antigen receptors (CAR) to fight oncologic cells in the body.
Globally Approved CAR T-Cell Therapies

Kymriah- Tisagenlecleucel (2017)
Yescarta- Axicabtagene ciloleucel (2017)
Tecartus- Brexucabtagene autoleucel (2020)
Breyanzi- Lisocabtagene maraleucel (2021)
Abecma- Idecabtagene vicleucel (2021)
Carvykti- Ciltacabtagene autoleucel (2022)
CAR-T Cell Therapy Market Data and Analysis
The global CAR-T cell market is anticipated to reach a value of USD 33,153.30 million by 2027, according to a recent market research report by TechSci Research. The primary driving factors of the industry include an increased focus on personalized medicine, flourishing pharmaceutical industries, and a rise in clinical studies based on cell therapies.
The report covers the global CAR T-cell therapy market along with different segments such as product type, tumor type, indication, treatment type, targeted antigen, end-user, and regions.
Based on product type, the market is categorized into Yescarta (Axicabtagene Ciloleucel), Kymriah (Tisagenlecleucel), Tecartus (Brexucabtagene Autoleucel), Breyanzi (Lisocabtagene Maraleucel), Abecma (Idecabtagene Vicleucel), and others. Yescarta, a CD-19 directed autologous T-cell immunotherapy by Kite Pharma Inc., is predicted to lead the market in the forecasted years. Specializing in the treatment of large B-cell lymphoma in adults, Yescarta has become the only CAR T-cell therapy to achieve an approval from US Food and Drug Administration (FDA) in April 2022 for the second line treatment of relapsed or refractory B-cell non-Hodgkin lymphoma.
North America dominated the global CAR T-cell therapy market and is expected to preserve its dominance in the upcoming years due to a variety of factors:
All the approved CAR T-cell therapies available in the US
Rigorous research, technological advancements, and treatment platforms
Presence of the leading market players
Launches of novel products
Rising number of cancer sufferers in the region, especially in the US, Canada, and Mexico
Moreover, a high number of ongoing clinical trials related to CAR T-cell therapy in North America is likely to enhance the region's biotechnological sector.
Clinical Trials Overview
Supportive government policies and initiatives along with increasing research & development expenditure by various companies operating in the market has significantly increased the number of clinical trials conducted by different corporations and academic research institutions to develop new CAR-T cell therapies or to detect the efficacy of already approved therapies in different types of cancer or patient groups.
According to clinicaltrials.gov, as of November 23, 2022, there were around 415 clinical trials registered related to CAR-T cell therapies which were in different phases of development. This includes studies that are ongoing, active, and recruiting subjects for studies and also those that have been terminated.
CAR-T Cell Therapy: Clinical Trials Heat Map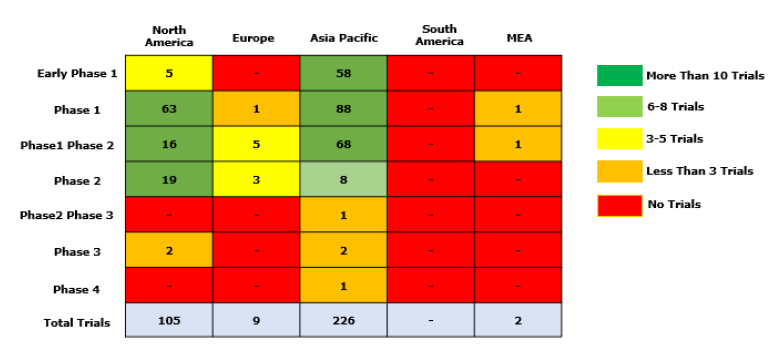 Around six CAR-T cell therapies have been approved by the US FDA and various regulatory bodies across different countries. Looking at the current pipeline of trials in the coming years, many more therapies are expected to get approval for use. Presently, there are three studies that are in phase 3 of clinical trials—of which two are being conducted in the United States and one in China—which have high possibilities of gaining approval in the coming few months.
Market Impediments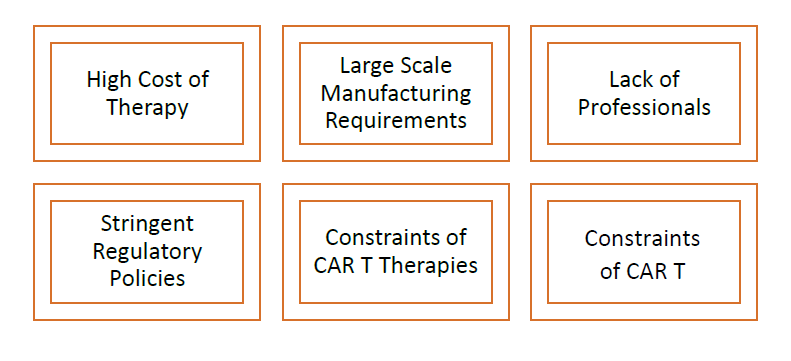 Upcoming Trends in CAR-T Cell Therapy
Cell therapy manufacturing is being carried out inside a shuttle nowadays ("Factory-in-a-Box") which offers automated and end-to-end capability of manufacturing. This manufacturing method inside the shuttle is affordable and has a lower risk of process failure than the traditional methods of cell therapy manufacturing. California-based Cellares Corporation is working on manufacturing a cell shuttle to automate and scale up the cell therapy manufacturing process and increase patient access to much-needed treatment options.
Moreover, developing CAR T-cells through allogenic sources (which means utilizing immune cells from donors) has several advantages over autologous cell therapies. These advantages include simpler supply chain, good product quality, and easy availability. Also, issues related to autologous CAR T-cells such as harvesting, product variability, and T-cell dysfunction can be addressed through allogenic products. Having an allogenic source of T-cells could help provide treatment to patients with low T-cell levels, harvest failures, or those who need treatment before autologous CAR T-cells can be manufactured. This can help in providing treatment to a large pool of population since the overall cost of the therapy could be reduced.
Switching to a decentralized model either through GMP in a box solution or establishing a network of manufacturing plants can help in ensuring cost-effective and in-time production of CAR-T cells and timely treatment delivery to patients. Decentralized manufacturing's key distinguishing characteristics are its adaptability to changing demands, patient-specific customization, aseptic production, shipping, and release.
Key Companies in the CAR-T Cell Therapy Market
The principal companies operating in the CAR T-cell therapy market include:
Gilead Sciences, Inc
Novartis International AG
Bristol Myers Squibb Co.
AbbVie Inc.
Cellectis SA
Amgen Inc.
Pfizer Inc.
Merck & Co. Inc.
Intellia Therapeutics Inc.
Poseida Therapeutics Inc
Johnson & Johnson
Allogene Therapeutics Inc
Autolus Therapeutics PLC
Humanigen, Inc.
Sangamo Therapeutics, Inc.
Recent CAR-T Cell Therapy Developments
According to Allogene Therapeutics Inc., a producer of allogeneic CAR T-cell products for treating cancer and the pharmaceutical firm behind the endeavour, a new programme called CAR T Together was recently created with the aim of increasing access to CAR T-cell therapy for people who are eligible for it. CAR T Together, which aims to boost interest in allogeneic (also known as off-the-shelf) CAR T-cell therapies, will involve clinicians from all over the United States.
IASO Biotherapeutics Co LTd, a clinical-stage biopharmaceutical company focused on exploration, developing, and production of innovative medications, and Umoja BioPharma Inc, an immuno-oncology firm pioneering off-the-shelf, integrated therapeutics that reconfigure immune cells to treat patients with solid and hematologic malignancies, disclosed in November 2022 that they have entered into a research agreement to compare Umoja's iCIL platform with IASO's best-in-class CARs. In order to improve patient accessibility, the collaboration will concentrate on providing allogeneic treatments to patients with haematological malignancies.
Final Thoughts
CAR T-cell therapy is sometimes referred to as a "living drug" and offers many key advantages. CAR-T cell therapy needs a brief treatment time and often just a single infusion can do wonders as compared to chemotherapy treatments that require months and months to complete with multiple infusions. Also, CAR-T therapy is durable and has long-lasting effects, treating remissions with absolute efficiency. Persistence of CAR T-cells in the body aids in treating cancer relapses much long after the disappearance of the initial cancer. In addition,, CAR-T cell therapy is much safer than chemotherapy.         
Moreover, the CAR T-cell therapy market is expected to experience a boost in the near future in countries like India and China because these countries have skilled professionals and the altogether cost is much lesser as in any other parts of the world due to the presence of excellent infrastructure. The government of these regions are encouraging growth by offering funds and grants for the industry to flourish.
Need more information? See the comprehensive 283-page market research report Global CAR-T Cell Therapy Market by TechSci Research.
About TechSci Research
TechSci Research is a research-based management consulting firm providing market research and advisory solutions to its customers worldwide, spanning a range of industries. It provides off-the-shelf market research reports to its clients along with customized research solutions and helps global companies to enter, expand, and succeed in different markets. With the help of its strategic solutions and business implementation assistance, TechSci has helped many companies to make crucial strategic decisions.