According to statistical data from the World Cancer Research Fund (WCRF) International, the incidence of cancer is increasing, especially, in countries with a low Human Development Index (HDI).
To project exact numbers, international data collected from Globocan estimates that cancer cases will increase by 96% from 19 million in 2020 to 29 million by 2040 among low HDI countries such as Yemen, Mali, and Chad, whereas by 32.2% in high HDI countries such as Switzerland, Ireland, and Germany.
Government and private biopharmaceuticals are greatly improving the chances of successful cancer treatment with advanced screening methods to ensure early detection. However, current screening techniques for different types of cancer are invasive, costly, and frequently have inadequate sensitivity and specificity.
In this scenario, liquid biopsy-based multicancer screening is emerging as a promising avenue for the timely diagnosis of various cancers from a single sample of blood or other bodily fluids. Unlike traditional biopsies, liquid biopsies are minimally invasive and can be repeated over time.
Liquid biopsies can detect circulating tumor cells or DNA fragments in the blood that may not be detectable by other methods until cancer has progressed to a later stage.
This article explores the criticality of implementing liquid biopsy-based multicancer screening in clinical diagnostics as an effective way to detect early-stage and low DNA-shedding cancers.
What Are Multicancer Early Detection (MCED) Tests?
Multicancer early detection (MCED) tests can potentially detect multiple types of cancer simultaneously at an early stage by analyzing various biomarkers, including proteins and DNA fragments, in the blood or other bodily fluids.
The MCED tests act as supplements to current screening tests, which prove essential in detecting cancers for which there are no proven results.
Numerous companies involved with multicancer screening tests have shown quite a high revenue increase over the years because of the increasing popularity of MCED tests involving liquid biopsies.
For example, the revenue of GRAIL, LLC. (Illumina, Inc.), which provides the Galleri test, increased its revenue from $12 million in 2021 to $55 million in 2022, and more than 60,000 Galleri tests have been ordered for the year 2023.
Moreover, according to data insights from BIS Research, the global multicancer screening market is projected to reach $7.78 billion by 2032 from $1.90 billion in 2022, growing at a CAGR of 15.09% during the forecast period 2023-2032.
New Study Shows Promising Results in Multicancer Detection with Liquid Biopsy
A new multicancer early detection (MCED) test, based on the methylation of cell-free DNA, has been developed, according to a retrospective study presented at the American Association for Cancer Research (AACR) Annual Meeting, which was held from April 14-19, 2023.
The test was found to be capable of detecting 12 types of cancers, including early-stage cancers and low DNA-shedding cancers.
Dr. Ben Ho Park, the presenter of the study, explained that the detection of cancer in its early stages through screening programs had been shown to save lives and reduce mortality rates effectively.
The researchers from Park's team analyzed blood samples from 4,322 patients, including treatment-naive patients with newly diagnosed cancer and age and gender-matched noncancer controls.
Samples were analyzed with a bisulfite-free, nondegradative genome-wide DNA methylation enrichment platform using cell-free DNA (cfDNA) isolated from plasma.
The samples were split into distinct sets to train and test a machine-learning classifier consisting of differentially methylated regions to distinguish cases from controls. Approximately 50% of the patients had early-stage defined as stage I and II cancers.
The results showed that the patients were distinguished from the controls with an area under the curve (AUC) measure of 0.94, with AUCs for individual cancer types ranging from 0.91 to 0.97. The AUC was 0.94 for stage I/II cancers and 0.95 for stage III/IV cancers.
"This platform allowed for a higher signal-to-noise ratio and led to increased performance in the more challenging applications where the cfDNA burden is the lowest," said Dr. Park.
He added, "Cancers that shed a high amount of cfDNA had the best performance, but even cancers that are typically difficult to detect with cfDNA assays were detected with high performance in this interim readout. At this early stage in development, the robust detection of early-stage and low-shedding cancers with this genome-wide methylome enrichment platform is very promising."
This study is significant because it provides a promising approach to detecting multiple types of cancer early on, even those that are typically difficult to detect with other cfDNA assays. Early detection of cancer can lead to earlier treatment, which can improve patient outcomes.
The study authors noted that this was an early development study, and prospective studies will be needed to confirm these findings.
Role of Liquid Biopsies and NGS in Detecting Hematologic Malignancies
At the 27th Annual International Congress on Hematologic Malignancies, Andrew lp, MD, the chief member of the Division of Lymphoma at John Theurer Cancer Center, Hackensack University Medical Center, located in New Jersey, advocated the importance of implementing liquid biopsy and NGS in the detection of hematologic malignancies.
Some of the keynotes from Andrew lp's presentation include:
Liquid biopsies have shown the greatest effectiveness in the molecular profiling of hematopoietic neoplasms, particularly in the context of hematologic malignancies.
Myeloid neoplasms, which mainly reside in peripheral blood, showed the highest median somatic allele frequencies, ranging from 20% to 45%.
Liquid biopsies also detected over 50% of genomic mutations not detected in tissue samples, highlighting the need for better screening tests.
Moreover, liquid biopsy and NGS also provide a clearer picture of minimal residual disease (MRD), which is a rapidly expanding area for research.
As a prognostic tool, detecting clonal hematopoiesis, the subtypes of which are categorized by somatic mutations, including clonal hematopoiesis of indeterminate potential (CHIP), is another important application of liquid biopsy and NGS.
Gaining a clearer picture of MRD and the detection of clonal hematopoiesis are powerful screening standards for identifying individuals who may be at risk of developing a hematologic malignancy.
Conclusion
With technological advancements such as the use of liquid biopsy-based NGS and artificial intelligence (AI), multicancer screening has the potential to become more effective and accessible, leading to better outcomes and a reduction in cancer-related deaths.
Furthermore, the development of new biomarkers and genetic tests can enable earlier detection of cancers and provide targeted treatment options.
Learn More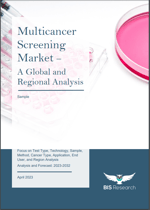 For more information on this fast-growing market, please see Multicancer Screening Market – A Global and Regional Analysis, 2023-2032, a detailed report packed with data and insights covering multicancer screening market segmentation, recent market developments, market demand, drivers and challenges, the competitive landscape, and key players. This report draws on extensive primary and secondary research to help industry players design the right business strategies for this competitive, ever-shifting market.
---
About the Publisher: BIS Research is a global market intelligence, research and advisory company that focuses on emerging technology trends that are likely to disrupt the market. Its team includes industry veterans, experts, and analysts with diverse backgrounds in consulting, investment banking, government, and academia.