For instance, 31% of metro consumers say that social media posts from people they know have a greater influence on their purchasing decisions than online influencers, compared to 28% who say they rely heavily on online influencers before making a purchase. Meanwhile, six in 10 consumers from low-tier cities who have spent a significant amount of time watching content from online influencers post-pandemic have not made a purchase based on their recommendations in the last six months.
To bridge this gap, brands can partner with micro-influencers (those with 10,000 to 100,000 followers) and nano-influencers (those with less than 10,000 followers). As content creators become increasingly influential in consumer decisions, brands have the opportunity to nurture young, budding creatives.
But what exactly are they looking for from these influencers?
Authenticity and trust are the pillars of modern influencer marketing
Indian consumers are becoming increasingly aware of the potential financial motivations that drive online influencers, with nearly one-fourth of metro consumers (as opposed to 18% of total consumers) feeling that the majority of these influencers are 'untrustworthy'. Furthermore, a similar proportion of metro consumers express concern about the quality of products/services promoted by social media influencers who are sponsored by brands.
This has made authenticity and trust the cornerstones of successful influencer marketing campaigns.
Moreover, one-third of those who distrust online influencers believe that social media influencers with fewer followers are more authentic than those with massive followings.
According to Mintel Trend Influentials, social media has become a ubiquitous platform. Therefore, striking a balance between harnessing the influence of tastemakers and preserving their integrity is crucial for brands engaged in influencer marketing.
To increase transparency and protect consumers, we are also witnessing an increase in government initiatives that require influencers to provide clear disclosures about their brand associations. Disclosures are necessary when there is a 'material connection' between an advertiser and a celebrity or influencer.
Ways to foster authenticity while engaging with influencers
1. Explore the power of live streaming. Most consumers appear to prefer the live streaming of products and services, as evidenced by their purchases based on influencer recommendations and a strong preference for live streaming. This preference can be attributed to the authenticity of the experience. Consumers can observe the unboxing and testing of products in real time through the lens of an influencer. 
For example, Moj LIVE is a live-streaming platform that allows creators to authentically showcase their talent and engage with users in real time. This year, Moj created 150K earning opportunities for Indian creators through challenges, collaborations, and influencer-led campaigns in partnership with over 75 brands.
The 2022 year-end wrap-up report for Moj, a short video platform
Brands can, therefore, collaborate with such short video platforms and leverage the influence of regional influencers to connect with consumers from low-tier cities, who are increasingly using social media and digital platforms for shopping and are more likely to be influenced by relatable people.
2. Tap into the perceived authenticity of live reactions. As trust and authenticity are fundamental in influencer marketing, live-streamed product reviews from social media personalities are perceived to be more authentic than pre-recorded ones.
Since displaying genuine emotions plays a role in fostering trust, brands can enhance the credibility of their influencer marketing by using live streams (e.g., TikTok Live, Twitch), where influencers test their products. However, to avoid negative feedback, brands need to select influencers who already have a positive opinion of their brand. For instance, Marques Brownlee from the US, one of the most popular tech influencers, uses live streams for his product reviews.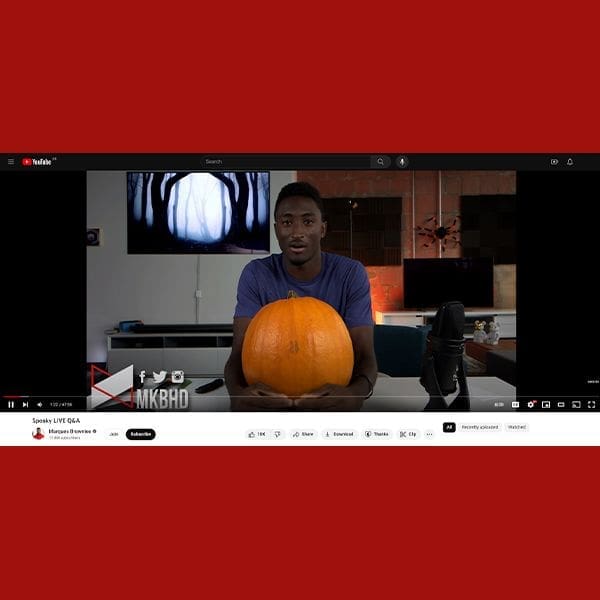 MKBHD's live streams feature Q&As, live product reviews and unboxings; YouTube
We can also see Indian tech influencers (such as Technical Guruji) using live streaming or live blogging for product reviews.
3. Influencers who are knowledgeable, relatable, and humorous gain favour. Beyond trust, nearly two-thirds of consumers are more inclined to follow an online influencer who is knowledgeable and approachable. Moreover, nearly half of Indian consumers are drawn to influencers who are knowledgeable, easily accessible and foster a personal connection with their audience. Authentic reviews and captivating, humorous content can be instrumental in connecting with 56% of consumers.
Kusha Kapila humours people with her feisty and relatable characters; YouTube
4. Urbanites are invested in influencers who take an ethical stance. Urbanites are drawn to influencers who passionately champion local businesses, advocate for justice and collaborate with ethical companies to promote sustainable consumerism. 23% of metro consumers agree that online influencers should post about important social or political issues (as opposed to 8% of Tier 3 consumers). Additionally, 25% of metro consumers feel more connected to online influencers who promote local brands or products (compared to 8% of Tier 3 consumers). In recent times, educational influencers have gained prominence, providing informative content on a variety of topics, such as science, geopolitics and government initiatives.
Abhi and Niyu, a husband-wife content creator duo, have garnered an impressive 2.7 million Instagram followers. Their page is devoted to solving problems and addressing topics such as economics, social commentary, history and the environment; YouTube
What we think
The path to successful influencer marketing in India hinges on embracing authenticity, trust and relatability. By engaging micro and nano influencers, leveraging live streaming, and capitalizing on live reactions, brands can effectively connect with consumers. Urbanites appreciate influencers championing local businesses and ethical values, while consumers from low-tier cities seek relatability. Collaborating with influencers aligned with their offerings is the key to creating content that resonates, and ensuring success in the dynamic world of influencer marketing.
For deeper insights into influencer marketing trends, as well as Indian consumer behaviours, check out the Mintel Store. Discover the latest research to make informed decisions to grow your business today.