The increase in development of biologics (drugs made from living organisms) is driving the adoption of biosimilars, which is a cheaper alternative with the same efficacy when compared to biologics. Pharmaceutical companies are rapidly shifting towards originator biologics and competitive biosimilar drug development.
Pharmaceutical companies have historically focused on small molecules, but the rate of innovation in that field has slowed dramatically, leading to the shift towards biologics. In addition, growth in research and development (R&D) activities has led to increased success rates in clinical trials and new product launches. For instance, in April 2022, the US Food and Drug Administration (FDA) approved the Biologics License Application (BLA) from Amneal Pharmaceuticals, Inc. for bevacizumab-maly, a biosimilar referencing Avastin, the Roche/Genentech product.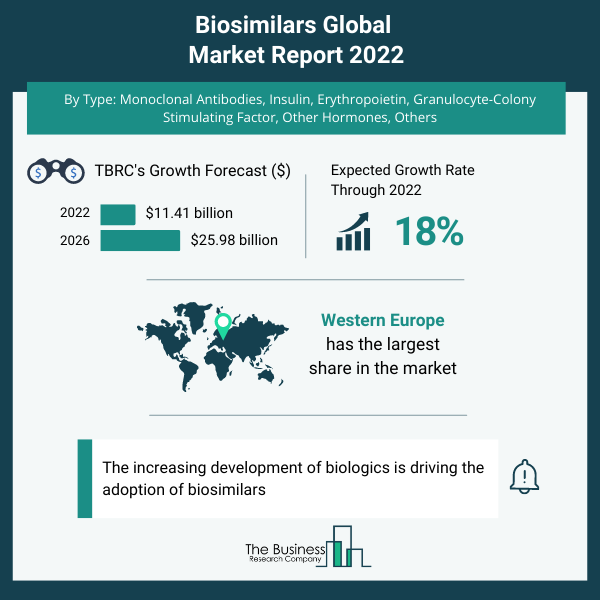 Biosimilars Market Size and Forecast
The global biosimilars market size reached a value of nearly $11.41 billion in 2021, having grown at a compound annual growth rate (CAGR) of more than 34% since 2016. The market is expected to grow from $11.41 billion in 2021 to $25.98 billion in 2026 at an exponential growth rate of 17.3%. Further, the growth of the market is expected to be at a CAGR of nearly 18% from 2026 to 2031, reaching a global market size of $59.55 billion by 2031.
Western Europe Is the Largest Region in the Global Biosimillars Market
Western Europe was the largest region in the biosimilars market and was worth $7.53 billion in 2021. In terms of per capita consumption, the market accounted for $17.8, much higher than the global average.
The biosimilars market in Western Europe is supported by various initiatives. One such initiative is the priority medicines (PRIME) initiative, which is a scheme launched by the European Medicines Agency (EMA) to enhance support for the development of medicines that target an unmet medical need. A drug candidate selected for the scheme is provided benefits such as financial help, fee reductions, and guidance on marketing authorization. This market growth is also attributed to the large geriatric population, high healthcare expenditure, and government support for new research and development. For instance, in 2020, the UK government announced plans to invest £24 billion ($27.85 billion) per year in R&D by 2024–25 to support pharmaceutical companies to develop new medicines.
Amgen Inc. Held the Largest Share of the Biosimilars Market in 2021
Amgen Inc. was the largest competitor in the biosimilars market in 2021, with a 21.23% share of the market. Amgen's growth strategy is to focus on strengthening its product portfolio through new product launches. For example, on June 6, 2022, Amgen announced that the FDA had approved RIABNITM (rituximab-arrx), a biosimilar to Rituxan®, in combination with methotrexate for adults with moderate to severely active rheumatoid arthritis (RA) who had an inadequate response to one or more tumor necrosis factor (TNF) antagonist therapies. RIABNI is already approved for the treatment of adult patients with Non-Hodgkin's Lymphoma (NHL), Chronic Lymphocytic Leukemia (CLL), Granulomatosis with Polyangiitis (GPA) (also called Wegener's Granulomatosis) and Microscopic Polyangiitis (MPA). Also in 2020, the company launched AVSOLA®, a biosimilar to Remicade® (infliximab).
Biosimilars Market Research Report 2022
Further regional information on key drivers, opportunities, and strategies can be found in Biosimilars Market 2022 – Global Forecast to 2031, one of a series of reports from The Business Research Company that provides biosimilars market overviews, analyzes and forecasts biosimilars market size, biosimilars market players, biosimilars market trends, biosimilars market segments and geographies, and the market's leading competitors' revenues, profiles, and market shares.
Biosimilars Market Definition
The biosimilars market consists of sales of biological drugs and related services that are used to treat chronic diseases such as diabetes, arthritis, and cancer. A biosimilar, or biosimilar drug, is a medicine that is very close in structure and function to a patented biologic medicine. Biosimilars are manufactured using cell lines and have been shown not to have any clinically meaningful differences from the originator or reference medicine in terms of quality, safety, and efficacy. Biosimilars can normally only be authorized once the period of data exclusivity on the reference biological medicine has expired.
About The Business Research Company
The Business Research Company is a market intelligence firm that excels in company, market, and consumer research. Located globally it has specialist consultants in a wide range of industries including manufacturing, healthcare, financial services, chemicals, and technology. Find the company on LinkedIn, Twitter, Facebook, or YouTube for more.
Related Articles