Recent innovations such as in-vehicle payments, with the integration of artificial intelligence (AI) and 5G connectivity in automotives, are transforming the user experience.
In-vehicle payment is a digital payment technology through which vehicle owners can purchase goods and services from the vehicle without the use of any payment devices or third-party payment networks.
In-vehicle payment systems offer a seamless user experience, as drivers can have smooth one-tap transactions directly from their bank.
Anticipating rapid growth, the in-vehicle payments technology may also employ natural language processing and voice assistance in automobiles to make the process of fund transactions more convenient and time-saving.
In-car payment systems (ICPS) have become popular as premium automakers such as Mercedes and BMW have integrated these systems into their automobiles.
ICPS has revolutionized consumer behavior by transforming ways of refueling, parking, toll payments, shopping, and booking.
This article discusses changing consumer behavior with the integration of in-vehicle payments with 5G and AI, and the applications of in-vehicle payments have been explored further.
Fuel/gas and charging station payments
Automakers, in partnership with fuel and gas stations, are providing easier and faster methods of payment at the station.
With faster and more effective 5G connectivity and automatic surveillance through AI, automobiles can notify if there is a short supply of fuel left.
Through Global Positioning System (GPS), radio frequency identification (RFID), or wireless fidelity (Wi-Fi), automobiles can identify geographical locations and get targeted marketing on entering or exiting the locations.
The pumps or stations, in partnership with the automobile brand, send notifications and options for refueling, along with the prices.
Customers can complete their secure payments through the dashboard of the automobile, which saves time and reduces security risks from unsafe payment modes.
The following procedure is followed for in-vehicle payment:
The driver visits the fuel station and selects the desired fuel type.
A mobile application or a website links the vehicle with the selected payment method.
The dispenser of the pump automatically identifies the linked vehicle and starts dispensing the fuel.
When the pump finishes filling the fuel, the amount of the purchase automatically gets deducted from the linked payment method.
The driver receives a digital receipt of the transaction via the mobile app or email.
This type of in-vehicle payment is also known as "automatic vehicle identification" (AVI), and it requires the vehicle to be equipped with a device such as a radio-frequency identification (RFID) tag or a near field communication (NFC) transceiver to communicate with the dispenser.
Although this technology is currently being developed and is not widely available yet, automakers such as Jaguar and Hyundai have installed the in-vehicle payment system at pumps or charging stations.
Booking experiences through in-vehicle payments
Users can order food, groceries, or specifically required items and make advanced bookings at hotels, restaurants, or cafes through easy and efficient in-car payments.
Through app integration in the car infotainment screens, consumers can order food and drinks by linking their loyalty account to the vehicle.
The consumer behavior is analyzed by the AI in the car and provides access to saved payment information, customer preferences, and order history.
Through linking accounts, customers can order their preferred food, drink, and medicine and also make reservations accordingly at a single tap.
In-vehicle payments can be encouraged by providing incentives for creating an account or placing an order, and this helps in building strong and loyal customer-brand relationships.
Through provided consumer data, new brands can practice targeted marketing and build successful customer relationships.
In-vehicle payments with smart parking 
Lack of parking lots in overcrowded metropolitans has become a major issue. Drivers face difficulty in locating vacant spots.
With over-the-air transmission, vacant parking lots integrated with the Internet of Things (IoT) system can be broadcasted with the required occupying fee.
Through connectivity with devices such as radio detection and ranging (RADAR) and light detection and ranging (LiDAR), drivers can easily locate empty parking spaces and pay automatically through in-vehicle payment systems.
Through cloud computing in smart parking, drivers can access the live status of the nearest parking spot to their destination, which is displayed on a connected infotainment application.
On the availability of vacant spots, the application automatically books the spot, which is followed by hassle-free payment from the in-vehicle wallet using RFID technology.
This system of smart parking tackles the issue of manually locating an available parking place and saves the time of the consumers, which improves efficiency and productivity.
In-vehicle transactions for efficient toll collection
In-vehicle transactions can be an effective solution for toll collection.
The vehicles entering or exiting roadways are automatically identified by long-range radio frequency identification.
By embedding documents of authentication and payment methods in a vehicle's license plate and windshield label, effortless and single-tap payments can be processed without the need to wait in a queue.
The toll is deducted automatically through the driver's wallet or linked account.
For instance, a U.S.-based company, Parkopedia, launched an automated in-vehicle toll payments system in May 2022.
A one-time vehicle registration is required, which allows the system to recognize the license plate. Then, the automated payments are carried out from the linked account of the connected vehicle.
The system notifies the driver of every payment, allowing transparency in the transaction.
Integration of in-vehicle payment system in connected and autonomous vehicles
The growing demand for connected and autonomous vehicles is offering ample opportunities for the growth of the in-vehicle payments market.
The latest developments in the automobile industry are possible because of advancements in connectivity through networking upgradation from 4G to 5G.
This has led to developments such as vehicle-to-vehicle (V2V) and vehicle-to-infrastructure (V2I) systems. These systems provide live data on the vehicle's environment, location, and fuel capacity in connected cars.
Connected cars with in-built payment systems can help revolutionize the premium user experience.
For instance, Ford and Google have formed an alliance to transform Ford automobiles to integrate connected vehicle systems.
The development of autonomous vehicles or driverless cars that can be driven on auto-pilot mode allows growth potential for the in-vehicle payment market.
The autonomous vehicle, with unique and complex AI infrastructure, carries out automatic payments such as payments at fuel or charging stations, parking lots, and toll payments.
With the modification of automobiles to connected and autonomous models, market players are investing in the in-vehicle payments market.
As per the BIS Research report, the global in-vehicle payments market was valued at $4.9 billion in 2021 and is projected to reach $25.91 billion by 2031, growing at a CAGR of 18.15% during the forecast period 2022-2031. 
Conclusion
V-commerce or in-car commerce system offers a technologically advanced future that works on the combined forces of AI and 5G networking.
The development of unique in-car applications and the fast speed of the internet are paving the way for growth in the in-vehicle payments market.
Learn More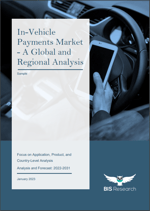 For more information on this fast-growing market, please see In-Vehicle Payments Market – A Global and Regional Analysis, 2022-2031, a detailed report packed with data and insights covering market segmentation, recent market developments, market demand, drivers and challenges, the competitive landscape, and key players. This report draws on extensive primary and secondary research to help industry players design the right business strategies for this competitive, ever-shifting market.
---
About the Publisher: BIS Research is a global market intelligence, research and advisory company that focuses on emerging technology trends that are likely to disrupt the market. Its team includes industry veterans, experts, and analysts with diverse backgrounds in consulting, investment banking, government, and academia.
---
Additional Articles