It seems like everywhere you look, there's a shiny new dating app stepping into the spotlight: a program connecting young professionals during their lunch breaks; a website specifically curated for farmers; an app breaking stereotypes by having women make the first move. Digital dating has become widely accepted, with Tinder, Bumble and Hinge considered "must-have" apps in Apple's App Store. Online dating is here to stay.
Financial services providers have noticed, and are taking advantage of the trend to try and resonate with a younger generation. People using dating apps as a part of day-to-day activity are more prevalent in advertisements, and some brands are even pairing up with popular dating apps to offer free subscriptions. Dating apps have been normalized in marketing similarly to other subscription-based services, like streaming or Amazon Prime.
It's a part of a larger effort, as financial services providers are trying to position themselves as enablers of not only financial and health-based wellness, but relational wellness as well. And as consumers increasingly manage many aspects of their lifestyles through mobile apps, this new focus points toward an opportunity for financial services brands to curate more in-app experiences for their customers.
Starling Bank eases consumers' anxieties as a part-time dating guru
UK brand Starling Bank has a social media presence that is thoroughly curated for young, digital savvy consumers. The brand's posts leverage humorous internet culture, spotlight DEI and sustainability initiatives, and format imagery to mimic common digital interfaces, like texting apps or Apple Wallet. And recently, dating apps were added to the mix:
The posts, featured on both the brand's Instagram and Twitter accounts, took an advisory P.O.V. in its dating-scene foray. Banks are often looked to as mentors that provide sound financial advice to improve people's lives, so Starling Bank seemed to say, "Why not give them advice on how to be safe while dating, too?" This strategy further cements the brand as a trustworthy supporter.
According to Mintel's 2022 Omnichannel Trends (client-only link), as consumers experience big life changes, brands are increasingly seeing themselves as a resource and consultant as important decisions are made. Starling Bank aligns with this focus through its advisory approach.
Bank of America helps customers keep track of their dating app subscriptions
The #CantStopBanking campaign from Bank of America is the brand's latest effort to showcase its digital prowess, highlighting how its customers can leverage its different tools to make their lives easier. Bank of America has invested heavily in the campaign (approximately $57 million between Q1'22 and Q3'22), especially in mass media channels like national television and online video.
The campaign shows how Bank of America's suite of digital tools can help customers in their daily lives. One video ad specifically showcases how Erica, the brand's virtual assistant, helps a customer by alerting him that his subscription for a dating app has increased.
Revolut partners with Tinder, aiming for app aficionados
Fintech Revolut explored another distinct route for integrating itself into consumers' dating lives: the brand partnered with Tinder to offer new Revolut customers three free months of Tinder Gold. The dating app's premium subscription service is designed to help people land more matches, but comes at a steep price. The ad not only resonates with dating app users by using a humorous pick-up line, but it also provides consumers with a tangible and valuable benefit.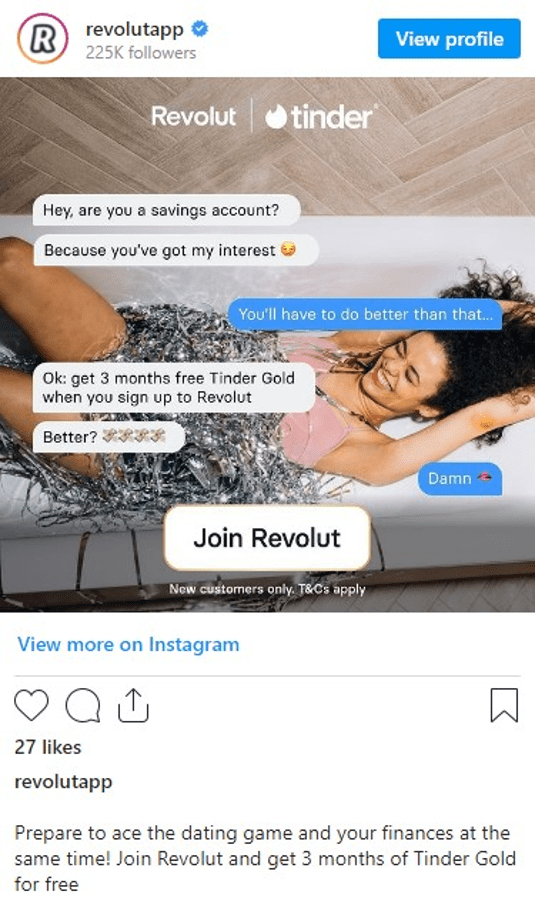 What We Think
Over the past few years, consumers have taken a step back to rethink their lives. Financial services providers have capitalized on that, broadening their web of support to include new programs, partnerships, benefits, and products that promote specific lifestyles. From savings on food delivery apps, to premium gym memberships and automatic discounts when shopping at beloved retailers, brands are paying close attention to what consumers' lifestyles are like, and how best to support them. Since brands have already done a good job examining financial and health-based wellness, a natural next step is to explore relational wellness.
Aligning dating life with holistic wellness and lifestyle marketing brings financial services deeper into a trend toward becoming a one-stop solution for every day-to-day need. With consumers' reliance on apps to manage many parts of their lives, it also provides an opportunity for brands to involve dating advice into their apps or even consider creating their own dating-app functionalities – bringing them one step closer to the super-app.
As we continue on through a month that's hyper-focused on love, and beyond into 2023, it will be exciting to see if any other brands prepare a love letter to their customers in the form of dating-related marketing, memberships, or new apps… or if they just ghost them instead.
To find out how Mintel Marketing Intelligence and Mintel Consulting can help your brand with its marketing strategy, contact us today.