Preventive vaccines are administered to a person who is not affected by a targeted infection to induce the production of antibodies and strengthen the immune response to protect the person from future infections. These vaccines are made up of live/attenuated or killed pathogens along with infection-causing components of pathogens such as proteins, polysaccharides, nucleic acids, and others.
Preventive vaccines are recommended to be administered at an early age through vaccine initiatives and regular health programs for children in different parts of the world, but it is not limited to children alone. Some of the most common preventive vaccines that are administered to both children and adults across the world are measles, mumps, and rubella (MMR), pneumococcal, influenza, polio, and hepatitis vaccines, among many others. There are different types of preventive vaccines based on their functionality and component, including live or attenuated vaccines, inactivated vaccines, subunit vaccines, toxoid vaccines, mRNA vaccines, viral vector vaccines, and others.
What Is the Size and Growth Rate of the Global Preventive Vaccines Market? 
According to the latest report by Mordor Intelligence titled Preventive Vaccines Market – Growth, Trends, COVID-19, And Forecasts (2022-2027), the global preventive vaccines market is expected to reach a value of USD 100 billion by 2027.
There is a high demand for preventive vaccines globally, and it is increasing further due to the high prevalence of infectious diseases like influenza, pneumococcal diseases, hepatitis, tuberculosis, and other factors. For instance, as per the World Health Organization (WHO) update published in June 2022, about 1.5 million new cases of the hepatitis C virus are reported each year. An estimated 58 million people worldwide have hepatitis C. Moreover, 3.2 million children and adolescents globally have chronic hepatitis C infection. The emergence of new infectious diseases like COVID-19 in the future is anticipated to boost the growth of the market further.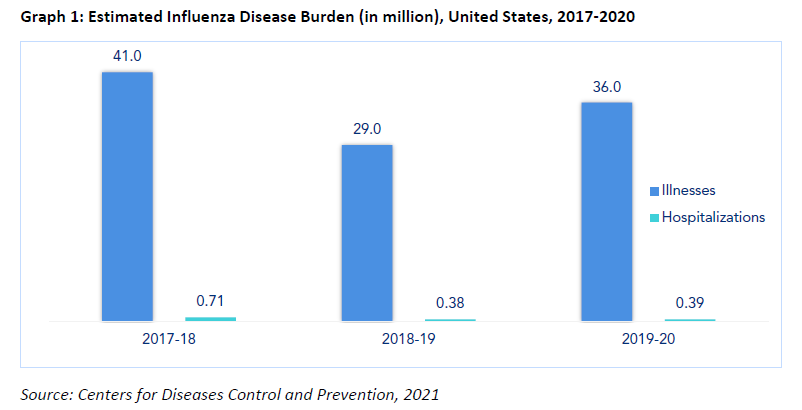 Apart from the growing burden of diseases, the rising number of governmental and non-governmental preventive vaccination programs, and huge funding in the area for the development of novel and effective vaccines, are some of the other factors that are propelling growth in the market. For example, in February 2022, the Union Minister for Health and Family Welfare of India launched the National Polio Immunization Drive for 2022 by administering polio drops to children below five years of age. About 150 million (15 crores) children of age below five years will be vaccinated under this initiative in India.
Some of the key companies in the market are AstraZeneca PLC, Emergent BioSolutions Inc., GSK PLC, Johnson & Johnson, and Merck & Co., among many others. The companies in the region are involved in the development of a range of novel vaccines for different indications as well as other activities such as product launches, mergers and acquisitions, and collaborations. For instance, in June 2022, to speed up the development of novel vaccines and drugs for infectious diseases that disproportionately affect low-income countries, GSK PLC unveiled an investment plan of around USD 1.2 billion (GBP 1 billion) to spend over the next ten years. Similarly, in November 2022, BioNTech signed an acquisition agreement with Novartis to acquire a manufacturing site of Novartis Singapore to expand its footprint in Asia and establish a large vaccine manufacturing facility. These initiatives are expected to have a long-term impact on the growth of the market.
What Was the Impact of COVID-19 on the Preventive Vaccines Market?
The preventive vaccines market was entirely driven by the COVID-19 pandemic in 2021 due to the enormous demand for COVID-19 vaccines to tackle the pandemic. As per the World Health Organization (WHO) 2022 report, the vaccine development procedure normally takes ten years and is never completed in less than four years. However, this process was accelerated into 11 months for the development and approval of COVID-19 vaccines due to the severity of the pandemic. This initiative led to the development and approval of more than fifteen vaccines globally. According to the WHO, as of November 2022, over 12.6 billion doses of COVID-19 vaccines have been administered worldwide.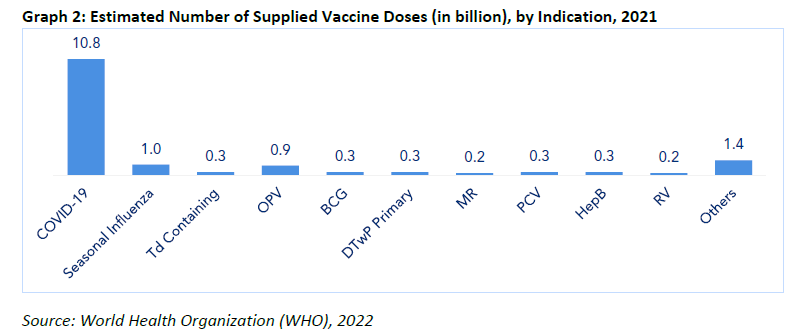 Additionally, governments worldwide ordered COVID-19 vaccines in large quantities worth billions of dollars and made significant investments alongside private companies and other stakeholders in the development, trial, and mass production of COVID-19 vaccines. For instance, in May 2020, for the development and production of a vaccine or treatment for COVID-19, the US government launched "Operation Warp Seed," under which the federal government provided funding of over USD 19 billion to seven commercial pharmaceutical corporations. As of November 2022, out of the seven funded corporations, four companies received emergency use authorization (EUA) from the Food and Drug Administration (FDA).
Moreover, the purchase agreements between vaccine manufacturing companies and governments for the supply of COVID-19 are expected to add further to the market value. For instance, as per the September 2022 update of the Government of Canada, the government has agreements with several vaccine manufacturers for the supply of COVID-19 vaccines, such as Moderna (44 million doses), Pfizer (51 million doses), Johnson and Johnson (up to 38 million doses), Medicago (up to 76 million doses), Novavax (up to 76 million doses), and Sanofi and GSK (up to 72 million doses). Furthermore, as per the update of the WHO published on December 9th, 2022, about 175 COVID-19 vaccine candidates are in clinical development, and 199 are in pre-clinical development. The positive results from these trials are further expected to have a significant impact on the market.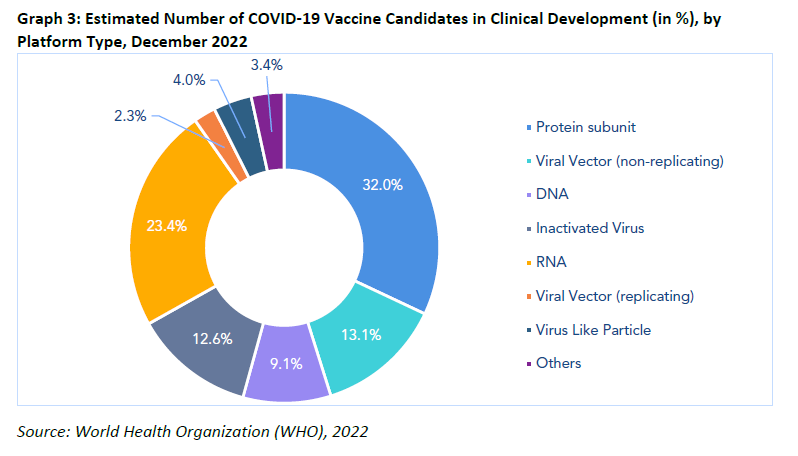 Preventive Vaccines Market Trends
By vaccine type, the mRNA vaccine type held a major share in 2021, and the trend is expected to continue over the forecast period.
By disease type, COVID-19 occupied a major share of the preventive vaccines market in 2021 due to the tremendous demand and supply of COVID-19 vaccines.
By geography, North America is leading the preventive vaccines market in the current year and is expected to do so over the forecast period.
Future Opportunities in Preventive Vaccines Market
The development and commercialization of vaccine candidates in the clinical developmental phase are expected to significantly impact the market. For instance, in October 2021, Valneva SE released positive results from the Phase 3 pivotal trial Cov-Compare of its inactivated, adjuvanted COVID-19 vaccine candidate, VLA2001. As per the company, the vaccine trial successfully met its co-primary objectives.
The development of novel vaccines and delivery methods is expected to play a vital role in the growth of the market. For example, in November 2022, Australia-based Vaxxas launched a Phase 1 clinical trial for a high-density microarray patch (HD-MAP) needle-free COVID-19 vaccine candidate at the University of Sunshine Coast's Sippy Downs. As per the company, the COVID-19 vaccine patch is based on HD-MAP delivery of the SARS-COV-2 spike subunit vaccine developed by the University of Texas at Austin. The positive results from these ongoing trials and research activities are expected to drive the growth of the preventive vaccines market in the future.
Preventive Vaccine Market Research Report
The latest Preventive Vaccines Market – Growth, Trends, COVID-19 Impact, and Forecasts (2022-2027) report from Mordor Intelligence offers a detailed quantitative and qualitative analysis of the market, providing insights for market driving and restraining factors, Porter's five forces analysis, detailed segmentation analysis, competitive landscape, and future opportunities in the market.
The preventive vaccines market is categorized into three segments: vaccine type, disease type, and geography. The report offers detailed qualitative and quantitative insights for 17 different countries across major regions that include North America, Europe, Asia-Pacific, the Middle East & Africa (MEA), and South America.
The report also analyzes the key companies in the market and provides an in-depth analysis of these companies, their product offerings, and key strategies for the preventive vaccines market.
About Mordor Intelligence
Mordor Intelligence has delivered precise data and actionable insights to more than 4,000 enterprises across 100 countries. The firm's domain-specific teams of research experts continuously track markets, providing clients a competitive edge through high-quality market intelligence.