When asked about our own eating habits, a lot of us like to think that we are healthy eaters. But how does this compare with our actual dietary habits? And how do British diets differ from American diets? Let's take a look at what Mintel's research can tell us about what healthy eating in Britain looks like vs. healthy eating in America as we uncover dietary habits, intentions, and trends.
Healthy Eating in Britain
For most people living in the UK, eating healthily is considered to be important – in fact, most make a conscious effort to eat healthily. Mintel's latest research examines how the dietary habits of British and American people compare with their healthy intentions, by uncovering what they purchase and order. For most, it means choosing grocery items that promote a healthy diet rather than removing treats from their lifestyle. Let's dive into how Brits make dietary choices eating out and dining at home.
Dining Out in the UK
When it comes to dining out and ordering takeaway in the UK, finding a restaurant that suits dietary preferences is not a priority for most. Many restaurants offer options catering to a low-calorie, vegetarian, vegan, or halal diet; but only 1 in 10 British diners report finding these menu options as a key factor in choosing a restaurant. Instead, it seems that healthy eating takes priority in home cooking, whereas many Brits see dining out as a treat in which they need not worry about the healthiness of their order.
Home Cooking in the UK
Attitudes towards healthy eating more generally in the UK are overwhelmingly positive. In Mintel's study on Attitudes towards Healthy Eating in the UK, half of the sample reported trying to eat healthily most of the time. For more than 50% of people, this includes buying 'better for you' food and drink items, such as those with lower sugar levels; and avoiding ultra-processed foods.
However, even though we are living in an age of constant technological development, Mintel has found that some Smart Nutrition brands like Huel are failing to actually offer products that add nutritional functionality. Furthermore, the British Nutrition Foundation is concerned that many meal replacement options contain ultra-processed food ingredients that may be harmful to health, such as artificial preservatives and sweeteners. For those Brits concerned with eating healthily, sticking to your balanced diet and five-a-day may still be a better option than innovative foods claiming health benefits.
Healthy Eating in the US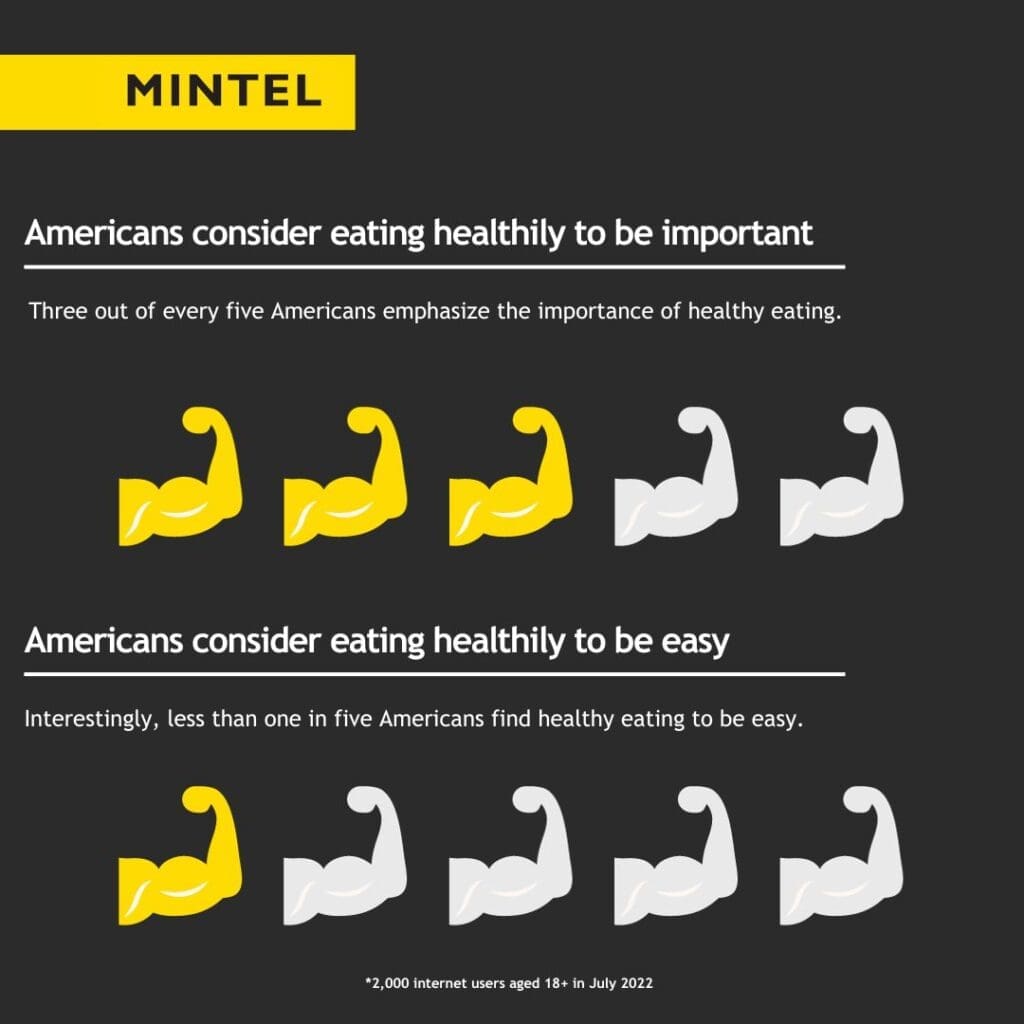 Dining Out in the US
Similarly to British diners, American dietary habits when eating in restaurants are focused more around enjoyment than health; more than half of diners are inclined to order dishes they can't easily make at home. By comparison, less than a third report ordering dishes with functional health benefits. Though this does not necessarily mean that American diners are not interested in healthy options, it does highlight that health benefits are not a priority when ordering in restaurants.
Home Cooking in the US
In the last year, around 2 in 5 Americans reported buying more food and beverage products with organic or 'all natural' claims. Furthermore, the prevailing factor in motivating American shoppers to purchase organic products is that they are viewed as healthy. In fact, well over half of Americans consider natural and organic groceries to be healthier than those without the same claims. With most considering organic and natural groceries to be better for your health, and a large group of Americans purchasing organic and natural groceries at an increasing rate, it appears that home cooking in America is taking on a healthier intention.