Time To Plan For 2023 Digital Workplace Investments
The end of 2022 is fast approaching, and digital workplace professionals everywhere are starting to plan their investments and strategy for 2023. Here at Forrester, we've been fielding dozens of client questions from digital workplace leaders seeking guidance on how to prepare for the coming year. With so many macro trends impacting tech decision-making — recessions, hybrid work, supply chain disruption, and more — it's clear that we're in for another year of significant change in the digital workplace. Earlier this year, Forrester released our strategic advice for the digital workplace, which we define as:
The ecosystem of technologies that organizations deploy to enable a productive and secure digital employee experience. The digital workplace includes six core components: core productivity platforms, employee-facing HR tools, an orchestration layer, experience touchpoints, analytics, and application integration.
Where Will Innovation Occur In 2023?
In 2023, we'll see enhancements to all six components of the digital workplace. As we call out in our report, digital employee experience (DEX) will remain a focal point for digital workplace leaders as they attempt to use technology to attract talent, improve productivity, and promote employee engagement. Expect to see the following digital workplace trends:
Organizations will pursue tactical use cases to drive DEX ROI.

Digital employee experience has been a hot area for clients ever since the pandemic forced employees home, and it's still important. Sixty percent of technology and business leaders indicate that improving EX is a top IT priority over the next 12 months. Fears of an upcoming recession, however, will likely impact DEX investment in 2023, resulting in longer and smaller deals.

Why? Many leaders struggle to define the ROI of DEX investments today, which will make this category harder to justify to CFOs. The result? Enterprises will have to focus on DEX use cases that reduce cost and improve experience.


Forrester's advice:

Double down on experience investment. Forrester's

Planning Guide 2023: Technology Architecture & Delivery

calls out continued investment in

core business applications and features that protect business assets and people

. While others may pull back on DEX investment, this is the time to leapfrog your competition. Tactical DEX improvement use cases with tangible ROI — such as proactive experience management — should be key focus areas.

 

Proactive experience management will become mainstream.

Proactive approaches to experience management aim to prevent experience issues from impacting employees. Importantly for leaders in 2023, they both improve DEX and reduce costs. Forrester witnessed real deployments of

proactive IT sup

port

in 2022. For example, CGI is using AIOps and conversational AI to deflect 8,000 events a month. Proactivity will become more mainstream in 2023 and will expand into new use cases such as asset management, device refresh, and break/fix.


Forrester's advice:

Focus on building an accurate data model to faciliate proactivity. Proactivity is only possible with the right data to inform actions. Data from end-user experience management (EUEM) platforms, endpoint management tools, and enterprise service management vendors can effectively string together multiple types of data to achieve proactivity. These are usually ripe for proactive experience remediation. What types of data do you need to collect in 2023 to facilitate proactive management?


 

Vendor consolidation will occur across multiple digital workplace categories.

2022 saw an acceleration of a trend toward simplifying digital workplace portfolios. Microsoft Teams, for example, added application and file support directly into the platform, while vendors such as Appspace-Beezy and Poppulo-SmartSpace-FWI combined forces to unify physical and digital workspaces and

endpoint management vendors increasingly built DEX capabilities directly into the platform. In 2023, expect to see greater integration between EUEM and AIOps tools, consolidation of visual collaboration tools into broader suites, and integration of more smart office tooling into digital workplace offerings.


Forrester's advice:

Assess your current application stack now. Look for overlapping feature sets from multiple providers. Are there opportunities for simplification? Could DEX improve if employees accessed those capabilities from a single platform? Integrations that reduce context switching will especially impact employee productivity in positive ways.


 

Personalization will rise as a digital workplace requirement.

Personalization has been a key trend in the employee communications space since pre-pandemic times but is now finding its role in the digital workplace stack. Orchestration and audience segmentation capabilities enable the delivery of targeted content, knowledge, apps, and notifications into preferred interfaces. These individualized experiences can be based on the employee's role, job level, or even how they fit into the anywhere-work spectrum of home office, corporate office, or frequent traveler.


Forrester's advice:

Equip different employee personas with their own individualized

digital workspaces

— which Forrester defines as "the personalized and customizable set of apps, content, and devices that make up an individual's productivity experience according to their workplace persona."


 

Digital workplace leaders will double down on new approaches to success metrics.

Watch for more cohesion around the various analytics and dashboards offered by different components of the digital workplace. Classic engagement measurements (such as content views, email open rates, number of contributors in a chat channel) or service-level agreement (SLA) measurements for application uptime, for example, will shift into more employee-centric "experience-level agreements" (XLAs). Some of these XLAs will be "SLA 2.0" — like PC boot time — but others will take into account broader employee journeys — like onboarding.


Forrester's advice:

Define success based on employee outcomes, not on just IT efficiencies or the data that is easiest to report on. Measure employee satisfaction on an ongoing basis and benchmark real-time human experiences — not the performance of servers or apps.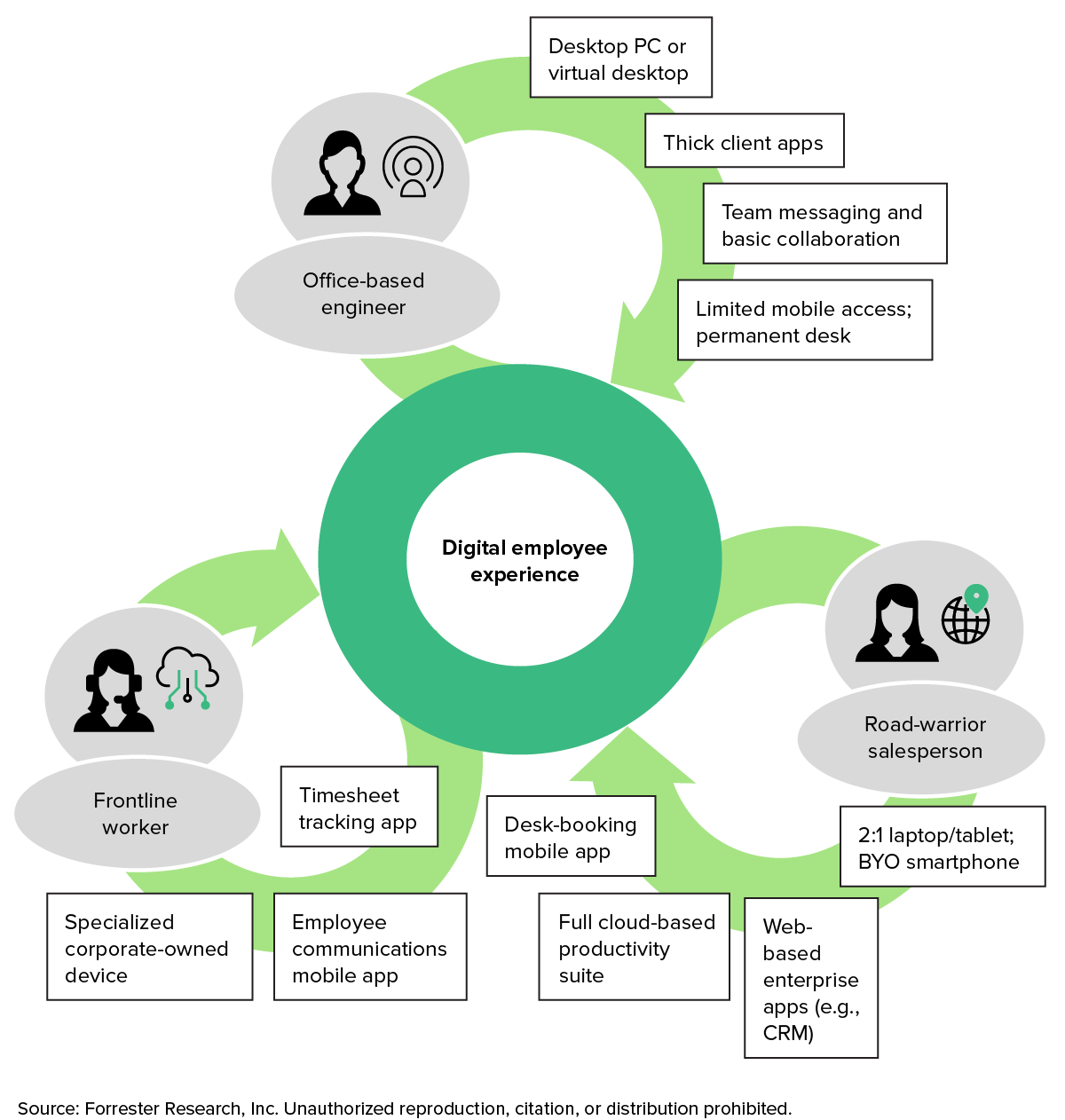 Need Help With Your Strategy?
If you'd like to learn more about how to build a digital workplace strategy, clients can access our recent report and recorded webinar, or reach out to Andrew and Cheryl at inquiry@forrester.com.