The global energy as a service (EaaS) market is witnessing significant growth propelled by industrialization, government support, and the increasing adoption of distributed energy resources.
 
In this article, we explore insights from a new report by The Business Research Company and share data on EaaS market growth projections, top trends, and key players.
What Is Energy as a Service (EaaS)?
Energy as a service (EaaS) is a concept whereby customers pay for an energy service without needing to make any initial capital investment. The EaaS model typically takes the form of a subscription for energy devices owned by a service provider or management of energy usage to offer the desired energy service.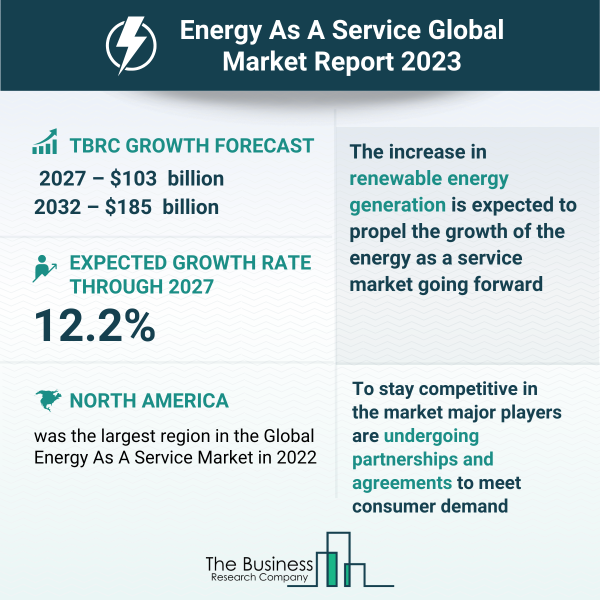 What Is the Energy as a Service Market Size and Forecast?
The global energy as a service market reached a value of nearly $58 billion in 2022, having increased at a compound annual growth rate (CAGR) of 7.6% since 2017. The market is expected to grow from $58 billion in 2022 to $103 billion in 2027 at a rate of 12.2%. The market is then expected to grow at a CAGR of 12.4% from 2027 and reach $185 billion in 2032.  
The exponential growth in the energy as a service market is a result of rapid industrialization, increasing government support, and increasing distributed energy resources. In addition, the rising number of smart meters will drive the market.
What Are the Top Trends in the Energy as a Service Market?
1. Focus on Artificial Intelligence
Companies in the energy as a service market are focusing on integrating artificial intelligence (AI) in energy services and strengthening their service offerings. AI is used to manage energy flows within and between buildings, businesses, storage batteries, renewable energy sources, microgrids, and the main power grid to optimize energy systems. This lessens energy waste, while raising consumer awareness of energy use.
2. Virtual Power Plants
Energy as a service providers are focusing on virtual power plants to encourage the introduction and growth of renewable energy and to aid in the decarbonization of society and strengthen their service portfolio. Virtual power plants, which are typically viewed as a connected collection of DER (distributed energy resources) technologies, allow for greater integration of renewable energy sources and demand flexibility, which in turn provides more users with cleaner and less expensive electricity.
For example, in April 2023, SunPower, a US-based company that provides photovoltaic solar energy generation systems and battery energy storage products, and OhmConnect, a US-based company that trades energy in these markets like a power plant, introduced a new virtual power plant (VPP) offering for SunPower customers across California, USA. Now that OhmConnect is fully integrated into the mySunPower app, homeowners in specific locations with solar and SunVault battery storage can receive rewards for controlling their electricity use during times of peak demand.
3. Importance of Battery Energy Storage
Companies in the energy as a service market are focusing on battery energy storage to enable cost-savings and enhance their service offerings. The battery energy storage systems (BESS) enable energy from renewable sources, such as solar and wind, to be stored and then released when it is most needed.
Who Are the Major Players in the Energy as a Service Market?
The global energy as a service market is fairly fragmented, with a large number of players operating in the market. The top ten competitors in the market made up to 17.53% of the total market. Schneider Electric SE was the largest competitor with 3.55% share of the market, followed by Veolia Environment S.A., Engie, Enel S.p.A, Siemens AG, Honeywell International Inc., EDF, Bernhard Energy Solutions, AltaGas Ltd., and Johnson Controls International PLC.
Where to Learn More
Energy as a Service Global Market Report 2023 by The Business Research Company exclusively provides player-adopted strategies in the energy as a service industry, market-trend-based strategies for the energy as a service market, and the top growth potential sectors in the industry.
About The Business Research Company
The Business Research Company is a market intelligence firm that excels in company, market, and consumer research. Located globally it has specialist consultants in a wide range of industries including manufacturing, healthcare, financial services, chemicals, and technology. Find the company on LinkedIn, Twitter, Facebook, or YouTube for more.