The European video and integrated operating room equipment market was valued at 1.6 billion U.S. dollars in 2022. This is expected to increase at a mid-single-digit CAGR over the forecast period. One of the main drivers of this market is the significant change in demographics over the past number of years. In conjunction with population growth, the life expectancy of European citizens has increased substantially. By 2050, more than 129.8 million people will be over the age of 65 in Europe (Eurostat, 2020).
Furthermore, the incidence rate of obesity and diabetes has increased in recent years, further driving the number of procedures being performed. Currently, more than half of Europeans are overweight and nearly 20% of Europeans are obese (Wigglesworth, 2023). The number of people suffering from obesity is expected to increase further to 30% by the year 2030 (Huet, 2022). In addition, between 10-12% of the European population have diabetes (World Health Organization, 2011). Together, these contributing factors, along with other surgical requirements, have contributed to the sharp rise in procedures being performed in operating rooms (ORs) over the past several years, thus driving market growth.
The second main driver of this market is the commitment by European governments to increase healthcare spending as a consequence of the continued fallout from the COVID-19 pandemic. The pandemic revealed significant weaknesses in the sector, predominantly the result of continuous underfunding. In particular, a significant portion of the expenditure will be directed toward updating and modernizing operating rooms (ORs) in European hospitals, in addition to increasing supply reserves in healthcare settings. This will come in the form of building integrated ORs and hybrid ORs.
An integrated OR often includes high-resolution video displays, multi-modality connectivity, centralized touchscreen control and digital information archiving that allows the OR to exchange information with external locations and enables the efficient placement of ergonomic equipment. Hybrid ORs are integrated ORs that include a fixed imaging system, such as a C-arm, which allows for intraoperative imaging, providing versatile solutions to perform open and minimally invasive surgeries. Integrated ORs will have a smaller share of the market due to the multiple available configurations of hybrid ORs. In addition to general-purpose procedures, hybrid ORs can also be used for cardiovascular, orthopedic, spine, neurosurgical and vascular procedures.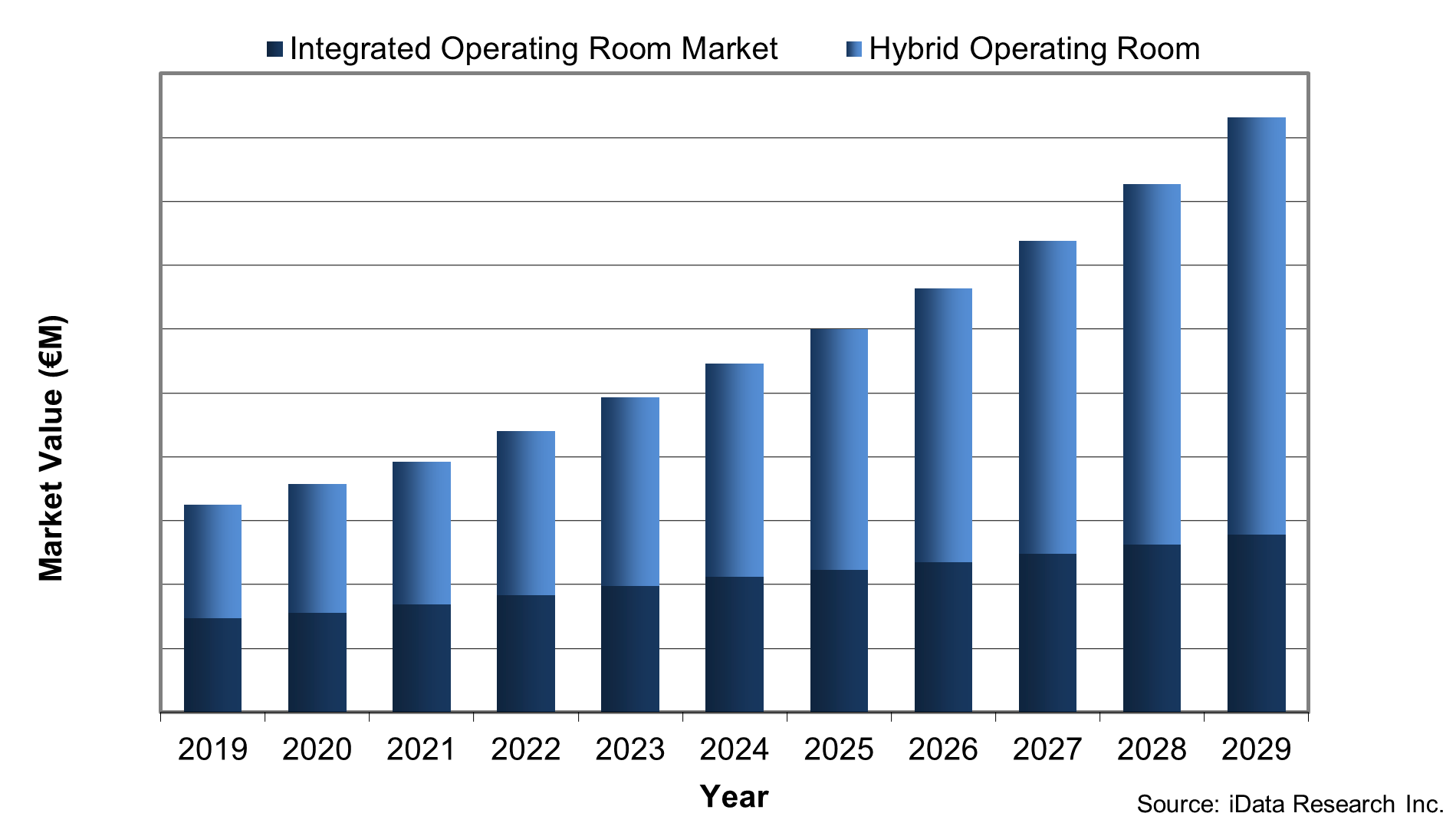 Revelations from COVID-19
Following the initial outbreak of COVID-19 at the end of 2019, the virus had spread worldwide by 2020. As of 2023, Europe, as a whole, is the most affected continent in the world. The most affected countries in Europe include France, Germany, Italy, the United Kingdom (U.K.), and Russia. The pandemic revealed several major weaknesses in the healthcare sector.
First, the dramatic drop in surgical procedures during the pandemic further exacerbated the already lengthy waiting times in many European countries. For example, the UK saw an increase of people waiting for surgical procedures from four million before the pandemic to 10 million after the pandemic hit (Shutterstock, 2021). Although hospitals were quick to implement effective processes that facilitated the return to elective procedures, most hospitals were functioning at a substantially reduced capacity. This contributed to significant backlogs and disruptions to healthcare in most European countries, something many countries are still working to reduce (World Health Organization, 2022).
Second, the pandemic revealed extremely low levels of internal digitization in health settings in several European countries. This became evident when hospitals struggled to effectively track and trace COVID-19 infection rates, hindering largescale coordination efforts to minimize the spread.
They also failed to monitor the number of available hospital beds. Many hospitals were still communicating via fax, leading to major time delays. This significantly increased the workload for healthcare staff at a time when there was already mounting strain due to the crisis. This significantly increased the workload for healthcare staff at a time when there was already mounting strain due to the crisis. For example, before the pandemic, Germany–the European country with the largest economy–was known for its low level of digitization, even by international standards (Arentz & Läufer, 2021). During the pandemic, due to the rising workloads and limited resources, the federal armed forces were mobilized to support health authorities to trace infections.
Finally, the pandemic revealed some concerning supply chain issues in the healthcare sector. Supply chain issues range from the availability and supply of products to staffing shortages in healthcare settings and delivery services. Nearly all hospitals and healthcare facilities reported supply chain challenges in 2021. Moreover, most European countries faced a shortage of medical supplies in the early periods of the pandemic, namely of personal protective equipment (PPE), respirators, surgical masks and face shields. This was mainly the result cost-cutting measures in the healthcare sector in the years preceding the pandemic.
Europe's Response
As the pandemic hit Europe hard, it revealed numerous inadequacies in the healthcare sector, which moved governments to rapidly increase spending. During the first year of the pandemic, European countries significantly ramped up their spending. Among member states, Germany (12.8 %) and France (12.2 %) allocated the highest healthcare expenditure relative to GDP in 2020 (Eurostat, 2022). The countries with the next highest healthcare budgets were Austria (11.5 %), Sweden (11.4 %), the Netherlands (11.1 %) and Belgium (11.1 %). Nearly one-fifth (18.2 %) of healthcare expenditure in 2020 was used for medical goods (Eurostat, 2022). In 2022, per capita, health spending had increased by more than 5% across every EU country, the highest rate in nearly two decades (OECD, 2022).
As mentioned, the lack of digitization in European healthcare systems contributed a lack of available data which restricted prevention possibilities during the crisis. Because of this, an increased emphasis is being placed on upgrading these systems through the use of digitization. The Italian government, for instance, have planned to invest €1.45 billion to digitize the healthcare system across 280 hospitals. This will help advance applications in surgery units, laboratory information systems, pharmacy services, emergency rooms, drug prescriptions, diagnostics, repositories and scheduling (International Trade Administration, 2022). Furthermore, the Italian government plans to invest heavily in e-health technology infrastructure and the electronic medical record (EMR), by allocating €1.67 billion.
Recent technological advancements have increased the demand for more efficient integrated and hybrid operating rooms. Integrated and hybrid ORs save time through their ergonomic layouts and integrated control systems. As ORs are also the main source of revenue for both hospitals and ambulatory surgical centers (ASCs), much of the market growth will come from these segments.
In January 2022, University Hospital Brandenburg an der Havel signed a 10-year partnership with Philips to deliver new and upgraded hybrid operating rooms and interventional suites (GlobeNewswire, 2022). University Hospital Brandenburg an der Havel has over 500 hospital beds and provides specialist care for around 26,000 inpatients and 48,000 ambulatory patients. The partnership will contribute to the renewal and expansion of the hospital's diagnostic and therapeutic options by delivering advanced technology solutions. It is anticipated that partnerships like this will increase the sale of operating room equipment in Europe.
Conclusion
To overcome the current challenges described, European governments have pledged to increased spending in the health sector over the forecast period, fueling market growth. More specifically, the limited digitization in European healthcare settings has become a source of "untapped potential" for improving digital infrastructure within healthcare settings and for improving the quality of care for patients (Arentz & Läufer, 2021).
 This move toward digitization will drive growth in the video and integrated operating room equipment market as funding is allocated to build integrated and hybrid OR in hospitals and ASCs. Germany will see, by far, the biggest increase in government spending. This will be followed by France, Italy, and the U.K. The remaining European countries will see a similar increase in healthcare spending, although to a lesser extent.
For further insights, please see the report Video and Integrated Operating Room Equipment Market Analysis, Size, Trends – Europe – 2023-2029 by iData Research.
About the Authors
Niamh O'Neill is a research analyst at iData Research. She works on research projects regarding the medical device industry, publishing the U.S. Video and Integrated Operating Rooms, and Orthopedic Soft Tissue report series.
Kamran Zamanian, Ph.D., is CEO and founding partner of iData Research. He has spent over 20 years working in the market research industry with a dedication to the study of medical devices used in the health of patients all over the globe.
About iData Research
For 17 years, iData Research has been a strong advocate for data-driven decision-making within the global medical device, dental, and pharmaceutical industries. By providing market research and consulting solutions, iData empowers its clients to trust the source of data and make important strategic decisions with confidence.
References
Arentz, C., & Läufer, I. (2021). Challenges for the German Healthcare System in the COVID-19 Pandemic and Beyond. Washington: American-German Institute. 
Eurostat. (2020). Ageing Europe – Statistics on Population Developments.
Eurostat. (2022). Healthcare Expenditure Statistics.
GlobeNewswire. (2022). Philips and University Hospital Brandenburg an der Havel sign 10-year partnership to advance patient care. Notified.
Huet, N. (2022, March 4). 1 billion people will be obese by 2030 without urgent action. euronews.next.
International Trade Administration. (2022). Medical Devices and Technology. United States Department of Commerce. Retrieved May 10, 2023.
Madan, N. (2022, June 27). Medtech Companies Pioneering Innovation in Europe. Retrieved May 10, 2023, from Kolabtree Blog.
OECD. (2022). Health at a Glance: Europe. OECD. doi.
Shutterstock. (2021, February). Too long to wait: the impact of COVID-19 on elective surgery. The Lancet Rheumatology, 3(2). doi.
Wigglesworth, K. (2023, March 4). World Obesity Day: How to Tackle Weight Increases in Europe. euronews.next.
World Health Organisation. (2021). Spending on Health in Europe: Entering a New Era. Denmark: WHO Regional Office for Europe.
World Health Organization. (2011). Diabetes. World Health Organization.
World Health Organization. (2022, July 20). COVID-19 Has Caused Major Disruptions and Backlogs in Healthcare.