The field of genomics has significantly positioned itself as a hotspot of academic scientific research and clinical medicine. Precision medicine and next-generation sequencing (NGS) are two examples of technological developments that have initiated substantial advancements in the field of oncology while also creating new opportunities for further growth.
For instance, the field of cancer diagnostics has lately begun to see a decline in the sole dependence on direct tumor tissue biopsy for cancer diagnosis, treatment, and monitoring. With the advent of precision medicine guided by cancer genetics as well as the more recent development of cancer immunotherapies, the need for advancement in molecular oncology diagnostics has never been more pressing.
Novel non-invasive cancer diagnostics platforms have developed and grown over the past few years in response to the practical restrictions and dangers associated with tissue-based biopsy diagnostics. These platforms include liquid biopsies, which are used to examine circulating tumor cells, proteomics, metabolomics, and exosomes; urine biopsies, which are used to assess circulating tumor DNA (ctDNA); saliva and stool biopsies, which are used for molecular genomics assays; and breath biopsies, which measure volatile organic compounds.
In this article, these non-invasive molecular diagnostic techniques are discussed in detail. However, first, one needs to look at how molecular cancer diagnostics have evolved over time.
Evolution of Molecular Cancer Diagnostics to Non-Invasive Techniques
When American scientist Linus Pauling and his associates at the California Institute of Technology found that the alteration of a single amino acid at the globin chain resulted in sickle cell anemia in 1949, the phrase "molecular illness" entered the medical vocabulary. The provision of molecular diagnostic services was both theoretically and practically impossible in 1949 when molecular biology was just starting to gain ground.
Further, the fluorescent in-situ hybridization (FISH) technology for lung cancer diagnostics was developed in 1999 by a team under the direction of Khuong Truong. The two-color fluorescence on chromosome 3's long and short arms can be used to identify an imbalance.
Invasive procedures for cancer diagnosis and monitoring have steadily been replaced over the past ten years by non-invasive therapies such as liquid biopsy. Clinical oncology has fundamentally changed due to liquid biopsies, which make it possible to sample tumors more easily, continuously monitor patients through repeated samples, create personalized treatment plans, and check for therapeutic resistance.
Types of Non-Invasive Molecular Cancer Diagnostic Techniques
Other than liquid biopsy, several non-invasive molecular diagnostic procedures are employed for cancer screening and diagnosis. The following sections cover a handful of these methods:
1. Liquid Biopsy-Based Cancer Molecular Diagnostics
Liquid biopsy is a non-invasive medical procedure that can detect the presence of molecular cancer biomarkers in biological fluids. The test primarily uses biological fluid samples, such as blood, urine, serum, and saliva, and then sequences the materials using several methods, including next-generation sequencing (NGS) and polymerase chain reaction (PCR), to look for mutations that are known to cause cancer.
The foundation of the liquid biopsy method is the collection and examination of tumor-derived particles, such as nucleic acids, nucleosomes, exosomes, proteins, and cells. Malignant tumor cells exhibit fast cell division and metastasis as two of their primary traits.
The main factor behind the rise in cancer incidence worldwide is the lack of medical treatments that enable early detection and continuous monitoring of cancer patients. It is anticipated that the development of such medical techniques and customized therapies will significantly lower cancer deaths.
As of 2021, tissue biopsy was the technique that was most frequently used to identify cancer. However, it spurred the development of more effective minimally invasive techniques because of its reliance on invasive surgical procedures, which frequently restricted regular therapy monitoring and early diagnosis.
The creation of a key non-invasive diagnostic process known as liquid biopsy has been made possible by the outstanding research on molecular technologies, cancer biomarkers, and the existence of biomarkers in body fluids. Liquid biopsy has become quite popular among clinicians owing to features such as non-invasiveness, real-time monitoring, and the ability to diagnose mutations in several organs using just one sample.
Therefore, by using analytical techniques with very high sensitivity, i.e., NGS or digital PCR, and the capacity to detect unusual cells, it is conceivable to find evidence of the presence of cancerous cells in bodily fluids. For non-invasive, real-time cancer screening and therapy monitoring, a liquid biopsy test is used.
Liquid biopsy has a wide range of possible clinical uses that span the full course of a cancer patient's illness, including screening patients for early detection, measuring the effectiveness of interventions, and surveillance and recurrence monitoring. Furthermore, liquid biopsies play an important role in the treatment of those types of cancers in which the collection of samples through tissue biopsies is nearly impossible.
2. Saliva Biopsy
It has been investigated and determined that the feasibility of using deoxyribonucleic acid (DNA) extracted from saliva samples for genome-wide molecular research platforms, particularly when compared to blood DNA, has been established. A salivary DNA tumor-suppressor methylation gene panel may be able to identify early cancers in people with human papillomavirus (HPV)-negative cell carcinoma, according to a recent pilot study. Patients with head and neck squamous cell carcinoma who tested positive for HPV had unregulated levels of methylation.
3. Cerebrospinal Fluid Biopsy
Since the blood-brain barrier acts as a therapeutic barrier, the brain and central nervous system (CNS) constitute a refuge where tumor cells can be shielded from systemic therapy. Similar to main visceral solid tumors, circulating tumor DNA (ctDNA) from primary CNS tumors is infrequently found in systemic blood circulation. Therefore, the cerebrospinal fluid (CSF) compartment represents a special and potentially very insightful domain for the development of molecular diagnostics.
4. Urine Biopsy
A prominent bodily fluid for cell-free DNA (cfDNA) molecular tests for cancer diagnosis is urine. The urine biopsy is completely non-invasive because it does not even require phlebotomy with a needle, as it would in the case of a blood biopsy. In the hospital or clinic, at home, or both, patients can take their own urine samples.
Additionally, patient performance status or disease states are typically not a barrier to serial sample collection, making it neither burdensome nor dangerous for patients. Molecular diagnosis in urine samples for genitourinary malignancies has been attempted for many years. The first gene alterations in bladder cancer patients' urine sediment were discovered in 1991. Several papers that showed various gene mutations found in the urinary ctDNA isolated from individuals with genitourinary cancer thereafter appeared.
Future Market Growth
The entire range of cancer genomes, molecular genomics diagnostics, technical platform developments, and cancer therapies have all seen dramatic advancements in cancer treatment in the past few years. As a result, non-invasive molecular cancer diagnostic assays have expanded at a previously unheard-of rate.
Moreover, with the rising prevalence of cancers and increased transformations in biomarker identification, the global molecular oncology diagnostics market is expected to grow significantly.
According to a recent BIS Research report, the global molecular oncology diagnostics market was valued at $3.62 billion in 2021 and is anticipated to reach $12.13 billion by 2032, witnessing a CAGR of 11.43% during the forecast period 2022-2032.
Learn More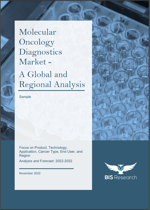 For more information on this fast-growing market, please see Molecular Oncology Market – A Global and Regional Analysis, 2022-2032, a detailed report packed with data and insights covering market segmentation, recent market developments, market demand, drivers and challenges, the competitive landscape, and key players. This report draws on extensive primary and secondary research to help industry players design the right business strategies for this competitive, ever-shifting market.
---
About the Publisher: BIS Research is a global market intelligence, research and advisory company that focuses on emerging technology trends that are likely to disrupt the market. Its team includes industry veterans, experts, and analysts with diverse backgrounds in consulting, investment banking, government, and academia.
---
Additional Articles