Age-related macular degeneration (AMD) is a chronic, progressive, and severe disease of the central retina and is the leading cause of irreversible vision loss. The wet form of the disease is accountable for almost 90% of the severe central visual acuity (VA) loss associated with AMD.
As per DelveInsight analysis, in 2021, the total diagnosed cases of wet-AMD were approximately 3.8 million in the 7MM, which includes the United States, EU5 (Germany, Spain, Italy, France, and the United Kingdom), and Japan. These cases are further estimated to increase by 2032.
Moreover, the prevalence of AMD steadily augments with age. Thus as the world ages, the number of individuals with wet-AMD will also rise, which will turn out to be one of the key factors driving the wet-AMD market in the future.
In the past years, anti-Vascular Endothelial Growth Factor (VEGF) injections have become the standard wet-AMD treatment, accounting for better results than the former choices, such as photodynamic therapy (PDT) and laser photocoagulation. At present, five drugs approved for the wet-AMD treatment target the same molecule, VEGF. Also, a sixth anti-VEGF therapy called Avastin (bevacizumab), approved by the US FDA to treat colorectal and other cancers, is used as off-label therapy in wet-AMD treatment. Despite the developments of new AMD drugs and being off-label, the drug still accounts for nearly 50% of the US wet-AMD market share.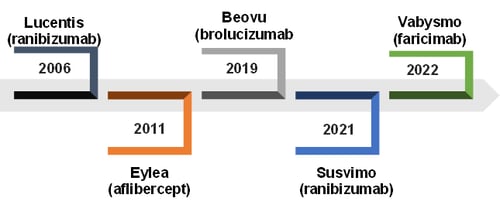 As per our analysis, the total wet-AMD market size was USD 8.4 billion in the 7MM in 2021, which is further expected to rise by 2032.
Though current anti-VEGF therapies have revolutionized the way wet-AMD is treated and have helped improve the lives of many patients, there are a few unmet needs associated with the use of anti-VEGF therapies. These unmet needs of treatment warrant the development of new wet-AMD therapies.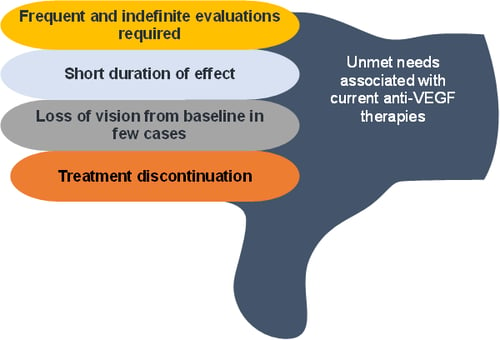 In addition, with their patent expiry in the coming years, anti-VEGF therapies will face tough competition with emerging biosimilars and off-label wet-AMD drugs. As the patent of Lucentis expired in 2020 in the US and with its biosimilars already available in the AMD market, the AMD market size of the drug declined from 2019 to 2020. Apart from Lucentis, the patent of Eylea is also expected to expire in 2023, after which its sale is expected to decline.
There are also a few safety and potency concerns allied with using bevacizumab. Off-label ophthalmic bevacizumab injections can vary significantly when repackaged by compounding pharmacies, affecting quality, safety, and access. The concerns related to off-label bevacizumab could be eradicated when becoming an on-label drug. Therefore, creating a new cost-effective, safe, and convenient version of an already widely used treatment method could prove helpful.
Research is underway to identify wet-AMD treatment approaches that may address existing wet-AMD treatment challenges, including regimen, mode of delivery, and nonresponse. Though several AMD therapies are currently under investigation, most of the therapies in the pipeline also target the VEGF pathway. These emerging wet-AMD drugs, once launched, are expected to give tough competition to the current anti-VEGF therapies in the wet-AMD treatment market.
Analyst Commentary
A robust pipeline of investigational drugs for wet-AMD is expected to extend the dosing interval beyond that of currently available anti-VEGF agents.
The companies working to develop anti-VEGF drugs for wet-AMD include Kodiak Sciences (KSI-301), Opthea Limited (OPT-302), Graybug Vision (Sunitinib Malate), Regenxbio (RGX-314), Outlook Therapeutics (ONS-5010/ Lytenava), EyePoint Pharmaceuticals (EYP-1901), Gemini Therapeutics (GEM103), 4D Molecular Therapeutics (4D-150), and others.
If approved, Lytenava could replace the current practice of using unapproved repackaged IV bevacizumab sourced from compounding pharmacies for the wet-AMD treatment.
OPT-302, the first 'Trap' inhibitor of VEGF-C and VEGF-D, being developed for use in combination with anti-VEGF-A monotherapies, has the potential to address the unmet medical need of wet-AMD patients, many of whom respond to sub-optimally or become refractory to existing therapies for these debilitating diseases.
RGX-314, the most prominent gene therapy in development, is assumed to capture a major market share after its launch. One of the main reasons for this market dominance is the cost of wet-AMD treatment.
The companies which are developing drugs with a mechanism of action different from targeting VEGF include Alkahest which is developing AKST4290, an oral drug to block eotaxin from binding to its G-protein coupled receptor (GPCR) CCR3, and Ribomic USA, developing RBM-007 which belongs to a class of fibroblast growth factor inhibitors. It will be tough to foretell if these therapies will bring a new category of therapies for wet-AMD patients and will be able to supplement or replace anti-VEGF wet-AMD treatments.
Where to Learn More
For deeper insights into this dynamic market, please refer to the detailed market research reports on this topic published by DelveInsight:
About DelveInsight
DelveInsight is a market research firm focused exclusively on the life sciences. It provides cutting-edge market and pipeline information to help organizations make important business decisions and identify potential market opportunities.