The biopharmaceutical sector is one of the most innovative industries in the world that has contributed significantly to developing novel drugs and vaccines for the treatment, prevention, and diagnosis of various diseases and disorders, such as cancer, neurological diseases, and metabolic disorders. Many biopharmaceutical and biotechnology companies are investing heavily to tap the great potential of the biopharmaceutical market.
Biopharmaceuticals refer to any biologically synthesized products from any living cell or organism and are used to treat or manage different diseases and disorders. Biopharmaceutical products include (but are not limited to) monoclonal antibodies, recombinant growth factors, purified proteins, recombinant proteins, recombinant hormones, vaccines, cell and gene therapies, and other products.
Biopharmaceutical products are manufactured using highly advanced biotechnology tools, like genetic engineering. They target a specific region in the body, which increases their efficacy and effectiveness in treating desired conditions. Biopharmaceuticals are expected to have the potential to treat many untreatable diseases such as genetic disorders and neurological diseases.
How Fast Is the Global Biopharmaceuticals Market Growing?
According to the latest report by Mordor Intelligence, titled Biopharmaceuticals Market – Growth, Trends, COVID-19 Impact, and Forecasts (2023-2028), the global biopharmaceuticals market is expected to reach USD 652 billion by 2028 with a CAGR of over 8%.
The increasing global acceptance of biopharmaceutical products for the treatment and management of different disease indications is driving huge investment in the area, which is one of the major factors propelling growth in the market. Companies have not only launched and received approval for several biopharmaceutical products but are also engaged in the development and conducting of clinical trials for novel therapeutics too. For instance, according to the International Federation of Pharmaceutical Manufacturers & Associations (IFPMA) report published in 2021, an estimated $202 billion would be spent on biopharmaceutical research and development activities in 2022 alone.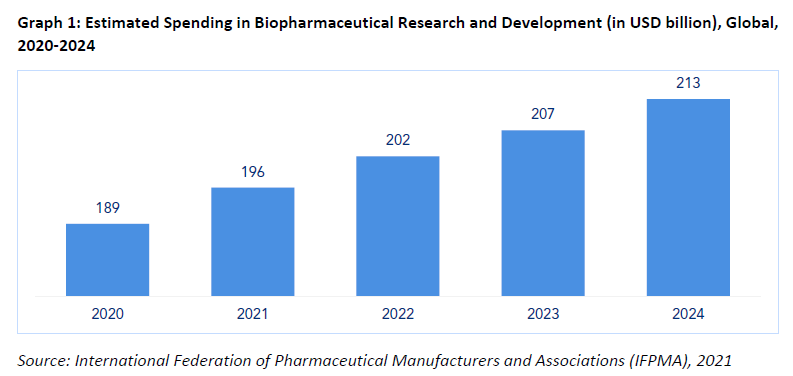 There is a growing burden of chronic diseases such as cancer, diabetes, cardiovascular diseases, neurological disorders, and musculoskeletal disorders, among others. In addition, with the rising demand for advanced and effective therapeutics against these conditions is further fueling growth in the biopharmaceuticals market. For instance, as per the American Cancer Society's report published in 2022, about 1.9 million new cancer cases will be diagnosed in the country in 2022, as compared to 1.8 million cases in 2020.
Similarly, according to the International Diabetes Federation (IDF), about 537 million adults of age 20-79 years were living with Type-1 diabetes in 2021, and the number of people living with Type-1 diabetes will increase to 783 million by 2045 worldwide. As Type-1 diabetes is insulin dependent in which the pancreas does not make insulin or makes insufficient insulin, products like recombinant insulin play a major role in diabetes management. Insulin was the first recombinant biopharmaceutical approved by the United States for diabetes and was developed by Eli Lilly and Company in 1982. Further, several biopharmaceuticals, such as monoclonal antibodies (mAbs), and cell therapies, are approved for treating cancer. In May 2022, Roche launched PHESGO (a combination of two antibodies) in India for the treatment of early and metastatic HER2-positive breast cancer. Thus, with the growing prevalence of chronic diseases, the demand and launch of biopharmaceuticals will also increase around the world.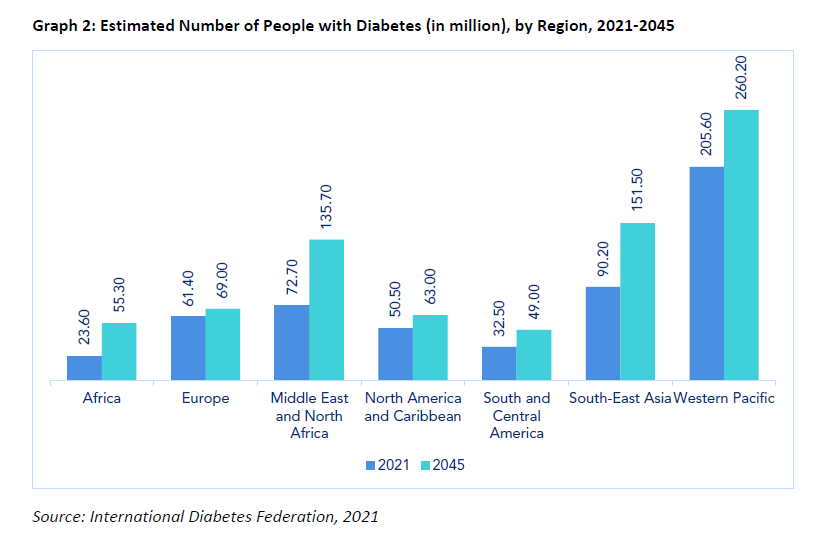 Impact of COVID-19 on the Global Biopharmaceuticals Market
Biopharmaceutical companies were at the forefront of the development of diagnostic kits and vaccines to combat COVID-19 and played a major role in saving the global economy from the uncertainty of the pandemic. Pharmaceutical companies reallocated their resources and capital for the research and development of an effective vaccine, and within a year, they were able to develop COVID-19 vaccines. In December 2020, the FDA provided emergency use authorization (EUA) to the Pfizer-BioNTech COVID-19 Vaccine for individuals 16 years of age and older.
As companies and other stakeholders raced to develop effective therapeutics against COVID-19, the demand for biopharmaceutical products increased significantly. Private, government, and non-government entities made a significant investment in the development and production of COVID-19 vaccines, which boosted the demand manifold for a short period. For instance, as of November 2022, over 12.6 billion doses of COVID-19 vaccines have been administered worldwide, as per the World Health Organization (WHO) Coronavirus Dashboard.
Furthermore, according to the WHO Vaccine report published in December 2022, the adult COVID-19 vaccine market was worth USD 99 billion in 2022. These data show that COVID-19 significantly increased the demand for biopharmaceutical products such as recombinant proteins, vectors, and nucleic acids, among others worldwide. Additionally, as per the update of the WHO published on 9th December 2022, about 175 COVID-19 vaccine candidates are in clinical development, and 199 are in pre-clinical development. Hence, these ongoing clinical trials over COVID-19 vaccines are further expected to fuel growth in the biopharmaceutical market.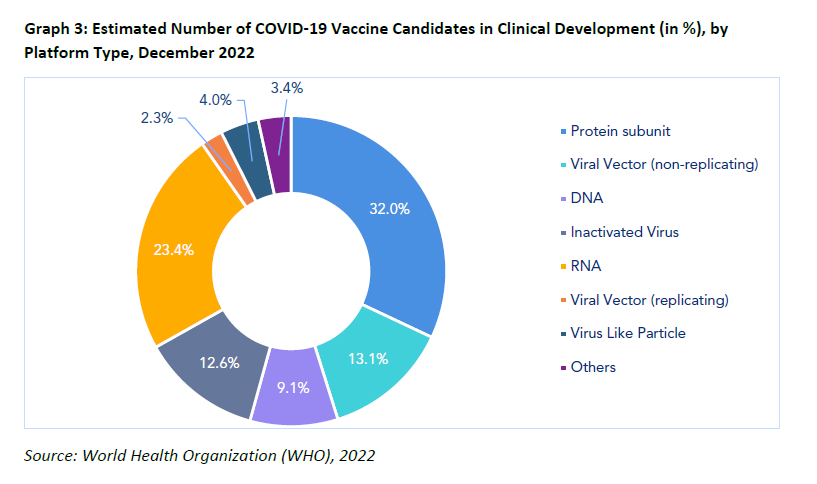 Biopharmaceutical Competitive Landscape
The biopharmaceutical market is highly competitive owing to the presence of several established players such as F. Hoffmann-La Roche Ltd., Johnson & Johnson Services Inc., Bristol-Myers Squibb Company, Amgen Inc., and AbbVie Inc. Some other players in the market include Novartis AG, Pfizer Inc., GSK PLC, Sanofi, and others.
These companies are investing heavily in the market with a major focus on research, development, and the launch of novel therapeutics for diseases like cancer. Moreover, these companies are adopting various key strategies such as product approvals, mergers and acquisitions, collaboration, and distribution agreements are further expected to add to the market growth. For instance, in September 2022, Legend Biotech Corporation received approval from Japan's Ministry of Health, Labor and Welfare (MHLW) for CARVYKTI (ciltacabtagene autoleucel), which is a B-cell maturation antigen (BCMA)-directed chimeric antigen receptor T cell (CAR-T) therapy, for the treatment of adults with relapsed or refractory multiple myeloma. Earlier, in February 2022, CARVYKTI from Johnson and Johnson was approved by the United States Food and Drug Administration (FDA) for the treatment of adults with relapsed or refractory multiple myeloma.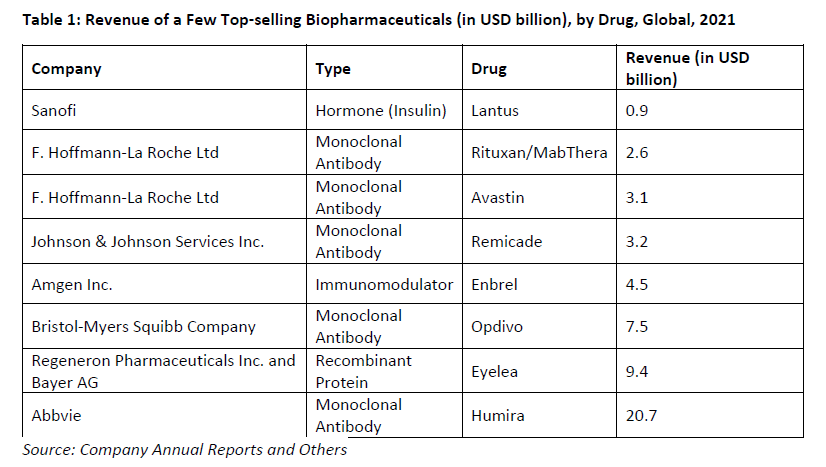 Biopharmaceuticals Market Trends
By product type, monoclonal antibodies are expected to dominate the market over the forecast period at a CAGR of about 11%.
By therapeutic application, the oncology segment occupied a major share of the biopharmaceuticals market in the current year, and the same trend is expected to continue over the forecast period.
By geography, North America is dominating the biopharmaceuticals market, followed by Europe in the current year, and is expected to do the same over the forecast period.
Future Growth Opportunities in the Biopharmaceuticals Market
The rising burden of chronic diseases worldwide is further expected to drive the demand for novel therapeutics where biopharmaceuticals have a vital role to play in the coming future. For instance, according to the International Agency for Research on Cancer (IARC), the burden of cancer is projected to increase from 19.3 million in 2020 to 28.9 million by 2040 globally.
New investment in the area by different entities, coupled with the development and commercialization of biopharmaceutical products, will enable high growth in the market.
For instance:
In September 2022, the Government of India launched the Quadrivalent Human Papillomavirus vaccine (qHPV) against cervical cancer in India, which was developed by the Serum Institute of India (SII) and the Department of Biotechnology (DBT). Further, as per the SII, the vaccine would cost around USD 2.5 – USD 5 (INR 200-400) per dose, which is significantly lower as compared to other parts of the world.
In October 2022, Sanofi Aventis US LLC entered into a co-promotion service agreement with Provention Bio Inc. for the commercialization of teplizumab in the United States. Teplizumab was developed by Prevention Bio, and it is an investigational anti-CD3 monoclonal antibody that is being evaluated for the delay of clinical type 1 diabetes (T1D) in at-risk individuals. As per the agreement, Provention will receive USD 20 million, which will be a non-refundable payment. Sanofi will have the exclusive right of the first negotiation to in-license teplizumab for Type 1 diabetes.
In June 2022, Amgen received approval for RIABNI (rituximab-are) from FDA. RIABNI is a biosimilar to Rituxan, in combination with methotrexate for adults with moderate to severely active rheumatoid arthritis (RA), the United States Food and Drugs Administration.
Where to Learn More
The latest Biopharmaceuticals Market – Growth, Trends, COVID-19 Impact, and Forecasts (2023-2028) report from Mordor Intelligence offers a detailed quantitative and qualitative analysis of the market, providing insights for market driving and restraining factors, Porter's five forces analysis, detailed segmentation analysis, competitive landscape, and future opportunities in the market. The biopharmaceuticals market is categorized into three segments: product type, therapeutic application, and geography. The report offers detailed qualitative and quantitative insights for 17 countries across major regions, including North America, Europe, Asia-Pacific, the Middle East & Africa (MEA), and South America. The report also analyzes the key companies in the market and provides an in-depth analysis of these companies, their product offerings, and key strategies for the biopharmaceuticals market.
---
About Mordor Intelligence
Mordor Intelligence has delivered precise data and actionable insights to more than 4,000 enterprises across 100 countries. The firm's domain-specific teams of research experts continuously track markets, providing clients a competitive edge through high-quality market intelligence.