With the teams set, Rhianna locked in, and record ad spend leading up to  Super Bowl LVII, football continues to dominate the American sports landscape. Although football enjoys strong financial growth and enduring popularity, it is not immune from serious threats or concerns. Recent injuries and off-field issues have brought controversies back to the surface, for both brands and consumers. But it hasn't hurt ratings: football's fan base has remained largely intact. As the controversies continue to pile up, brands might wonder: will the loyalty last? 
Player safety brings football (and the nation) to a halt
Football fans were already concerned about player safety well before these events. Prior to the 2022 season, Mintel's data showed that 71% of football fans believe that leagues and teams need to do more to protect players from injury. Player safety concerns have moved beyond parents of football players to even the most dedicated sports fans. The future of the sport may not be at stake, but potential rule adaptations, improved transparency and more-timely communication strategies are key moving forward, and brands could capitalize on those conversations.
Social responsibility remains a top priority
Off-field controversies have also continued to plague the sport at every level. Despite domestic violence, DUIs, manslaughter, bullying, child abuse and sexual assault allegations involving both college and NFL players in recent years, passionate fans have continued to follow the sport. 
At the same time, 70% of football fans agree that leagues, teams and players need to be held more accountable for mistakes they make. Even though tremendous philanthropic and volunteerism strides have been made, social responsibility remains a top priority for consumers today.
NCAA Athletes and NIL rules bring new opportunities
At the university level, the NCAA's Name, Image, and Likeness rule has opened up new doors for both brands and athletes, in what some are calling college football's financial revolution. Without a central regulatory body, the NIL landscape is frequently compared to a minefield for brands, and rules could shift significantly in the years to come. 
But college football stars will gain more notoriety and visibility as the NIL market continues to refine and expand. While a number of student-athletes qualify as macro-influencers (between 100,000 and 1,000,000 followers), many more qualify as micro-influencers (between 10,000 and 100,000 followers). Which means the greatest growth will occur on the local front: niche and regional brands can engage consumers at much higher rates as the NIL market becomes more stable. 
As NIL deals have moved beyond $1 billion in the first two years since the rule change, sponsorships are poised to grow rapidly across all levels of college football.
Sports betting, fantasy football, overseas growth point to even more new markets
Additionally, overseas growth is just beginning for both college football and the NFL. As the sport continues to expand overseas, look for international brands to expand cross-promotions and reach across the globe through sport. Untapped potential remains in London, Mexico and Germany, as fans continue to go beyond casual interest to passionate fandom. And Brazil and Spain could be the next markets of interest.
What We Think
Integrity grows even more important
Increased transparency around safety, social responsibility and even referee calls will be important for both brands and the sport as a whole. Accurate calls, injury updates and player conduct investigations will have wide-reaching financial implications, as sports betting and fantasy sports continue to grow. Football fans have grown increasingly skeptical about the accuracy and potential agenda of calls made (#NFLScript and #NFLRigged have both trended on Twitter). They also heavily weigh off-field behavior of their favorite players. 
Technology can push the sport forward
Teams and brands can use technology to take fan experiences to the next level. The LA Rams launched the NFL's first Augmented Reality (AR) experience in December 2022. The Rams House AR experience included infinity screen effects, 3D special effect player callouts and at-home AR experiences. Utilized by baseball and FIFA as well, AR fan engagement will continue to expand. AR technology not only adds value for customer experiences, but growth opportunities to expand sponsorship activations are also key.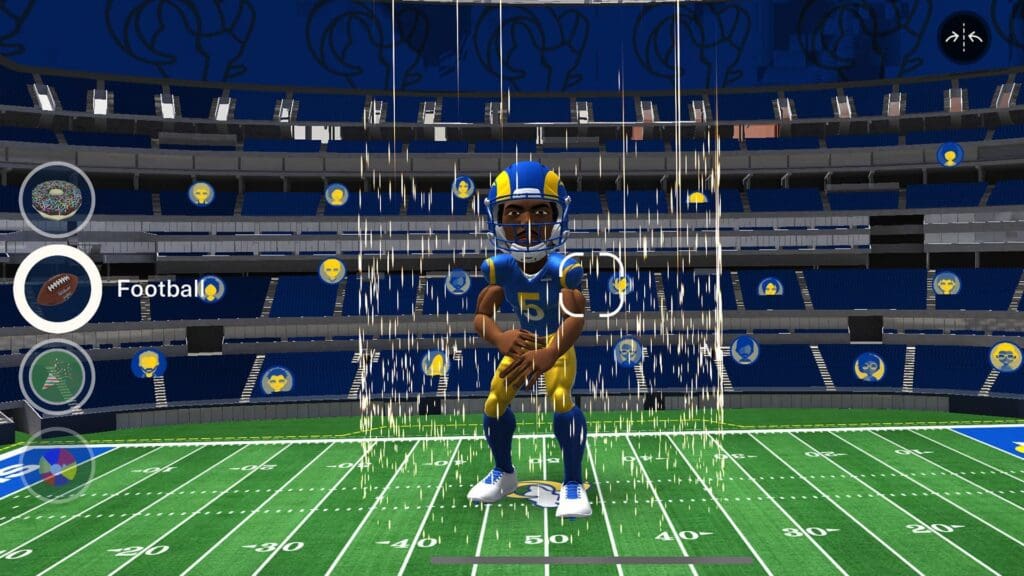 Technology may also help clear up calls for sports bettors and fantasy owners. Given the increased availability and accuracy of technology, location-based computer chips in footballs and updates to the yard marker process must be explored. In addition to expansion of replay assist, a movement toward complete full-time referee staff must also be a key priority. 
Bold movements ahead
Overall, the call from brands and media is for football, and more of it. With college football playoff expansion to 12 teams set for the 2024 season, brands and media must brace for "December Madness" to soon take over the sports holiday season. The NFL also may look to find ways to improve preseason football experiences for fans, like hosting preseason games in popular college stadiums. Neutral-site AFC and NFC playoff championship games also appear to be on the horizon, helping widen accessibility to teams and the sport. Football fans can expect a change in ways to consume football games as well: Amazon's success with streaming could mean things like more AR being used to enhance fan experiences, or the Super Bowl becoming a pay-per-view streaming event in the next decade.