Healthcare facilities are increasingly adopting healthcare predictive analytics, mainly in areas such as clinical trials, administration, and operations management, in order to provide the best care possible.
Healthcare predictive analytics has demonstrated its efficacy in a variety of healthcare settings, thus propelling the growth of the healthcare predictive analytics market in the forecast period. The Business Research Company's healthcare predictive analytics market report forecasts significant growth for the market. According to the report, the global healthcare predictive analytics market size is expected to grow from above $13.6 billion in 2022 to more than $33 billion in 2026 at a CAGR of almost 25%.
The healthcare predictive analytics market report also talks about the major players in the market under its competitive landscape section. The key players in the healthcare predictive analytics market include Allscripts Healthcare Solutions, Cerner Corporation, Cotiviti Inc., Oracle Corporation, Health Catalyst, Inovalon Inc., Optum Inc., Citiustech, McKesson Corporation, Medeanalytics, and Health Fidelity, Inc.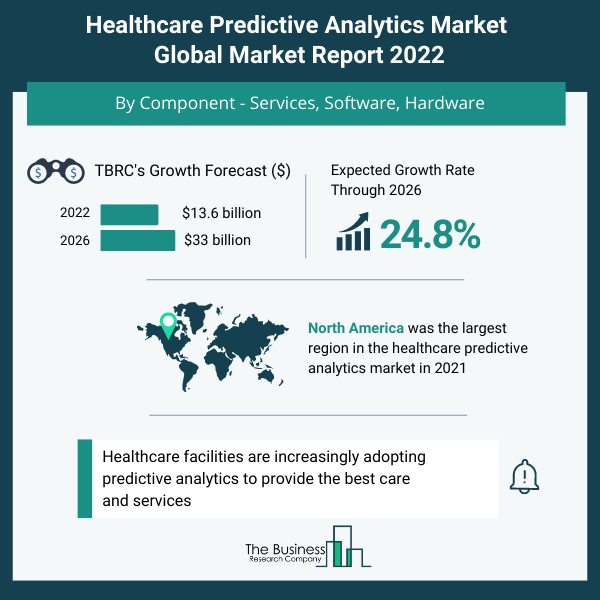 Top Three Applications for Predictive Analytics in Healthcare Facilities
1. Identifying Early Indicators of Patient Deterioration
Predictive analytics in the healthcare market can aid in the detection of early indicators of patient deterioration in the intensive care unit (ICU) and the general ward, the identification of at-risk patients in their homes to reduce hospital readmissions, and the prevention of avoidable downtime of medical equipment.
There is an increase in the adoption of predictive analytics tools by healthcare facilities, which can lead to an increase in their demand. For instance, in June 2022, Appalachian Regional Healthcare (ARH), a US-based healthcare system, used Biofourmis' virtual care and AI-based predictive analytics technology to support a new rural home hospital program delivering acute hospital-level care inside patients' homes, including a clinical trial studying this care model in rural areas.
2. Designing Personalized Medicines
Personalized medicine aids doctors in designing individualized treatment plans and making treatment decisions based on a genetic understanding of the patient's disease. Healthcare predictive analytics helps to improve patient outcomes by selecting the best treatment strategies by identifying the root cause of disease and prescribing specific precision medicine for treatment.
For instance, in September 2021, the Swedish Government invested $195.76 million (SEK 220 million) in the Swedish national infrastructure of Genomic Medicine Sweden (GMS) to make it easier to keep integrating precision medicine into Swedish healthcare and ensure that every person there has access to more accurate tests and individualized care. Such investments are taking place due to a rise in demand for personalized medicines.
3. Improving Clinical Trials Outcomes Through AI-Based Predictive Analytics
Market players are focusing on the launch of AI-based predictive analytics platforms to sustain their position in the market. For instance, in December 2020, AiCure, a US-based artificial intelligence and advanced data analytics company focused on improving clinical trials, introduced AiCure Data Intelligence, its next-generation data dashboard, to make data-driven decisions and create more meaningful trials.
The insights captured by AiCure's proprietary AI platform will enable quick assessments of trial and site performance, patient dosing and symptoms, and intervention success rates, which feed advanced predictive analytics and inform proactive, data-driven decisions. The dashboard enables the application of predictive analytics to not only predict medication adherence among patients with high accuracy and inform clinical interventions, but also improve site management by predicting site performance.
Healthcare Predictive Analytics Global Market Report 2022
Learn more in-depth information on key drivers, opportunities, and strategies in the healthcare predictive analytics market through The Business Research Company's Healthcare Predictive Analytics Global Market Report 2022. The report provides healthcare predictive analytics market analysis covering healthcare predictive analytics market forecast, insights and trends.
About The Business Research Company
The Business Research Company is a market intelligence firm that excels in company, market, and consumer research. Located globally it has specialist consultants in a wide range of industries including manufacturing, healthcare, financial services, chemicals, and technology. Find the company on LinkedIn, Twitter, Facebook, or YouTube for more.