With ChatGPT taking the internet by storm, technology is front of mind for both consumers and brands. Consumers are excited about new developments in the virtual space, and are eager to test AI tools and products out themselves, while brands are seeking ways to apply new Artificial intelligence (AI) tech in order to grow their businesses. In this blog we explore how AI technology is changing consumer search habits online, and what impact it will have on consumer behaviour.
Brands need to adapt as Generation Z shifts search behaviour to social media
While search engines may continue to dominate, the younger generations are increasingly making use of alternative ways to search for information. This is most evident when it comes to clothes, as nearly half of Gen Z are most likely to turn to social media when searching for outfit ideas, while one in three would turn first to social media for gift ideas.
One advantage of using social media sites such as TikTok for search is its ability to provide video content, with personal recommendations, rather than just links to websites. The video-based responses provided by platforms, such as TikTok and Instagram, can offer a more immersive and engaging response than search engines. It can also offer more 'personal' recommendations by others who have uploaded reviews and content. In the context of fashion, vibrant tryout videos will be of more appeal to people who are looking to see how different fashion items fit together, or not, hence providing more useful information for the consumer instead of the usual bland, static images.
TikTok has recognised its users wanting to use the site in this way and is seeking to monetise it. For example, the platform has been testing features that identify keywords in comments and links to search results for them. Although the platform has recently become embroiled in controversy in the US, its business model and formula is likely to be ingrained in Gen Z creators, advertisers and audience, and consumers are getting more used to finding advertising content that engages them and speaks to their needs.
Search engines fight back with AI enhancements
As social media platforms gain increasing popularity as de facto search engines, the old guard are fighting back, with AI rapidly improving search results in search engines. With the explosion of ChatGPT, conversational AI could take this even further, with both Bing and Google exploring how the technology can provide a more personalised and nuanced search result than simply offering a list of hyperlinks to relevant websites. Improvements in natural language processing (NLP) models will enhance performance in voice searches, thus also enhancing the accessibility of internet usage.
Tech giant Google has been seeking ways to make search more 'immersive'. Using AI, the search engine can now recommend specific parts of a video that could be relevant to a search. Google Maps already features an augmented reality version that uses the camera of a phone to overlay search information on an image of the surrounding area.
Google is implementing new AI technologies in its suite of services, including new AR functions in its signature search engine. Source: Google
Microsoft, on the other hand, is integrating OpenAI into its Edge browser and new Bing search engine with features similar to ChatGPT. Features include a Bing Chat function which transforms search data into a full interactive human-like conversation. This new launch by Microsoft could encourage some consumers to the browser and alter the search market share.
AI poses challenges, but brands and consumers will benefit in the long run
AI has already improved and transformed the search experience behind the scenes, but the introduction of more conversational text based answers could herald a new era of search. The idea of AI and having 'conversations' with computers can divide consumers. While some think it's exciting as AI could make life easier, others worry about the reliability of the information, and what happens when AI content becomes so widespread online, that AI search engines are generating answers based on AI generated content.
For brands, the integration of AI will provide an opportunity to create a new and exciting way to engage with consumers. For example, brands may need to rethink how they create an online presence so that Generative AI search talks favourably about them, or recommends them in the right instances. However, Generative AI will also create significant opportunities for the experience within a brand's site. For example, Shopify has announced plans to add a new search function to its app in 2023, leveraging ChatGPT's technology.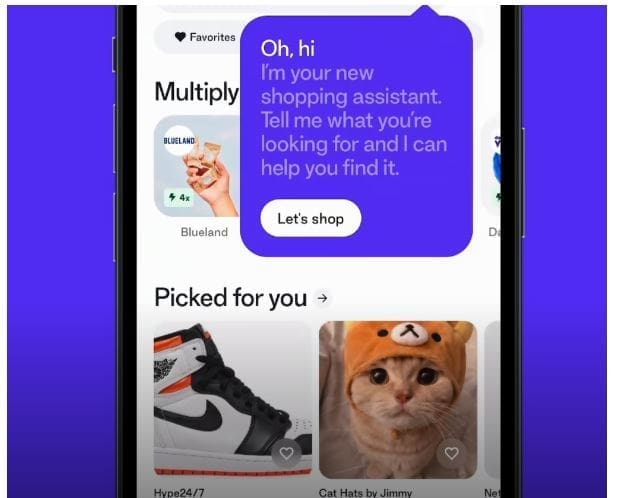 OpenAI announced that ChatGPT and Whisper models are now available on their API, giving developers access to cutting-edge language and speech-to-text capabilities; Shopify is one of the brands that uses this AI-technology extensively to help consumers find the right products. Source: OpenAI
What we think
Advances in AI technology will continue to influence consumers and brands as they seek to harness the power of the internet and social media. The integration of conversational AI into search engines will transform the way consumers look for information and discover brands and products. As search becomes more immersive and conversational it will change the way brands need to position themselves online to ensure they remain visible and stand out from the myriad of content.
Brands need to be aware that the way consumers search for information is changing. Search engine optimisation is just one aspect of an increasingly fragmented online journey. Social media activity shouldn't just be viewed as a way to drive traffic to a website or generate buzz around a brand, but it should be viewed as an opportunity to help consumers find what they are looking for and even buy directly via the platform. 
Generative AI has the potential to transform the way consumers engage with brands and search for information. Gen Z will be first to embrace this technology, and will expect a more personalised and conversational relationship with brands than ever before.