In a recent webinar, we discussed the importance of sustainability and its impact on consumer behaviours in the APAC region. While around half of consumers are optimistic about making a positive difference to the environment and are hopeful about saving the planet if we act now, there remains a significant lack of trust in companies' sustainability initiatives. However, consumers believe that brands can play a significant role in driving change. This presents an opportunity for brands to fill the gap and take the lead in sustainability efforts. 
Here, we explore how brands can effectively communicate and balance affordability and sustainability.
The importance of sustainability and value
Mintel Global Consumer research shows that sustainability holds equal importance to consumers in the APAC region as factors like budget, quality, and convenience. This highlights the need for brands to integrate sustainability and value in their offerings. Consumers expect brands to communicate sustainability through clear labelling, providing information about the environmental impact, and showcasing how sustainable initiatives benefit communities. It is crucial for brands to provide factual proof to support their claims, as trust is paramount in building lasting relationships with consumers.
Quantify sustainability and foster inclusion
To bridge the gap between sustainability and affordability, brands should set smaller, short-term goals that consumers could easily comprehend and participate in. By quantifying their sustainability efforts and obtaining certifications, brands can demonstrate their commitment to tangible steps. Moreover, involving consumers in the sustainability journey through inclusive decision-making and communication creates a sense of ownership and fosters trust. Brands should emphasise the ethical aspects and highlight how sustainability initiatives contribute to local communities and economies.
Farmy is an urban vertical farm that occupies a 1,200-square-foot space in the Encorp Strand Mall and is believed to be the first of its kind in the country (Malaysia); Source: Farmy/Facebook
Building trust and transparency
Transparency is essential in gaining consumers' trust. Brands can achieve this by opening their supply chains for auditing and showcasing their sustainable practices from sourcing to manufacturing and waste management. As there is a lack of recognised global sustainability marks, brands can take the lead in developing regionally or globally recognised certifications. Collaboration between brands, NGOs, governments, and consumers can result in innovative solutions and shared responsibility for sustainability.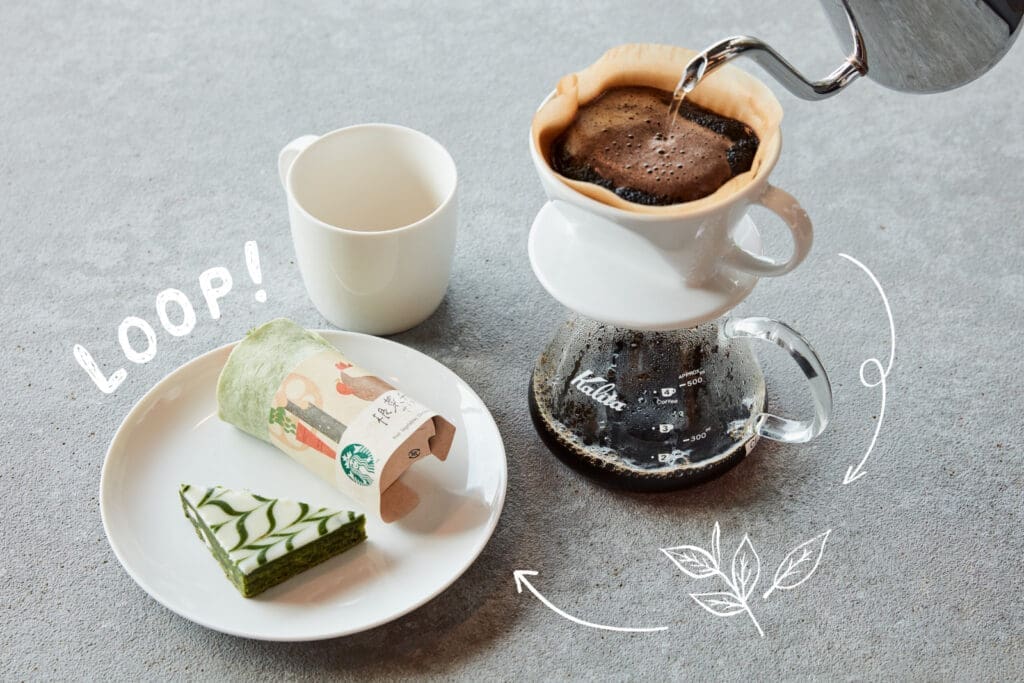 Starbucks Japan rolled out plant-based desserts made from recycled coffee beans to support the chain's coffee-recycling initiative (Japan); Source: Starbucks Japan
Focusing on value proposition
Considering the inflationary situation and consumers' budget consciousness, brands need to be transparent about price increases and explain the reasons behind them. Highlighting the value proposition of products, including their durability, flexibility, adaptability, and sustainability, can help consumers understand their true worth. Brands should be honest about the costs associated with free delivery, showcasing the trade-offs between convenience, quality, and ethics. Additionally, reinvesting profits into sustainability efforts and local communities can enhance brand trust and demonstrate a commitment to ethical practices. For instance, Xiaozhuo, a Shanghai-based local clothing brand, has adopted transparent pricing practices by disclosing expenses associated with raw materials, design and sewing, packaging, and logistics on their price tags.
Sustainability and affordability in different categories
Various industries can integrate sustainability and affordability to meet consumer expectations. In the food sector, sourcing from local farmers, reducing waste, and exploring alternative proteins are gaining traction. The reduction of waste, in particular, has led to increased collaborations among brands and businesses to address the issue in innovative ways. For instance, some brands have started developing alcoholic drinks using discarded fruits that would otherwise end up in landfills. This approach aligns with the principles of the circular economy and encourages a more collaborative approach to addressing sustainability challenges. What this demonstrates is that brands don't necessarily have to do it on their own; they can work together with other brands to develop solutions.
To tackle food waste, liquor brand Ugly Vodka uses apples with defects that are marked for waste disposal to create a premium alcoholic beverage (Australia); Source: Ugly Vodka website
In the health and beauty industry, brands can create social clubs, recycle products, and focus on community building. The leisure and travel industry can provide sustainable alternatives and collaborate to tackle common challenges. By aligning sustainability efforts with affordability, brands can cater to consumer needs and reinforce their value proposition.
SminkArt is recycling unused makeup samples into watercolour paints for kids to develop their art skills (Japan); Source: The Asahi Shimbun
What we think
Navigating the balance between affordability and sustainability is a challenge that brands in the APAC region must address to meet consumer expectations. By merging sustainability and value messaging, brands can highlight their products' quality, abilities, and social responsibility. Communicating transparency, engaging consumers, and showcasing collaborations will build trust and foster loyalty. Brands should leverage local sourcing, explore circular economy models, and address waste issues to align with sustainability goals. Ultimately, by demonstrating that sustainability and affordability can coexist, brands can contribute to a more sustainable future alongside consumers.
Explore our collection of on-demand APAC webinars available 24/7! Unlock valuable expert insights to fuel your business growth. Start viewing them today HERE.