The global travel and tourism industry is comprised of a wide variety of businesses, including hotels and inns, casino resorts, trains, buses, airplanes, cruise ships, tour operators and travel bookers, both online and physical. The World Travel & Tourism Council (WTTC) found that the global travel and tourism industry supported 295 million jobs on a direct basis during 2022.
This sector is always continually reinventing itself—with dramatic changes often being caused by disruptive technologies, evolving consumer tastes, political upheavals, economic booms and busts, and lately, global outbreaks of disease. Fortunes can be made and lost quickly, particularly in the always-changing, extremely competitive airline industry.
The Impact of New Technologies
Disruptive technologies wresting change within the industry sometimes come in the form of new aircraft.  The launch of the 707-jet airliner (1958), soaring across the Atlantic in only a few hours, put an end to the ocean liner's domination off the transcontinental market. Likewise, the launch of the 747 (1970), able to carry hundreds of passengers with great new operating efficiency, popularized international travel to a degree never before imagined possible. The 1967 launch of the single-aisle 737, able to carry about 185 passengers quickly and efficiently, teed-up the next development. Shortly thereafter (1971), a plucky entrepreneur took advantage of the tremendous abilities of the 737 when he launched the first noteworthy discount airline (Southwest), with flights between Dallas and Houston, Texas at low fares. An entire discount industry blossomed worldwide.
The internet was the next big leap forward (Travelocity.com was launched in 1996), enabling online travel agencies and booking services to soar. Consumers were beneficiaries, while travel agencies suffered immensely, as travelers could go online to compare flights, hotels and prices, and then book at the best prices whenever they were ready to get out their credit cards and commit. The internet also enabled the highly disruptive technology platforms of Airbnb and Vrbo, making it possible for tourists and business travelers to rent homes and condos as alternatives to hotels.
Technologies can also dampen the travel sector. Recently, the growing capabilities of teleconferencing on systems such as Zoom, Webex and Teams has made business travel less vital. Travel to conferences, conventions and meetings is both expensive and time-consuming, and budgets for such travel are carefully scrutinized by corporate management.
Catering to Different Demographic Groups
A rising, global middle class further boosted the industry. Discount airlines have leapt ahead in markets as diverse as India, Indonesia, Africa and Eastern Europe, enabling cost-conscious tourists to help the tourism industry boom. For example, Chinese travelers take hundreds of millions of flights yearly—as long as pandemics do not interrupt their plans. The Coronavirus epidemic that began in 2020 had a devastating impact on the travel and tourism industry, slashing air passenger and hotel guest traffic to a near halt for several months.
Meanwhile, a soaring number of highly affluent travelers have been spending money freely on luxury hotels, resorts and experiences. The luxury sector has been booming, from private aircraft rentals (such as NetJets) to ultra-luxury hotel and resort chains (such as Ritz Carlton's "Reserve" properties), to luxury cruise lines such as Viking and Regent.
The cruise line business enjoyed solid growth before the Coronavirus pandemic. Cost-conscious consumers see cruises as high-value, all-inclusive package deals. Some of the newest ships, such as Royal Caribbean's Icon of the Seas rank among the largest passenger ships ever built. It remains to be seen how successfully and in what size and scale the cruise industry will emerge from the temporary shutdown caused by the Coronavirus. Many cruise lines took on vast amounts of debt in order to stay in business.  Nonetheless, it is clear that substantial demand for cruises exists, and that millions of brand-loyal customers are anxious to cruise as long as they feel relatively safe in doing so.
A Shift in Strategy Among Airlines
There is every reason to believe that the travel and tourism industry will continue to be a bubbling cauldron of change. For example, the airline industry continues to evolve rapidly. Airlines are flying aircraft that are much more fuel-efficient than those of a few years ago. It is also vital to note a major shift in airline strategy: today, they rely heavily on fees for services such as checked baggage, seats with extra legroom and on-board food. This contributed substantially to profitability. Boeing's highly advanced 787 enables airlines to offer great enhancements to passenger comfort with extremely long intercontinental range, while the airlines benefit from a fuel efficiency boost of about 20%. Airbus competes with similarly efficient, long-haul aircraft. Discount airlines remain very important players in the U.S. as well as the rest of the world. Meanwhile, legacy airlines (e.g., American Airlines and British Airways) are now competing head-to-head on price with discount airlines in many cases, typically for the least-desirable seats in economy class.
Where to Learn More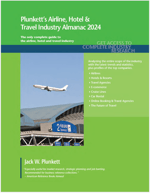 This article is an excerpt from a newly published report Plunkett's Airline, Hotel & Travel Industry Almanac 2024, which covers competitive intelligence, market research and business analysis—everything you need to know about the airline, hotel and travel industry.
Use this report to quickly understand major industry trends, access key industry statistics, and gain an understanding of top competitors in this space. Visit the report page using the link above to learn more.
About Plunkett Research, Ltd
Plunkett Research, Ltd. is a leading publisher of business and industry research, with a global client list of top corporations, consultancies, investment firms, universities and government agencies. Our core focus is on the analysis of industry trends, industry benchmarks, technologies and opportunities. This allows us to leverage our research methodology to deliver accurate, timely information that our clients need to develop business strategies, determine market scope and consider investment opportunities.
Used by Permission, Copyright © Plunkett Research, Ltd., All Rights Reserved