The hydrogen fuel cells market will reach a value of nearly $8.2 billion in 2023, having grown at a compound annual growth rate (CAGR) of 28.8% since 2017. The market is expected to reach $31.8 billion by 2027, rising at a rate of more than 41%. The market is further expected to grow at a CAGR of above 37% from 2027 and reach $154 billion by 2032.
What is a hydrogen fuel cell?
A hydrogen fuel cell is an electrochemical system that uses the chemical energy of hydrogen and oxygen as an oxidant, to generate electrical energy with the by-products of water and heat. Most fuel cells are powered by hydrogen, which can be fed to the fuel cell system directly, or can be generated within the fuel cell system by reforming hydrogen-rich fuels such as methanol, ethanol and hydrocarbon fuels.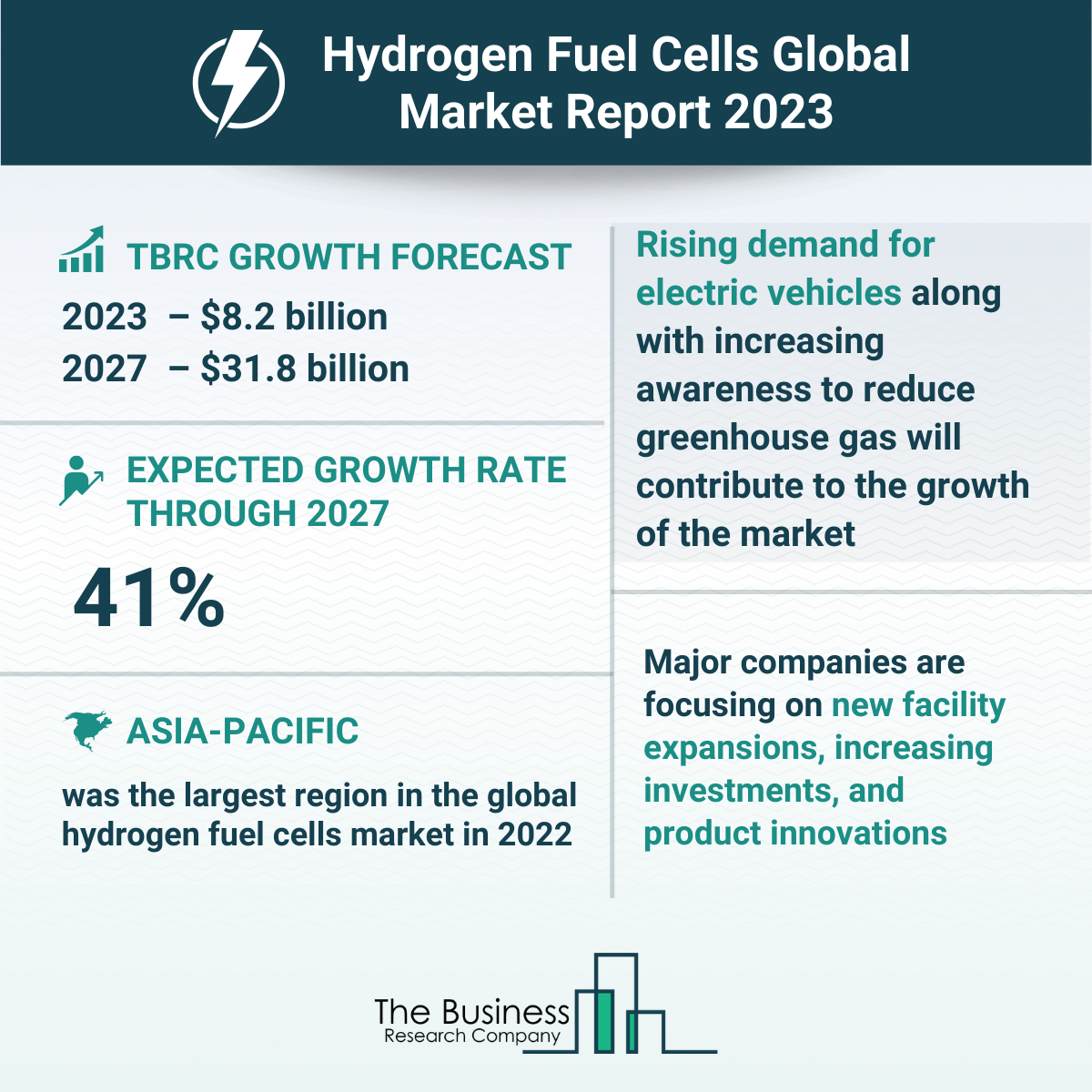 What are the hydrogen fuel cell market drivers?
Rising demand for electric vehicles along with increasing awareness of the need to reduce greenhouse gas emissions are the key factors expected to drive the hydrogen fuel cell market to rise at the exponential growth rate of more than 41% from 2023 to 2027.
EVs have gained popularity, due to their environmental benefits and reduced dependence on fossil fuels. Fuel cell electric vehicles use fuel cell stacks to convert onboard gaseous hydrogen to electricity, which is then stored in a battery to power the vehicle's electric motor. Most fuel cell electric vehicles (FCEVs) are powered by hydrogen (H2) and considered zero-emission vehicles (ZEVs).
Raising awareness and thereby understanding of the effects of climate change on health will facilitate both behavioral change and societal support for the actions needed to reduce greenhouse gas emissions.
What are the top three trends in the hydrogen fuel cell market?
The top three trends of the hydrogen fuel cells market include a focus on new facility expansions, increasing investments, and product innovations.
Companies in the hydrogen fuel cells market are focusing on new facility expansions to grow in the market. For example, in June 2023, Hyundai Motor Group, a South Korea-based automobile manufacturing company, built and commenced full-scale production at its hydrogen fuel cell system plant in Guangzhou, China. The Guangzhou facility, Hyundai Motor Co.'s first overseas fuel cell system plant, is designed to manufacture 100-kW fuel cell systems, mainly for its Nexo hydrogen fuel cell vehicles, with an annual production capacity of 6,500 units.
Major companies in the hydrogen fuel cells market are also focusing on product innovations and developing new product solutions to strengthen their position in the market. For example, in May 2023, the Tokyo Tech InfoSyEnergy Research and Education Consortium and the Tokyo Tech Academy of Energy and Informatics have unveiled a fuel cell that generates electricity from both hydrogen and waste plastic hydrogen, to provide heat to an industrial building. The new system is designed for commercial and industrial applications and has a capacity of 100 kW.
Where to Learn More
Learn more in-depth information about the hydrogen fuel cells market by reading Hydrogen Fuel Cells Global Market Report 2023 by The Business Research Company. This report describes and explains the hydrogen fuel cells market and covers the historic period 2017-2022 and the forecast period 2022-2027, along with further forecasts for the period 2027-2032. The report evaluates the market across each region and for the major economies within each region.
In addition, the report also covers the top opportunities in the hydrogen fuel cells market by segments, key market trend based strategies as well as player adopted strategies.
About The Business Research Company
The Business Research Company is a market intelligence firm that excels in company, market, and consumer research. Located globally it has specialist consultants in a wide range of industries including manufacturing, healthcare, financial services, chemicals, and technology. Find the company on LinkedIn, Twitter, Facebook, or YouTube for more.