The COVID-19 pandemic and high inflation levels have left an imprint on the German retail landscape, and, although the economic outlook is improving, German consumers are still feeling the pinch of the cost of living crisis in 2023. Consequently, consumer' budget cuts continue to impact retail sales numbers.
Seasonal products aren't necessarily perceived as essential, therefore, shoppers might cut back on their seasonal spending this year. Below we've highlighted a selection of expected seasonal retail trends in Germany and how brands and retailers can increase consumer engagement in spite of cautious spending behaviours.
Is Halloween Finally Spreading Its Spooky Charm in Germany?
Halloween is not a traditional holiday in Germany, nevertheless, attention and participation have increased over the years, with 40% of German consumers making a purchase for Halloween in 2022. On par with the rest of the world, participation in sweets and costume sales for Halloween have dropped during the pandemic years, but have increased again in 2022. That said, a huge share of the market – more than half – remains untapped, thus creating numerous opportunities to engage with consumers. Interest in Halloween is expected to rise in connection with socialising with friends and family. More social events have the potential to increase sales of decorations, costumes, food, and other essentials needed to host an event.
Fanta capturing increased consumer interest in Halloween with their 2023 themed branding, source: coca-cola.com
Although engagement in Halloween celebrations, and subsequently the purchase of Halloween-related products, has been steadily increasing, inflation-induced high prices are still looming large over German consumers in 2023. As a result, shoppers are adjusting their spending behaviour, which will continue to impact the market across all categories, and considering that Halloween is not a traditional or well-established holiday in Germany, it is undoubtedly affected by discretionary spending behaviours. Some people will reduce their spending during seasonal events; others may opt to trade down to cheaper alternatives.
But, regardless of the industry, Halloween provides a great opportunity for marketing and branding. Numerous brands have utilised this seasonal occasion by broadening their innovation tactics, such as creating a themed landing page for the brand's webpage or social media, or decorating the store for the occasion, launching limited edition and themed products, or hosting a Halloween themed branding event.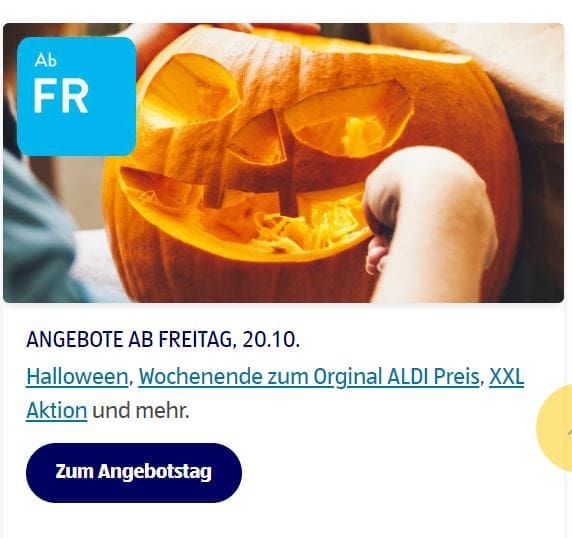 Aldi making the most of seasonal retailing in Germany. source: aldi-sued.de
Can Black Friday Help Uplift Seasonal Retailing in Germany?
Not only has engagement with the retail event increased in Germany, but over half of shoppers also intend to use Black Friday deals to purchase Christmas gifts, as they can support consumers in spreading out the cost of Christmas-related expenses and provide products at a lower price point. Discount deals offered during those sales are big contributors to Christmas retailing in Germany and help encourage people to shop for gifts – even during financially strained times. However, it is interesting to note that Black Friday participation in purchasing Christmas gifts was highest among those in a more secure financial position. Taking this into consideration, brands are well placed to promote more expensive items to their German customers during Black Friday and Cyber Monday sales.
Black Friday in Germany: Buying Behaviour and Products Bought
Fashion and beauty products take the lead in Black Friday and Cyber Monday sales in Germany. Following in close second, clothing and footwear items remain some of the most popular items bought as 20% of Germans have purchased clothing items on Black Friday in 2022. Given that the electrical goods category tends to offer substantial discounts during Black Friday and Cyber Monday sales, they also enjoy considerable popularity among shoppers, especially men, thus offering opportunities for brands to focus on German males with personalised promotions for electrical goods. Taking the large discounts into account that this category offers, 57% of men prepare a list of products they'd like to buy during Black Friday promotions. This is nearly as high as the overall preparation observed for the event and shows that German participation in this retail event is not solely based on price reductions. To capture consumer interest and to encourage purchasing, brands must provide value that goes beyond the price tag and gives shoppers an incentive to return and buy from them again at a later point in time outside of discounted deals.
Amazon has been the main driver in introducing Black Friday to the German retail landscape and continues to dominate the event with their Black Friday celebration year-after-year that offers their prime members a whole week of deals in which thousands of different products from all categories are offered at reduced prices for a limited time. On top of that, their Cyber Monday Blitz offers start every day from 6:00am to 7:45pm every five minutes and run for a maximum of four hours or until the offer is sold out, thus discouraging members from shopping around and giving them the incentive to take advantage quickly. Since these offers are only available to customers registered with Amazon's Prime program, loyalty pays off for consumers, and by continuously putting their members at an advantage, they manage to nurture their relationship and instil long-lasting customer loyalty.
Apart from the retail giant, other players are recognising the power of Black Friday as an annual retail event to nurture their relationships with existing customers and to attract new ones, e.g. Lego, HelloFresh, Sky, and many more have joined in the Black Friday and Cyber Week hype in Germany. MediaMarkt, one of the biggest retailers for electrical goods in Germany has already announced their participation in Black Friday 2023 on their website.
Christmas Retailing in Germany
Despite high levels of inflation, 61% of German consumers plan to purchase gifts this Christmas.
Despite continued high engagement in Christmas retail retailing in Germany, the sector is being impacted by skyrocketing prices for commodities, especially fuel and food. In 2022, 60% of German consumers were unable to spend as much on Christmas gifts as they wanted due to financial concerns. Relentless inflation and uncertainty continue to impact consumer spending in 2023. Sales figures over the holiday period in 2022 fell by 5.7% (compared to December 2021), nevertheless, our experts report a more optimistic outlook in 2023 as many Germans opt to prioritise a good Christmas with their family because they feel they deserve it, especially in light of the challenging times and compromises they had to make in other areas.
Seasonal Retail Trends in Germany: How, When and What are People Buying?
Squeezed incomes are impacting how consumers are shopping. Many are increasingly taking advantage of Black Friday deals, causing a shift in the retail calendar to spread out the cost of the festive season. As Black Friday promotions mostly happen online, this also increases participation in online retail shopping for the holidays. This is particularly remarkable given that Germany is a market that historically favoured in-store shopping – that is, until the pandemic caused an ecommerce boom across the country.
81% of German consumers would shop for gifts online.
The representation of Christmas shopping in retail sales increases by 6 percentage points from 19% in ecommerce. Most ecommerce sales continue to happen via laptop or other desktop devices, however, especially amongst younger generations, sales made using smartphones have jumped to 63%, making it crucial for retailers to address their audiences across multiple devices. Revenue growth for the online retail landscape is also expected to be higher than in-store sales. This offers huge opportunities for Christmas gifts online, if retailers pay special attention to the right packaging, as online retail poses challenges for sustainability, given the need for added packaging and emissions from delivery.
For more fresh retail industry insights, visit our Mintel Store.
Even though COVID-19 measures no longer played a role last Christmas, the pandemic legacy still influenced how Germans celebrated their holidays. This year, to save us from tears, a full resume of festive gatherings can be expected as Germans direct their spending towards food and drinks, and preparing their home for Christmas. Because many spend most of their time at home during Christmas, there are opportunities to target budget-constrained shoppers with premium food and drinks products that they can enjoy at home with their families. Discounters have cleverly targeted Christmas shoppers with an array of premium food products:
Lidl's Deluxe Butterstollen with Marc de Champagne captures premium shoppers.
In line with what products German consumers buy the most, the food category takes the lead in Christmas product launches with 47% of total launches in 2022, followed by beauty and personal care. Among new seasonal Christmas products, branded launches have been declining while private label launches have held steady. While Kaufland has released the odd seasonal private-label chocolate product before, this is the first time it has launched an entire range of Christmas themed private-label confectionery.

Source: unternehmen.kaufland.de
This is a direct response to inflation-induced budget squeezes, which causes consumers to trade down to discounters and purchase more private label products, putting the spotlight on promotions, convenience, and private labels when shopping for Christmas this year.
How to Make Your Brand Stand Out This Holiday Season
A whopping 75% of buyers feel shopping for Halloween produces too much waste, creating opportunities for sustainable product ranges.
Increase Your Sustainability Efforts. While the high cost of living and the fact that Halloween as a holiday is not ingrained in German culture are among the main reasons for a participation fatigue, sustainability – or rather the lack thereof – is a big concern for German consumers. 60% of consumers are put off by the waste Halloween retail creates. Sweets and other special occasion foods and drinks are among the most bought products for Halloween, creating opportunities for more sustainable, or less, packaging altogether. For decorations, brands can promote reusing them to encourage more sustainable practices, e.g. reusing decorations, thus reducing plastic waste connected to the event. These practices won't only benefit the planet, but can also appeal to older generations, who are typically less enthusiastic about Halloween, compared to 16 to 24-year-olds.
Encourage Buying Local. Along with an increased focus on sustainability, the buying local trend has also been on the rise. Supporting local businesses is particularly important during the Christmas season. Almost one third of Germans intended to buy their Christmas gifts from small businesses, peaking at 47% among consumers aged 16 to 24. Last Christmas – as shoppers returned to stores – saw counters beautifully presented with premium and gourmet items of international quality for the occasion, but produced locally. Germans could buy the finest Parma ham and the most delicious pies, even in small REWE stores.
Ultimately, what it comes down to this holiday season in the German market is for brands and retailers to provide an affordable price tag, but also value beyond just the price. Whether online or in-store, most consumers gravitate towards retailers that offer good value and a wide variety of items across all categories.
Stay on top of seasonal retail trends in Germany with Mintel's free Newsletter Spotlight: