The market research industry has grown over the last five years, but global economic conditions could challenge corporate profit margins and impact research expenditures in the future. What should companies in this industry expect in the years to come?
In this data-driven blog post, we'll take a look at key statistics and expert analysis from a variety of new reports covering the global market research industry. Read on to gain a quick overview of the industry's performance and important new trends to watch.
Market Sizing and Forecast
The global market research services market increased from $69.6 billion in 2016 to $76.37 billion in 2021 at a compound annual growth rate (CAGR) of 1.87 percent, according to a recent report by The Business Research Company.
An even higher growth rate is expected in the future. The global market research services market is forecast to grow from $76.37 billion in 2021 to $108.57 billion in 2026 at a CAGR of 7.29 percent.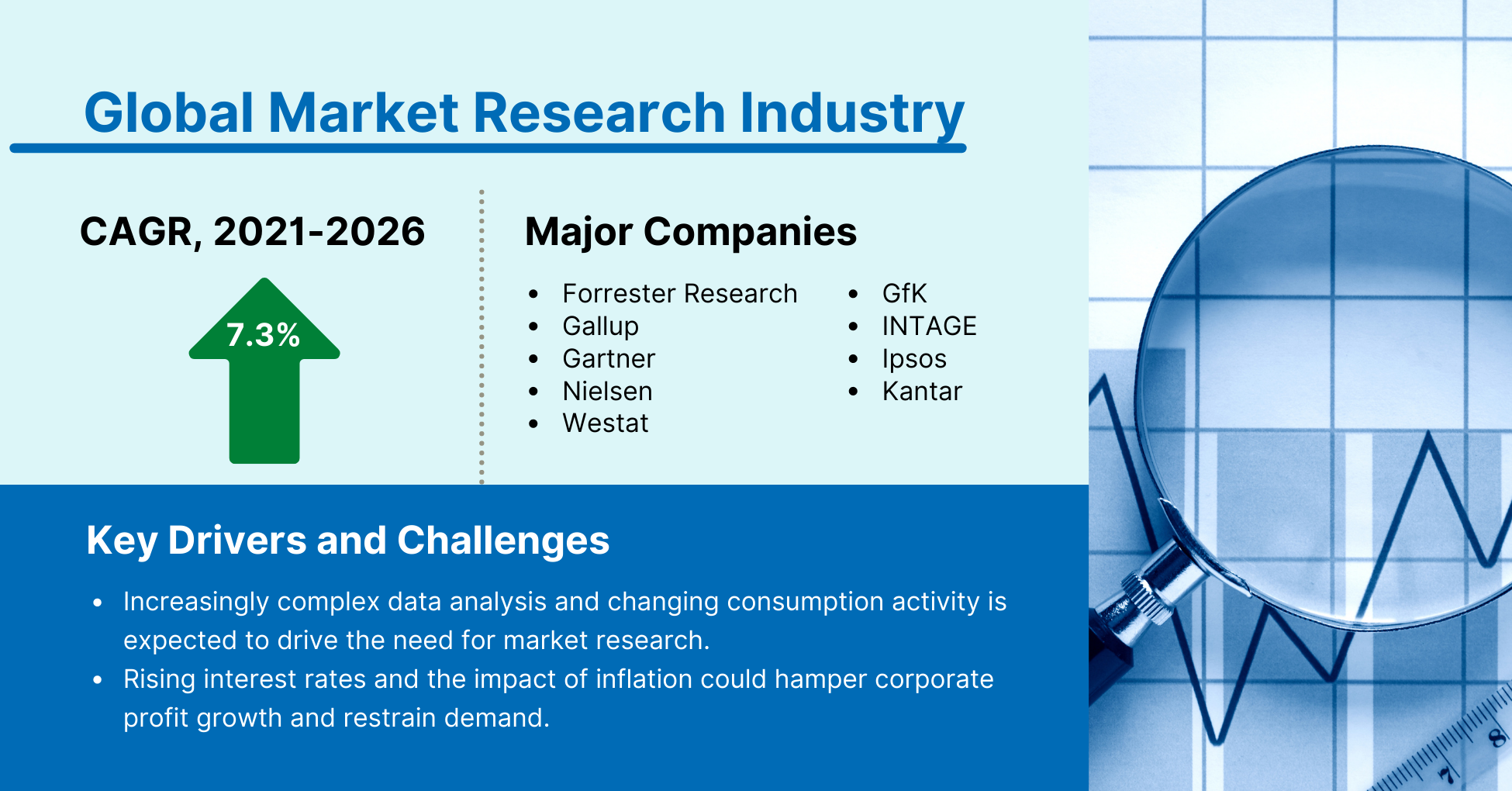 The Role of Market Research
Companies in this industry gather, analyze, and present marketing and public opinion data. They conduct qualitative and quantitative research on behalf of clients to identify the needs and preferences of specific demographics or consumer groups. These insights can help companies customize their products, services, and marketing efforts to fit the intended target market.
In addition, the market intelligence that research firms provide can help clients make broad strategic decisions such as how to expand business operations, enter new markets, or establish distribution channels effectively.
Top Market Research Companies
Leading market research companies identified by First Research, Inc, include:
Forrester Research
Gallup
Gartner
Nielsen
Westat
GfK
INTAGE
Ipsos
Kantar
Key Market Drivers
Demand for market research services is driven by the strength of the economy and corporate profits. When profit margins rise, corporations seek out the help of market research companies to identify avenues for growth and improve their product and service offerings.
The U.S. Market Research Industry
From 2014 to 2019, the U.S. market research industry grew at a strong pace, propelled by increasing expenditures on research and development and internet advertising, according to a report by IBISWorld. Acquisitions were widespread among leading industry players, and large advertising firms also acquired market research companies to expand their portfolio of services.
As noted by First Research, the U.S. market research industry is known to be concentrated. The top 50 companies generate about 60% of industry revenue. "Large companies have advantages in providing a variety of research and ancillary services to large customers, and in achieving economies of scale in marketing and computerized operations," according to First Research. "Small companies can compete successfully by specializing in a research methodology or in emerging niche knowledge areas."
U.S. Revenue Forecast to 2029
The U.S. industry for business intelligence, market research, and opinion polling is expected to reach $24.96 billion by 2029. For complete benchmarking of the industry and its top companies, see a 58-page report published by Plunkett Research in September 2022.
Market Research Trends to Watch
The rising use of the internet among consumers and advertisers created an opening for new market research companies to enter the market and prompted some established firms to adopt more innovative methods.
In the future, increasingly complex data analysis and changing consumption activity is expected to drive the demand for consumer market research, but some headwinds remain.
"Instituted interest rate hikes and increases in commodity prices are projected to put slight downward pressure on corporate profit growth, which typically has a relatively direct downstream impact on advertising and R&D expenditure," according to IBISWorld.
However, the uncertainty created by supply chain and inflation pressures will also drive a continued need for "greater granularity" in market data, according to Freedonia Custom Research, as clients refine datasets and assumptions "that may have changed over the last 18-24 months that were fairly consistent in the past."
Where to Find Out More
Whether you are interested in media buying agencies, public opinion polling, or statistical services, MarketResearch.com offers a variety of reports covering different market segments and geographical areas. Search our website to find out more.
To keep up with the latest industry trends, subscribe to the MarketResearch.com blog.
---
About the Author: Sarah Schmidt is a Managing Editor at MarketResearch.com, a leading provider of global market intelligence products and services.