Generation Alpha is a digital-first generation poised to have the greatest spending power in history. Their digital-savvy and social media-centred upbringing will directly impact their shopping behaviours, and beauty and personal care (BPC) brands need to pay attention.
What is Gen Alpha?
Generation Alpha is the next generation of consumers, born between around 2010 and 2025 and ranging from 0 to 13 years old. Also referred to as 'mini-Millennials' or the 'tech generation', most have Millennial parents; they're born into a world where technology is ubiquitous; and they've been exposed to tech from a very young age. Much of the data we use to hypothesise how this generation will behave is based on tweens and teens, some of whom are classified as the youngest of Generation Z, as well as Millennial parents of Gen Alpha. 
Want to feel old? The oldest Alphas were born the year that the iPad and Instagram launched. They are immersed in a culture where social media and AI already exist, and the metaverse is increasing in popularity.
4 ways BPC brands can prepare for Generation Alpha
Based on Mintel research, we are predicting that Generation Alpha will have high expectations of the products and brands they choose. So, what do BPC marketers need to know about this generation? Here, we break down four key things beauty brands should pay attention to when marketing to Generation Alpha.
1. Consider the influence Millennials and younger Gen Zers will have on Gen Alpha
Close in age to Gen Z (those born between 1997-2012) and being raised by Millennial parents (those born between 1981-1996), Generation Alpha's attitudes and values will be heavily influenced by these preceding generations. For example, Mintel's research on Gen Z beauty consumers shows Gen Alpha relies on the adults in their lives for the financial means to buy beauty products, and they seek loved ones' advice.
Even though Gen Alpha doesn't have disposable income right now, BPC brands must consider the habits of their Millennial parents if they want a glimpse into what their shopping behaviours might look like. Millennials were also raised in a digital world and understand the risks, challenges and benefits of 'connected' kids. They know the importance of technology in increasing connectivity, facilitating community and developing social and global skills.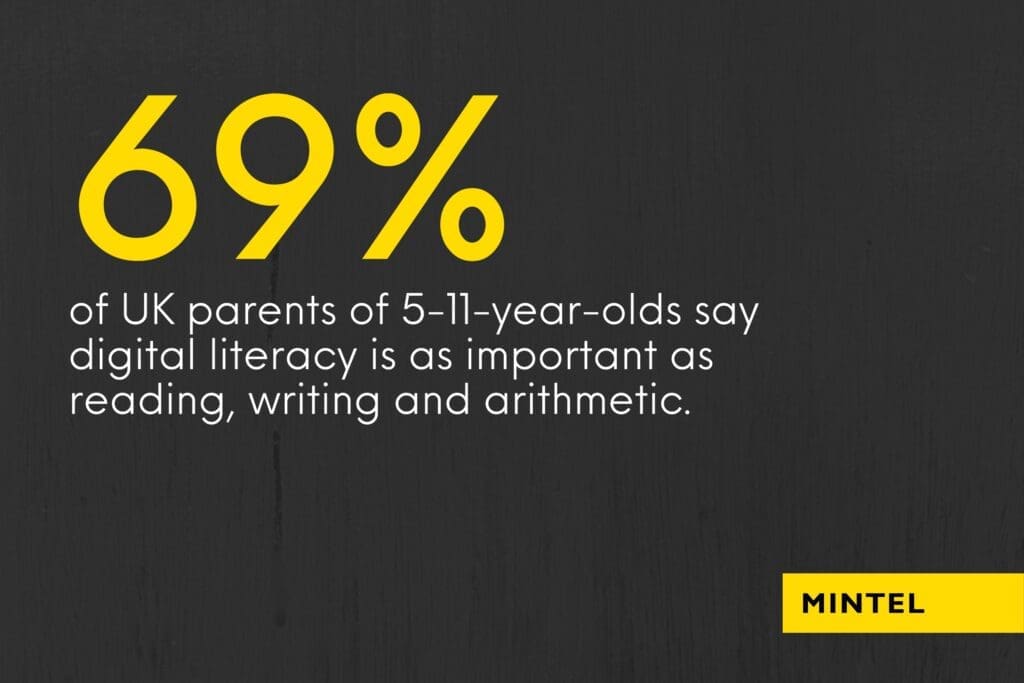 The impact of technology on kids is often vilified, like shorter attention spans and delayed social function. However, screen time for Alphas isn't the passive experience of generations past – there are more options to interact and collaborate. They will inevitably expect interactive experiences from beauty brands as they get older. While their routines may not be established yet, our research on young families shows that Alphas' beauty behaviours and interests have already begun, and engagement and authentic relationship-building will be essential.
2. Gen Alpha will have an ever-evolving relationship with technology
Mintel research on Gen Z beauty consumers reveals that, as digital natives, shopping for and interacting with beauty virtually comes naturally to Gen Alpha, which will continue to boost e-commerce sales in the future. The BPC category is expected to benefit from this, as it is perfectly primed to incorporate virtual try-on tools enabled by AR and VR, making the metaverse a natural playground for brand exploration and consumer interaction.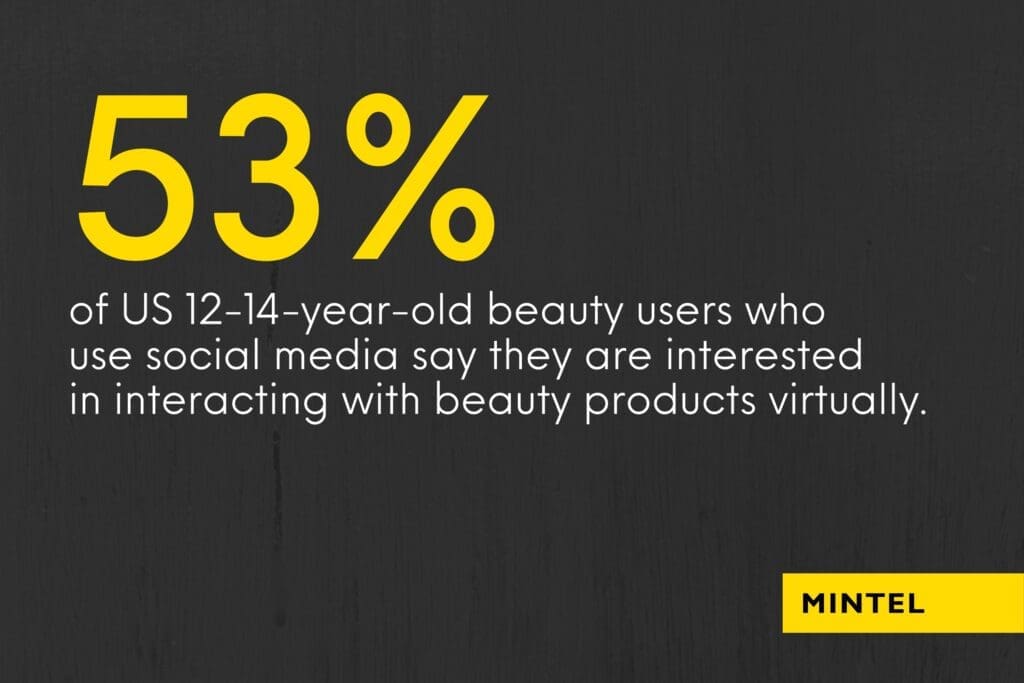 Gen Alpha is expected to use a combination of online and offline channels to shop for beauty products in the future. BPC brands that can cater to their need for convenience, personalisation and sustainability will be set up for success.
Additionally, BPC brands must be mindful of social media and VR's effects on this generation. It will be more important than ever to understand social media's negative impacts on this generation and be proactive about encouraging a healthy relationship with it.
3. Gen Alpha will hold brands to higher standards of sustainability
Like any new demographic, Gen Alpha feels a profound responsibility to rectify the damage caused by past generations. Mintel research on the activities of teens and tweens shows they are acutely aware that the consequences of inaction will affect them directly, motivating them to take prompt action.
Their eagerness to make a difference goes beyond awareness; they actively seek ways to contribute to positive change. Topics such as sustainability, climate, nutrition, work, gender diversity and race are frequently raised by older Gen Alpha as they strive to bring attention to these issues.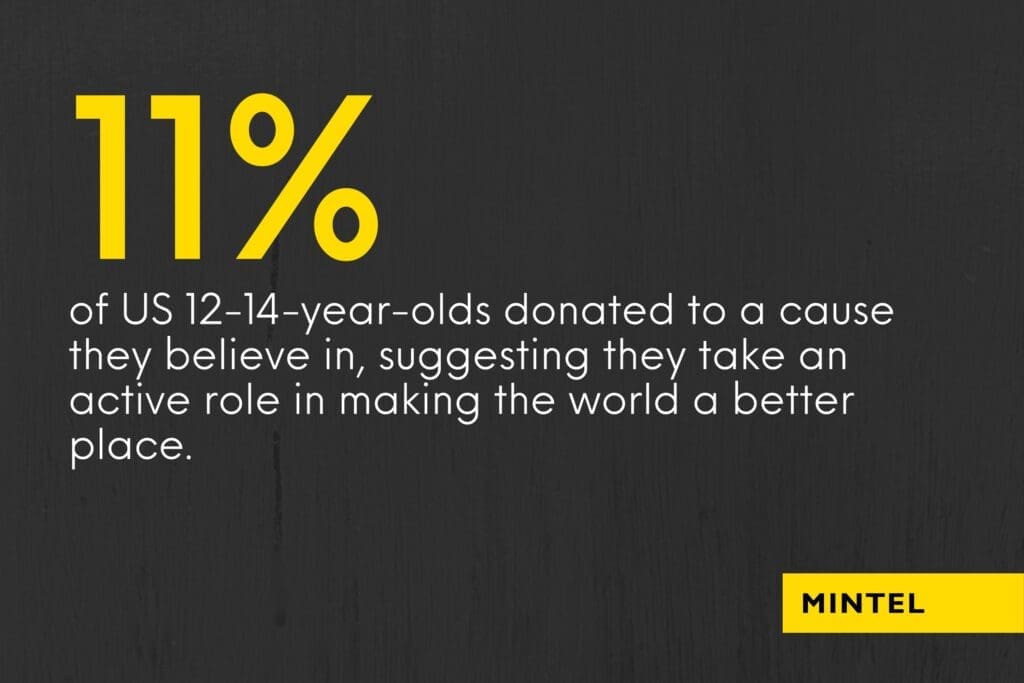 Gen Alpha is growing up with a sense of responsibility towards environmental protection ingrained from an early age. They are also becoming increasingly aware of how personal choices impact the environment, with many saying they prefer to use eco-friendly beauty products.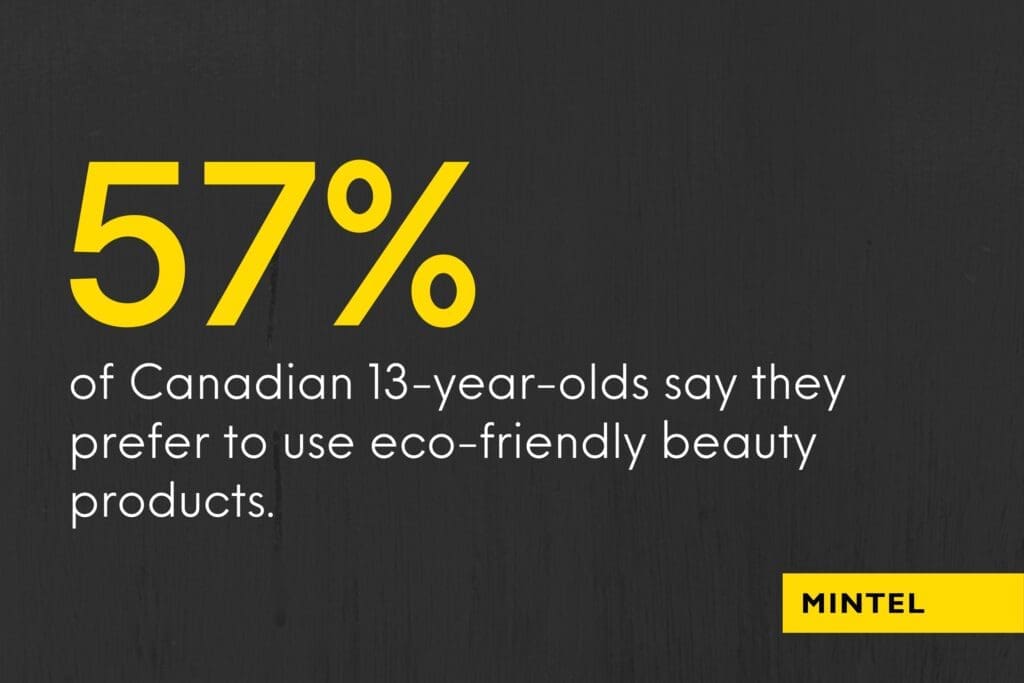 Alpha kids' parents are more likely to buy eco-friendly products, with a greater interest in sustainable packaging and ingredient options. They are also more wary of greenwashing. These will all be values passed on to their children.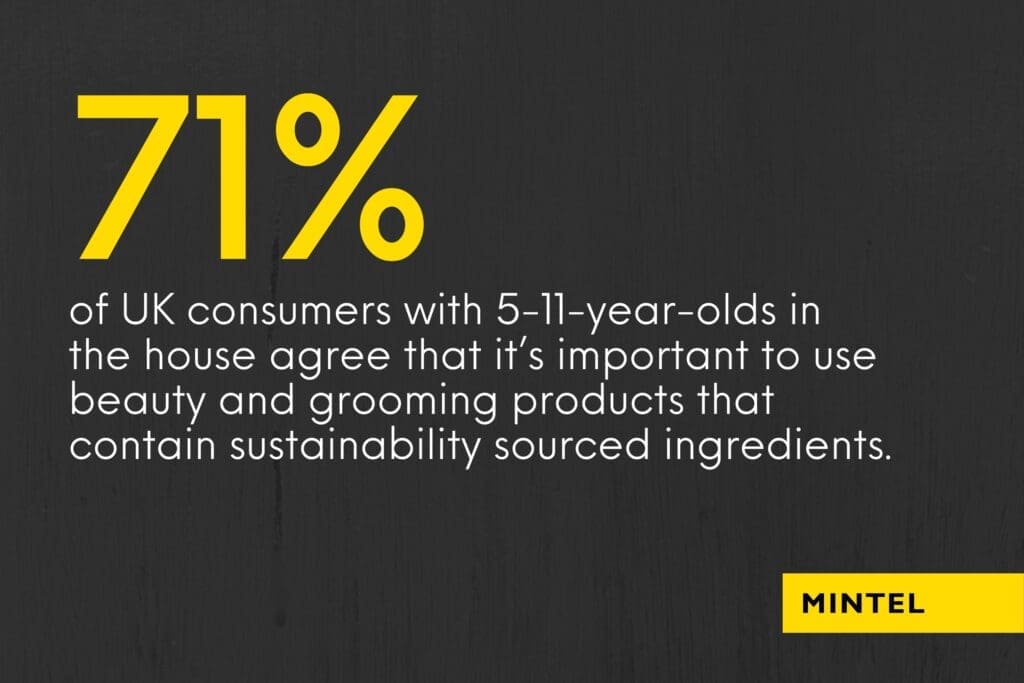 4. Gen Alpha will hold brands to higher standards of inclusivity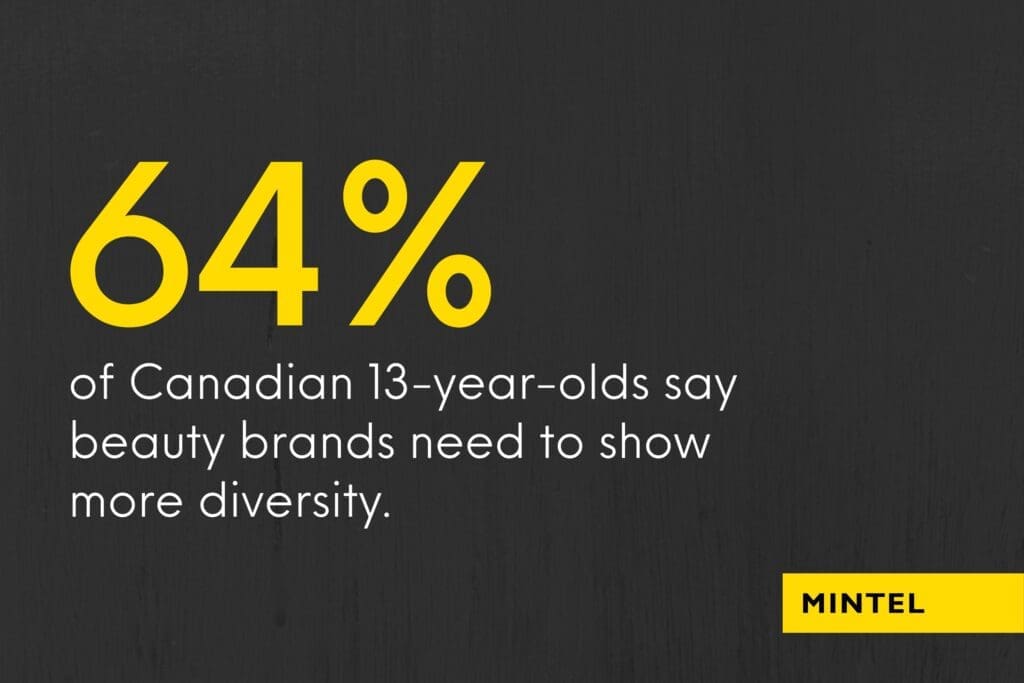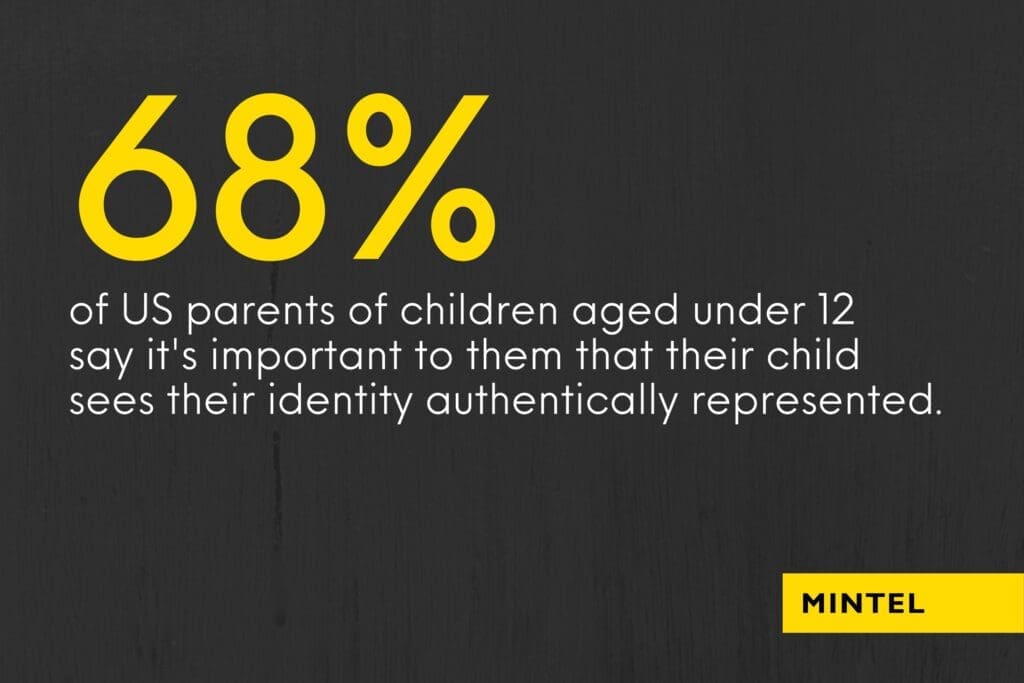 Beauty brands that want to appeal to Gen Alpha should focus on DEI efforts by using models and spokespeople from various backgrounds, creating products inclusive of all skin/hair/body types and being transparent about their DEI efforts.
BPC brands should also focus on promoting positive body image and self-acceptance. Mintel research reveals Generation Alpha is more aware than any other generation of mental health issues, and they are more likely to challenge traditional beauty standards and value inner beauty over outer beauty.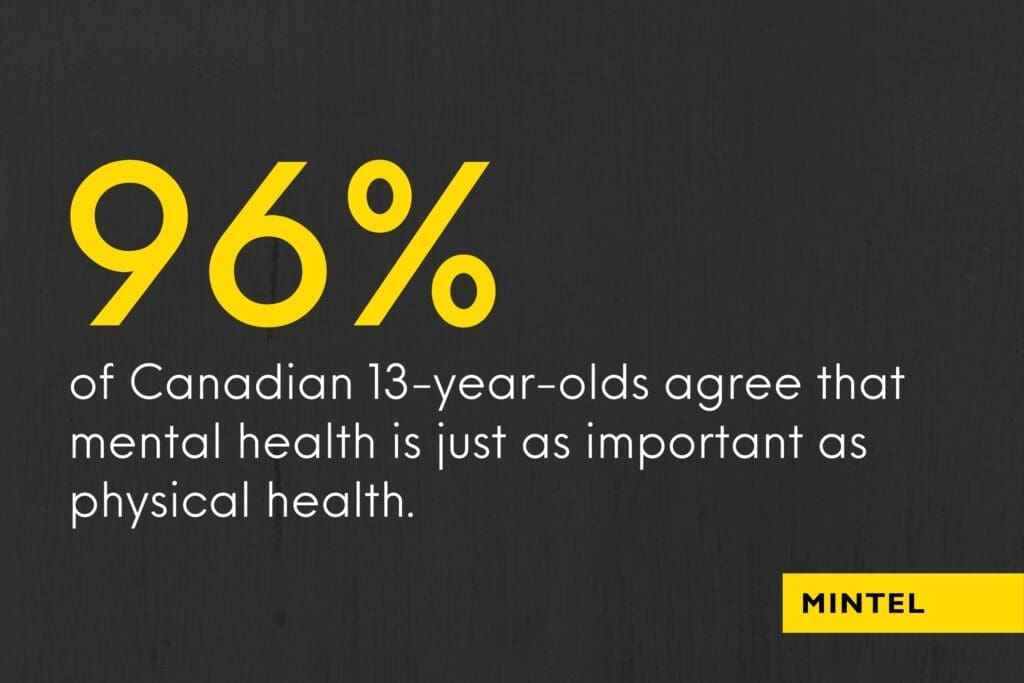 Knowing the importance of mental well-being to this demographic, BPC brands should normalise conversations about mental health and partner with organisations that promote mental health to help reduce stigma. The brands that tackle mental health issues directly will resonate with Gen Alpha.
How brands can respond to Gen Alpha's unique consumer demands
Gen Alpha will be even more digital-forward
Alphas will adopt technologies (eg smartphones, social media) even faster than Gen Z has and will grow up immersed in a mobile reality. Brands should create seamless digital experiences across platforms with mobile-first strategies.
Gen Alpha will be more diverse
Gen Alpha consumers are predicted to be more diverse than every other age demographic. They will expect the diversity they see in themselves and their peers to be reflected in marketing efforts. Brands should consider diversity and inclusion in everything they do, going beyond race to include age, sexual orientation, gender and more.
Gen Alpha consumers are still children
Targeting Alphas with in-store promotions and influencer/branded videos will appeal, but reaching Gen Alpha's parents, with whom they share their preferences, is vital in communicating how products/services can improve children's well-being.
Grow with Alphas and engage them through values
A company's story should incorporate what it stands for, its impact (good and bad) and how it's participating in solutions. Brands should consider the social challenges that matter to Gen Alpha and talk about them with care and authenticity.