The Freedonia Group, a leading market research firm and division of MarketResearch.com, actively monitors reports on how COVID-19 and other world events are affecting demand, investment, supply chains, and industry consolidation.
Every quarter, The Freedonia Group's in-house economics team releases a Short-Run Global Economic Forecast, a brief slide deck that provides Freedonia's most recent global economic forecasts.
The latest edition was released in April and provides a global GDP forecast comparison through 2026, including an initial assessment of the impact of the Russia-Ukraine war. An excerpt is included below.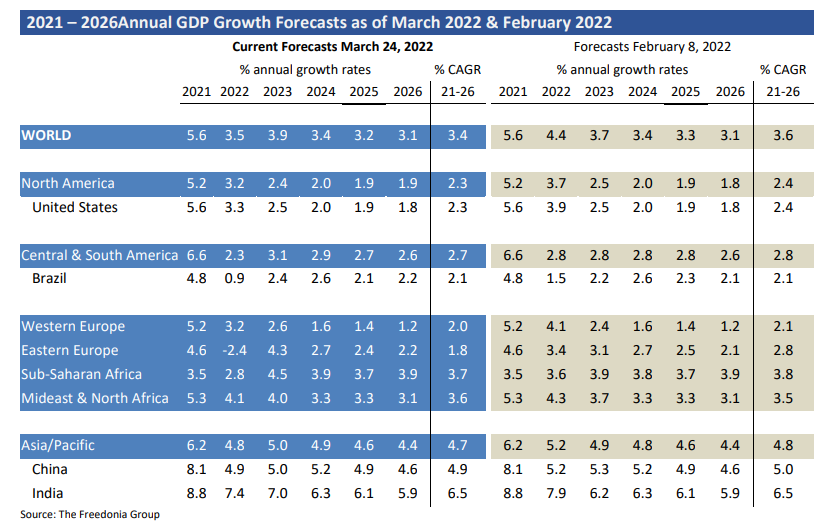 Global economic activity rebounded in 2021 with 5.6% growth in real GDP:
Infection rates, hospital caseloads, and death rates ebbed and flowed during the year, as first the Delta and then the Omicron COVID-19 variants worked their way through the global population.
Inflation increased in most countries with rising prices for raw materials, intermediate goods, household goods, and services.
Real GDP is projected to advance 3.5% in 2022:
The Russia-Ukraine war has reduced forecast global growth by nearly one percentage point.
Conflict has sparked price increases for crude petroleum, natural gas, and other raw materials. Food price increases will also accelerate in regions dependent on grain exports from the two combatants.
There is a large amount of uncertainty about the global economic forecast because of the unknown path of the conflict. An escalation of hostilities into a broader European or world war would clearly be a large negative shock.
Even with a cessation of combat, it is unclear what the duration and scope of sanctions on Russia would be.
Assuming that the armed conflict between Russia and Ukraine persists well into the second quarter of 2022, economy in Eastern Europe is expected to contract 2.4% in 2022, with a 7.0% decline in Russia and a nearly 9.0% decline in Ukraine.
Real construction spending is forecast to grow 2.8% in 2022 and 3.2% in 2023:
Gains in India and Southeast Asia will help the Asia/Pacific region to post the best performance in 2022, with spending advances of 5.0%.
The Russia-Ukraine war and its aftermath will cause East European construction spending to decline in 2022. The region's recovery in 2023 will still be slower than the gains that were achieved in 2021.
Nonbuilding construction is projected to have the most rapid advances in 2022, while residential construction will have the slowest.
Recent COVID-19 developments:
As of late March 2022, about 11 billion vaccine doses had been administered worldwide, with approximately 5 billion individuals fully vaccinated. The weekly rate of vaccinations has continued to decelerate.
The weekly incidence of new COVID-19 cases began to increase during the second week of March 2022. Infection rates in Europe and in Eastern Asia have both been on the rise. Weekly mortality rates from COVID-19 have been declining from late February through March, related to the previous trends of declining new caseloads earlier in 2022.
The BA.2 subvariant of the Omicron strain is a prime cause of the rise in cases, especially in Asia. During the last week of March 2022, China announced a staged lockdown in Shanghai, the country's most populous city, in response to rising infection rates. The eastern half of the city began a lockdown on March 27, with the western half scheduled to lockdown starting April 1. COVID-19 cases in Shanghai began rising in mid-March and by the last week of the month had exceeded 5,000, most of which were asymptomatic. While those levels are modest for a city with a population in excess of 25 million, China has remained committed to a policy to stamp out any infection outbreaks.
If you are interested in reviewing the entire slide deck, please use this link to download the latest April 2022 edition.
---
About The Freedonia Group
The Freedonia Group, a division of MarketResearch.com, is the premier international industrial research company, providing our clients with product analyses, market forecasts, industry trends, and market share information. From one-person consulting firms to global conglomerates, our analysts provide companies with unbiased, reliable industry market research and analysis to help them make important business decisions. With over 100 studies published annually, we support over 90% of the industrial Fortune 500 companies.