Since its launch in 2016, TikTok has captured the globe's attention and subsequently confused marketers on how to unlock those viral TikTok moments. The same marketing tactics that were used for Instagram, YouTube, and Facebook cannot be retrofitted to TikTok's modern intricacies. In this blog, we will dissect three viral brand moments on TikTok, and what lessons marketers can learn.
Vaseline's legacy brand is revitalized through "slugging" trend
In an era where skincare routines are constantly being complicated with countless products, an old home remedy resurfaced under a new term: slugging.
Going Viral
"Slugging" refers to the practice of applying hefty amounts of petroleum jelly to the skin to trap and absorb moisture that ultimately results in soft and dewy skin. Although Black consumers have been using this moisturizing technique for decades, the practice was erroneously introduced to many consumers via TikTok as a Korean skincare hack. With a catchy name and accessible price point, TikTokers gave this routine a go and posted their results on the app. And in early 2022, the trend exploded:
57%

increase of views on TikTok videos in which influencers mentioned "Vaseline"

81%

increase of number of Instagram posts that mentioned "Vaseline"

369%

increase of social media mentions of "Vaseline" in February 2022 compared to the same week in February 2021

48%

of US adults who follow influencers follow experts (ie, professionals who post about their expertise
Facing Obstacles
However, this is not to say that Vaseline didn't face any skepticism amidst exploding social media conversations.
Many consumers were reluctant to try slugging because they were concerned that Vaseline would clog their pores and cause further acne breakouts. While Vaseline could have addressed those concerns through their own social media channels, it was SkinTok (a handful of dermatologists/dermatology students – unaffiliated with Vaseline – that have major followings) that came to the rescue. SkinTok influencers explained in detail the science behind slugging, substantiating the moisturizing benefits while dispelling worries about exacerbated acne.
Lessons Learned
When a trend like slugging attracts massive attention, the internet community is quick to criticize, but bona fide TikTok experts typically set the record straight. Dermatology concerns are an area where brands have successfully leaned on their biggest advocates to dispel any misinformation. While Vaseline instilled an authoritative and informational tone in their communications, it took a step back to allow the experts to do the talking. SkinTok's greatest asset is professional opinions that are untainted by corporate sponsorships. While this hands-off approach certainly relinquishes control from the brand, the experts facilitate a more honest conversation around the brand. If social media marketing has taught us anything, it is the unaffiliated content creators that often earn the trust of audiences.
Taco Bell partners with internet savvy Doja Cat to promote the return of the Mexican Pizza
The whole affair started when rapper Doja Cat tagged Taco Bell in a tweet September 2020 begging for them to bring back the Mexican Pizza and Spicy Potato Soft Taco.
In September 2021, Doja Cat asked Taco Bell once again to return the Mexican pizza to the menu. This time, Taco Bell finally responded in a tweet comment: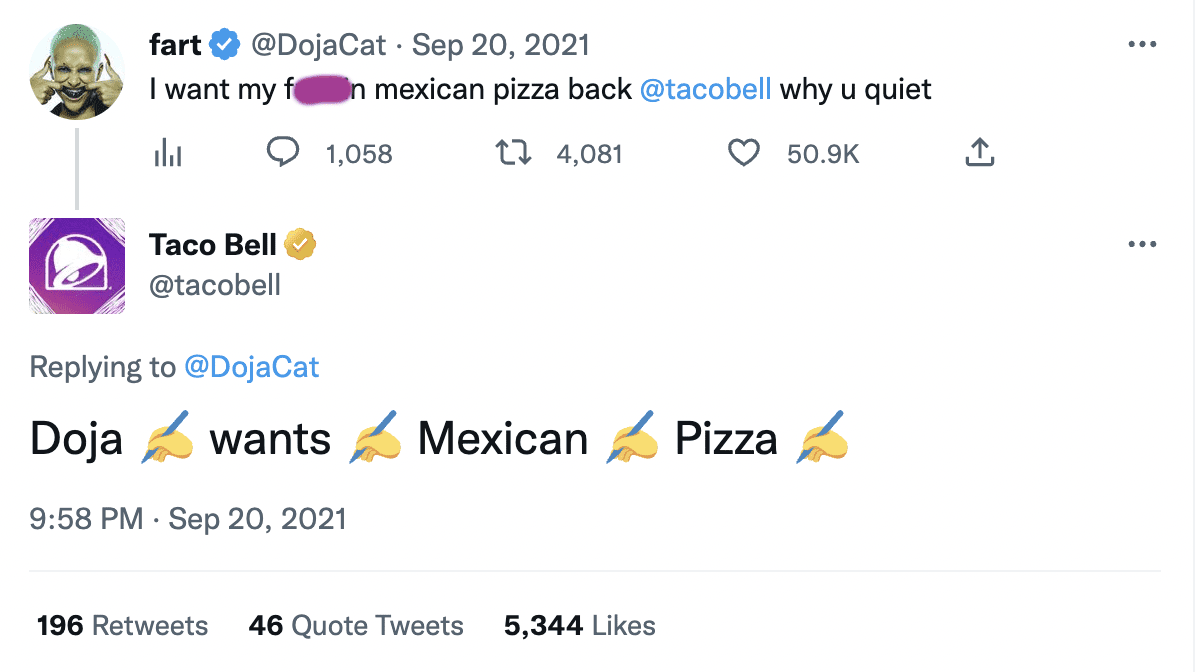 Going Viral
Thus began a very unique relationship between Doja Cat and Taco Bell. Taco Bell's appeal to young people made Doja Cat a prime candidate for a spokesperson, and the ideal celebrity endorsement. For a brand that was once defined by kitschy pastel interiors and talking Chihuahuas, Taco Bell's brand image fits well with Doja Cat's demeanor. Doja Cat is a celebrity that rose to fame via the internet, and thrives on virality. Like many Gen Z TikTokers, she approaches the app with a flair of absurdism, nihilism, and authenticity that is a clear reflection of her persona. She's silly, honest, and popular among young people. Her subsequent appearance in the 2022 Taco Bell Super Bowl commercial was colorful, odd, and quirky.
61m

views on the two TikTok videos in which Doja Cat mentioned 'Taco Bell'

319%

increase of social media mentions of 'Taco Bell' in May 2022, compared to the same week in May 2021

7x

more purchases since Taco Bell last returned the Mexican Pizza to the menu in November 2020
In less than two weeks after the Mexican Pizza's return, Taco Bell saw explosive demand, and was already running out of ingredients.
Facing Obstacles
Following the Super Bowl commercial, Taco Bell needed to act quickly to capitalize on consumer excitement around the return of the Mexican Pizza. Doja Cat's brand ambassadorship was extended when she was tasked to write an original song to promote the return of the Mexican Pizza. Before posting the song, she revealed among her followers that she didn't want to do the sponsored post and hammered the fact that it was merely 'contractual.'
What followed was a post that memified the signature Taco Bell ring into a rap song. With cheesy lyrics, an unenthusiastic performance, and even a cover of a SpongeBob Squarepants melody, Doja was able to fulfill her contractual duties of creating an original song.
Lessons Learned
Doja Cat may have been painting Taco Bell in a negative light with her disclaimer video about her sponsored post, but in an influencer economy, honesty resonates with consumers. Consumers will turn to Doja Cat time and time again because she does not mince words and will constantly deliver authenticity. This is an important lesson in influencer relationships: giving influencers clear guidance in their content will ensure that marketing investments are leveraged correctly, however it is key to also give the influencers creative license to connect with the audience they know best. Rather than criticizing Doja Cat's half-hearted attempt at an original song, Taco Bell successfully played up the contractual duties of Doja Cat and riffed on the original post. To survive on the internet and succeed in meme culture, brands must be comfortable making fun of themselves, and lean into self-deprecating humor.
Costco's Kirkland Brand is Pressure-Tested by a Younger Crow
The Kirkland brand defies the preconception that private labels are often cheap, low-quality versions of mainstream brands. Never Ending Fall, a California-based band, turned to TikTok to answer one question: Can it Kirkland? Can the Kirkland brand be indistinguishable from the name brand?
Going Viral
The "Can It Kirkland?" series was inspired when the band was seeking to decrease their monthly alcohol bill. Once a band member secured a Costco membership, they were instantly hooked to the quality promised by the Kirkland brand.
In June 2022, Never Ending Fall posted their first TikTok video of "Can It Kirkland?" in which they tested Kirkland's silver tequila against Casamigos. The video's success can be attributed to the original song the band wrote just for the series, the charismatic personalities of each bandmate, and the brave task of chugging hefty amounts of alcohol.
Of the 25 products tested, the bandmates could not distinguish the name brand from the Kirkland version 14 times.  
5.7m

likes on the "Can it Kirkland?" TikTok series

1.3m

average views per "Can it Kirkland?" episode
Facing Obstacles
In September 2022, Costco CEO Craig Jelenick appeared on Jim Cramer's iconic Mad Money on CNBC. Jim Cramer said "My daughter recently showed me this TikTok presentation about 'It Can Be Kirkland.' I know you didn't pay these people, but younger people are discovering that Kirkland brand can be better than the branded." Jelenick dismissed the mention of the TikTok and swiftly entered a sales-pitch mode that simply describes the history of the brand.
 Never Ending Fall responded quickly. The bandmates were disappointed that their efforts were not being rewarded or even acknowledged by Costco. As a joke, they retaliated by briefly switching their focus to Trader Joe's private label.
Eventually, the band returned to the "Can It Kirkland?" series, but they recently posted collaborations and partnerships with other alcohol brands, abandoning Costco.
Lessons Learned
The "Can It Kirkland?" series resonated with Gen Z TikTok users, since they share the same values as the creators. They are thrifty by nature, and the high-quality Kirkland brand has the potential to win the hearts and minds of Gen Z, cementing their loyalty before they head into their prime earning (and spending) years. Their perceptions of the retailer will be shaped by viral moments like "Can It Kirkland?", and Costco missed a golden opportunity to celebrate the popular series and develop a partnership with Never Ending Fall that preserved the trustworthiness and authenticity of its product comparisons.
What we think
While it's important to monitor how brands are activating sponsored content to consumers' online feeds, it's equally important to monitor organic content that leverages consumers' stories and honest opinions. Mintel Consulting provides custom social media listening so clients can understand how consumers are talking about their brand — and their competitors — online, in order to capture those viral moments. We also provide bespoke Marketing Intelligence that recommend digital marketing strategies that resonate with TikTok users with authentic, compelling messaging.
TikTok bombards with stimuli that can leave users apathetic and exhausted. However, in an app that thrives on manufactured nonsense, credible information and brand authenticity is a bright spot. While brands can't make themselves go viral, they can leverage serendipitous viral moments to show respect for content creators, commitment to transparency, and a healthy dose of humanity – all of which build trust with consumers.