Remote patient monitoring (RPM) has been a rising trend over the past many years. This growth, however, was catalyzed further by the COVID-19 pandemic, and we saw a rapid increase in participation from the industry and patients.
During the pandemic, when hospitals needed beds most, RPM allowed them to discharge their patients early and free their capacity for the next in need. It also allowed patients to avoid hospital visits and helped prevent the spread of the COVID virus. As per the Physician Practice Benchmark Surveys by the American Medical Association, 19.9% of physicians' practices had RPM in 2020 compared to 10.4% in 2018 (Source: AMA), which almost doubled in just two years.
In this article, we will explore the impact of COVID and why RPM is a promising system.
The COVID Impact on Remote Patient Monitoring
Remote patient monitoring, a setup where clinicians can monitor patients' health remotely with the help of technology, has two main components—monitoring devices and applications. Devices are used for measurements, and applications are used for recording, managing, and sharing data (with clinicians).
Of all the patient monitoring devices sold today, RPM and home care account for a considerable portion. Though these devices are required everywhere, from hospitals to home care, RPM has far more potential than any other segment. Or we can say that RPM is now a major factor fueling the growth of monitoring devices.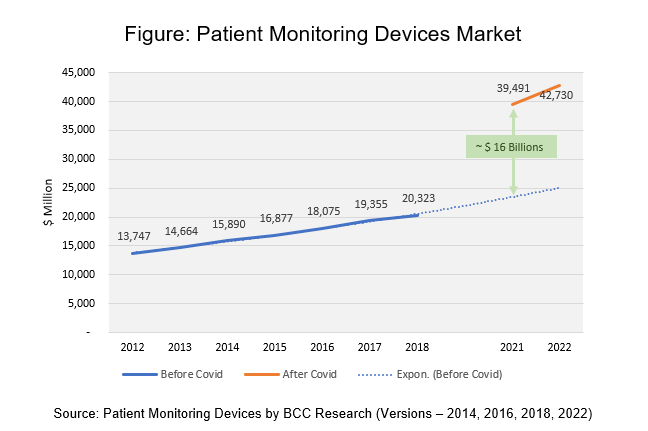 The above figure shows the patient monitoring devices market size during the last decade. The data is compiled from studies done by analysts at BCC Research in 2014, 2016, 2018, and 2022. By 2018, the patient monitoring devices market had reached $20 billion and was estimated to grow around 6% until 2023. When analysts studied the market in 2022, they were appalled by the impact (or should I say opportunity) the pandemic created. The market that was supposed to reach USD 23 billion by 2021 was indeed at USD 39 billion. Here we are talking about USD 16 billion difference or additional opportunity no one forecasted before the pandemic. And a significant portion is contributed by RPM. The pandemic has highlighted the importance of home care for patients. To avoid outside visits, many who needed healthcare support opted for RPM.
The industry sensed patients' increasing preference (and need) for home care. In response, we saw a jump in new RPM products and services after COVID.  For instance, Salesforce recently (Aug 2022) announced a new tool supporting RPM for its Salesforce Health Cloud platform (source: Salesforce). The new tool called Remote Patient Exception Monitoring allows remote collection of patient physical data. At the same time, CareVention HealthCare (a Tabula Rasa HealthCare company) launched its RPM solution that uses biosensors and artificial intelligence for patient monitoring. A month later, CareCloud, Inc. launched its RPM solution, an addition to its CareCould Wellness product line. These are just a few examples.     
A Better Patient Monitoring System for Chronic Conditions
RPM allows data collection over a long-term period, which gives physicians the ability to see patients' conditions over a greater period of time that can extend outside the traditional healthcare setting. More data gathered during an extended period provide a better picture of a patient's condition and is especially beneficial for chronic diseases.
RPM systems, in general, collect measurements automatically, allow patients to enter measurements manually, send measurements and medicine reminders, and make quick contact with medical staff in case of emergency. This is an effective system and thus has been popular among chronic patients.
Geriatrics Set to Drive the Market
Long back, before modern healthcare evolved, people used to age and die at home. Now things have changed, and aging and dying are something people experience along with the modern healthcare system. In recent years, another trend emerged where decision-making shifted from doctors to patients. Earlier, doctors used to decide on the right treatment, but now doctors lay out all options and let patients decide. The healthcare system is shifting from physician-centric to patient-centric. Now people age, and many need the support of the healthcare system. In a patient-centric approach, many prefer to live at home and choose options like hospice and RPM.
Currently, around 13.9% of the world's population is over 60 years of age. As per a recent study published by World Health Organization, by 2030, more than 16% of the world population will be over 60 years of age. So, the group's population is growing, and so do their preference for RPM. This makes them the biggest promising segment for RPM.
Related Medical Devices Market Research Reports
If you would like to explore this topic in more depth, please refer to the following market research reports:
About BCC Research
BCC Research provides market research with a boutique touch and a depth of expertise in a variety of markets. Dedicated to serving the academic community, corporate professionals and innovation teams, we provide market intel covering 25 industries across verticals in life science, environment/sustainability, materials, sensors, and commerce.
---
About the Author: Anand Dubey is an Associate Director at BCC Research, where he focuses on strategy & insights, thought leadership, market research, and data analysis. Before moving into a management role, he earned an MBA, served as an industry analyst for more than a decade, and wrote a wide variety of market research reports.