As the high cost of living continues to impact UK households this autumn and winter, shopping for seasonal food, gifts, decorations, and costumes is once again subject to restrained spending behaviour. This comes after a brief relief in seasonal retail for Halloween, Bonfire Night, and Christmas in 2021, following the lifting of pandemic-related restrictions. However, as consumers' financial situations worsen, Mintel experts are observing changes in how, where, and when consumers are spending their money. To stem the rising cost of living, Brits are reverting to different methods:
Some may opt to trade down from branded to private label products or other cheaper alternatives.
Others may cut out some products completely, or at least choose to regulate their consumption.
However, value for money remains the top order of the day for consumers across the board. Although trading down is a popular trend during financially squeezed times, many are also willing to trade up for high quality products, following a "buy less, but better" mentality.
Below, we place the spotlight on seasonal events relevant to most UK consumers, such as Halloween and Bonfire Night, Black Friday, and Christmas. How are consumers shopping for these events? We discuss how inflation affects the retail industry and buying behaviour this holiday season.
Explore all of our latest retail market research on Mintel Store
Remember, Remember: Halloween & Bonfire Night Shopping
After several years of cancelled events due to pandemic lockdowns, it is encouraging to see that Halloween and Bonfire Night are now in recovery and are surpassing pre-pandemic levels.
Both Halloween and Bonfire Night benefit from people using these occasions as an excuse to see family and friends, with many hosting social gatherings and feasts for the seasonal celebrations. Therefore, fancy dress and confectionery dominate consumer spending surrounding these events in the UK, with spending totalling an estimated £685 million in 2021, immediately following the pandemic bans.
However, following this post-pandemic uptick, the future of Halloween celebrations will be overshadowed by the impact of the cost of living crisis, causing consumer confidence to plummet and a potential return to cautious spending behaviour adopted during the pandemic. Although this poses challenges for brands to sell their products in the upcoming autumn holiday season, private labels have the opportunity to promote their products as affordable alternatives, as shoppers buying food for social gatherings are likely to trade down to maintain budgets.
Consumers Prefer Brick-And-Mortar Shops Over Online Retailers
At 62%, most shopping for Halloween and Bonfire Night in the UK is made in-store compared to purchases made online. However, there has been a notable increase in purchases through smartphones, as younger consumers continue to be a key demographic for Halloween and as they are more likely to shop online compared to older demographics. Additionally, shoppers across generations tend to look for inspiration online before purchasing. A combination of both on- and offline channels, is how brands can capture most customers' interest and provide a seamless shopping experience.
How Black Friday Aids Consumers' Pockets
Soaring prices due to inflation, the extraordinary high cost of living, and squeezed incomes have affected consumers' buying and spending behaviours in 2022. A shift in how, when, and how much people are buying will likely continue to be impacted by squeezed incomes this year.
One way consumers are tackling soaring prices is by shopping early. 14% of shoppers started their Christmas shopping before September in 2022, in an effort to spread out the cost over several months, rising to 44% who have shopped prior to October. This plays into the cards of retail giant Amazon, who hold their annual Amazon Prime Day in July . Reportedly, consumers were able to save over $1.7 billion globally and over 300 million items were sold in 2022, creating a win-win situation for the retailer and consumers alike. In addition to that, Amazon also launched their Prime Early Access sale in mid-October 2022 to help customers spread out their seasonal spending. In store and online retailer, John Lewis, also made an effort to help shoppers make smaller orders via click-and-collect by removing its £30 minimum spend until 19 October – a much welcome scheme for consumers who were being hit hard by inflation at that point.
Apart from these special sales that brands have offered over the course of last year to support customers in stemming the costs for the holidays, Black Friday has become a huge retail event beyond US borders. Over a fifth of gift buyers waited for discounts before buying Christmas gifts last year, with this being a common theme across all demographics.
It's the Most Wonderful Time of the Year for Seasonal Shopping
89% of Brits participated in gift giving over the holidays in 2022.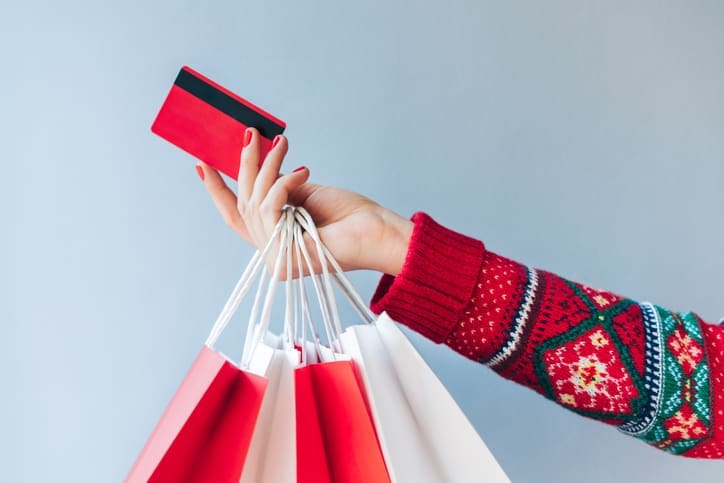 All I Want (to know) for Christmas Is… What are People Buying?
Clothing and beauty items continue to be Christmas mainstays and remained the most popular gifts to purchase in 2022. Clothing retailers such as Next, JD Sports, and Marks & Spencer have indicated that Christmas has been favourable for clothing sales and cold weather has encouraged the purchase of seasonal products, e.g. coats and jumpers. Christmas is also considered the peak party season and with restrictions on gatherings lifted, this has given the occasionwear sector a much needed boost as UK buyers shopped for formal clothing pieces to show off at the office Christmas party or family festivities.
Food – being a major aspect of the holiday festivities – also showed an uptick in sales in December. Many desire a special meal for the holidays, either in- or out-of-home, making food and drink a central part of seasonal celebrations with family and friends. Moreover, food and drink items, such as chocolates or alcoholic beverages are popular gift choices: In 2022, 33% of UK gift buyers reported purchasing food and drink items as gifts.
As Britons are headed towards an anticipated difficult January, gift cards and vouchers show an increase in popularity when it comes to gifting, as they serve as a practical gift to help the receiver with regular expenses and because they offer the recipient flexibility on how to spend the money themselves. Reduction trends have also seen an uptake last holiday season as 51% of Brits say they did not spend as much on gifts as they would have liked due to financial concerns. Others said they agreed with family members and friends to not give each other presents or to participate in a Secret Santa to ease the pressure on individuals.
The biggest threat in 2023 will be the pressure on finances that UK shoppers will continue to feel. Christmas 2022 already brought consumers' financial concerns to the forefront and produced a shift in shopping and spending behaviours, making it difficult for retailers to engage customers. This year, we will likely see even more shoppers cutting back, not just in terms of spending but also in terms of the volume of gifts bought and given. Therefore, the biggest opportunities this holiday season will be found at the lower-ticket end of the market. Gifts which combine value but don't sacrifice on sentiment and quality will be highly sought after.
How to Make Your Brand Stand Out this Holiday Season
Have yourself a merry little Christmas. Finding joy was a recurring theme in 2022 Christmas advertisements. Marketers focused on finding and spreading moments of joy during times of crises, e.g. Amazon's 'Joy is Made' Christmas TV ad in which a loving father recreates a life-size version of the snow globe that his daughter carries everywhere. She is mesmerised by the scene inside the greenhouse with shredded paper (the shredder an Amazon product) acting as snow and other items borrowed from their neighbours. With this ad the retail giant highlights how magical experiences can be made through thoughtful and imaginative resourcing, helping consumers rocking around the cost of living crisis, while simultaneously advertising their products.
Source: 'Joy is Made' Christmas Ad by Amazon
As UK consumers will continue to be impacted by rising prices, retailers are once again called to highlight value beyond pricing this year, and must support customers in finding joy in the little things this Christmas.
Consumer Focus on Sustainability this Holiday Season
Pressure and expectations on retailers grow with consumers' green sentiments and must be prepared to take on greater responsibility through product lines that do not exacerbate plastic waste and by providing services to help recycle unneeded items, or by offering recycling reward schemes that reward seasonal buyers for shopping sustainably, provide value for money, and instill customer loyalty.
The present reduction trend last Christmas is not only driven by the cost of living crisis, but also by value and sustainability goals. The focus, as our experts observed in 2022, was on buying bigger, more meaningful gifts, reducing the number of recipients, and cutting back on smaller stocking filler-type gifts. While inflationary prices were the main driver for this shift in consumer behaviour, this can also be looked at from a sustainability point of view.
This conversation will outlast the pandemic and the cost of living crisis and, going forward, the way brands are moving towards a climate-friendly economy will be scrutinised in more detail by UK customers. As 45% of consumers said they have tried to buy more sustainable gifts, it becomes evident that the demand for more sustainable initiatives from brands is increasing. While, at first glance, this may seem like an unwelcome disruption to retailers' seasonal business, it does open up opportunities that tap into the ethical and sustainable goals of UK shoppers. In an effort to help consumers with the rising cost of living and to be more sustainable, eBay focused all its promotional ads on second-hand gifts during Black Friday in 2022.

Source: greenelftrees.co.uk
Tapping into this consumer demand, the sustainable Christmas tree company Green Elf Trees possibly offers customers the most sustainable Christmas tree yet. They give consumers the option to rent their Christmas trees and have them replanted after use. Moreover, they partnered with the courier Stuart to deliver locally sourced Christmas trees to their clients within the M25. The trees were delivered using 100% electric vehicles. After Christmas, the rentable tree is collected and re-potted via a reforestation project. On top of that, for every tree purchased, Green Elf Trees donated £3 to a charity which was selected by the customer from a list of several charities the company supports. This is a great example of a company communicating transparently and working together with their customers and supporting them in making sustainable decisions without compromising on the seasonal fun of having a decorated tree at home during the festive season.
The cost of living crisis may have initiated more sustainable and value driven practices, however, even after the chokehold of inflation – which is speeding up the acceptance of gifting second-hand items – subsides, sustainability will continue to drive consumers to rethink their consumption habits and seek a circular economy.
Get insights on how to spread joy this Christmas by signing up to Mintel's free Newsletter 'Spotlight' here: