Keeping up with buyer needs and content creation has been increasingly challenging for many marketers and sales organizations. Our research tells us that creating B2B content to serve changing tech buyers throughout their purchase journeys is a top challenge for marketers.[1] This challenge also impacts sales teams that struggle to connect offerings to buyer needs without personalized content. The product-focused, funnel-oriented B2B content many marketers are still creating is not enough. They must consider their overall content strategies and how they serve buyers in different channels across their lifecycles with the content formats, sources, and elements they value most.
This is the first installment of a five-part blog post that makes up The B2B Content Guide. In this series of blogs, Forrester used existing B2B marketing research and data from the Content Preferences Study 2021 to provide marketers with best practices for creating content and content strategies.
Technology Buyers Need Relevant Vendor Content Pre- And Post-Sales
Technology buyers want to work with vendors that prove they can solve their problems.[2] Nearly 90% of decision-makers want vendors to understand their business, prove the value of their solutions, and act as a trusted source of industry knowledge. [3] And the list goes on.
Vendor content is one of the top sources of information as decision-makers evaluate technology purchase options. As such, buyers have high expectations for the content they receive. When choosing vendors, 89% say it's very important/important that vendors provide them with relevant content at each stage of the buying process (see Figure 1). Post-sales, content is essential to enhancing customer relationships. Sixty-eight percent say they will not expand a contract if they don't receive helpful content as a customer. Marketers must create content that engages customers throughout the lifecycle or risk losing them.
Figure 1. Content is essential to engaging customers throughout the lifecycle.
Vendor Content Falls Short On Buyers' Needs
Tech buyers' high expectations often lead to disappointment. Many marketers producing content are missing the mark in these areas:
Relevance. Several complaints suggest that vendors often don't provide targeted content. For example: nearly 70% of decision-makers recall receiving vendor content for which they did not opt in; 64% say that vendors send them too much material; and 51% consider much of the material useless (See Figure 2).
Credibility. Sixty-six percent of decision-makers say the material is biased towards the vendor and is not objective or balanced. Nearly 60% say they get most information elsewhere. These shortfalls make it more difficult for vendors to demonstrate value to prospects and enhance customer relationships. Tech marketers must review their content strategies and execution to ensure they address customer needs at every step of their journeys.
Figure 2. Challenges with vendor-provided materials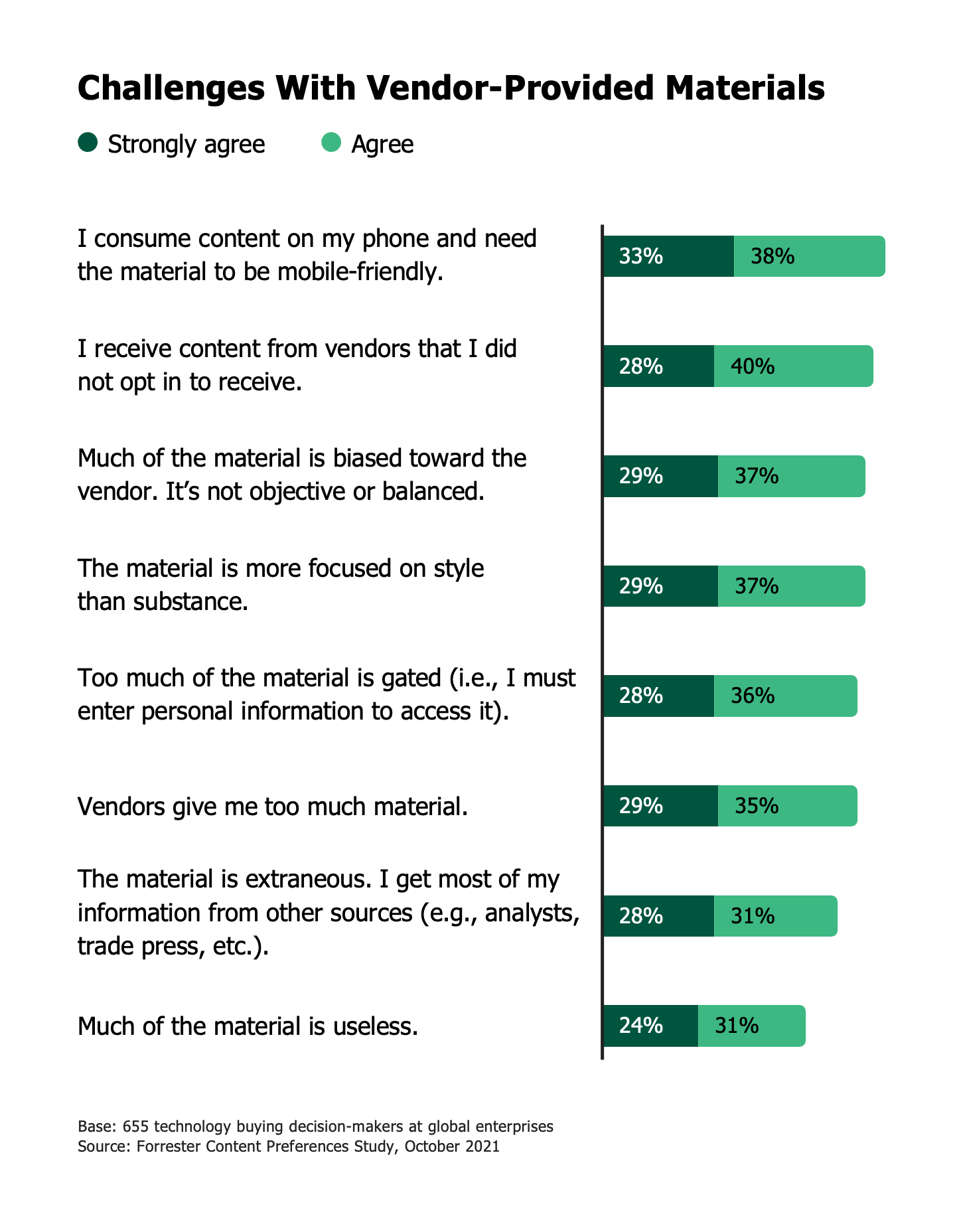 In the next few blogs, you will find further content strategy and activation best practices including: 1) building a successful content strategy; 2) incorporating the content sources and elements that facilitate purchase decisions; 3) planning a campaign that satisfies buyer preferences through their journey; and 4) enabling sales to present relevant content to clients and prospects. See the related links below to read the rest of the blogs in this series.
Endnotes
[1] Source: Forrester's 2021 Global Marketing Survey
[2] Source: Steven Casey, "Modern B2B Buyers Expect To Be Treated As Partners, Not Targets," Forrester Blogs (https://www.forrester.com/blogs/modern-b2b-buyers-expect-tobe-treated-as-partners-not-targets/).
[3] Source: Forrester Content Preferences Study, October 2021