Gen Z is revolutionising the consumer landscape. Is your brand ready to meet their evolving expectations?
As the newest generation of adults enters the marketplace, it is becoming increasingly important for brands to understand the unique needs and behaviours of Generation Z. Arriving with distinctive perspectives, preferences and expectations than previous generations, Gen Z is redefining the consumer landscape with their tech-savvy, pragmatic and socio-political characteristics.
Despite their limited spending power currently, now is the time for brands to engage with and understand this critical demographic in order to future-proof their businesses' success. We have outlined the key emerging trends with this key demographic within travel, beauty, food and alcohol, to help brands engage with this soon-to-be powerful consumer group.
Who is Gen Z?
Born between 1996 and 2010, Gen Z is the first generation to have never known a world without the internet and smartphones, making them true digital natives. As of 2023, Gen Z accounts for 15% of the UK population. Whether entering university, starting their first job or buying their first home, the elder half of this generation is transitioning into adulthood and consequently, their purchasing power and disposable income are poised to increase.
What are Gen Z's core consumer characteristics?
To fully understand Gen Z, it is vital to consider the global events that have shaped their worldview. Having already lived through numerous economic crises, the rise of the internet, climate change and the COVID-19 pandemic, Gen Z arrive in the consumer landscape with unique characteristics and expectations of brands.
1. Pragmatism
The aftermath of COVID-19 and the subsequent rising cost of living will have a varied impact on Gen Z. Some are partially insulated from the more drastic impacts of high inflation as they are still dependent on their parents. However, the economic downturn has instilled a pragmatic and more defensive spending mindset among Gen Z consumers, with 43% expecting to cut back on non-essential spending and 51% choosing to prioritise their finances as a result of rising prices. This has a direct effect on their purchasing decisions.
2. Digital Nomads
As the first generation to have grown up in a world entirely connected online, the influences of the digital world and social media on Gen Z's lifestyle and behaviours cannot be overstated. A staggering 98% of Gen Z use social media, and many turn to TikTok to research products online before purchasing. Additionally, this demographic is twice as likely to use online and mobile wallets than the average consumer. These digital nomads are able to make faster and more informed decisions about their purchases, driving a higher level of engagement with brands than ever before.
3. Commitment to Diversity and Choice
Having grown up surrounded by more diversity, Gen Z is challenging traditional societal structures, with two-thirds agreeing that traditional gender roles are outdated. They are committed to diversity and inclusion, even if it doesn't directly affect them. Generation Z is actively embracing diverse expressions of identity and seeks brands that are inclusive and diverse in their representation and marketing.
4. Demand for Environmental Change..?
Despite the assumption that Gen Z is more engaged in climate issues than older generations, Mintel's research has found that relatively few see it as a defining characteristic. However, Mintel's research has highlighted that Gen Z has adopted their own set of more modern eco-behaviours. Gen Z also holds brands accountable for improving their eco-credentials, with 34% agreeing that brands should be boycotted if they do not act on social and environmental issues.
Industry Spotlight: 5 Gen Z-focused strategies for brands to follow
Gen Z Travel Trends
Financially independent travellers
Over half of UK Gen Z are paying for their own holidays. By taking more financial responsibility for their holidays, they are also becoming bigger decision-makers over their holiday destinations and itineraries. This presents a significant opportunity for travel and holiday operators to provide what this cohort of travellers is looking for.
Whilst high inflation is not necessarily preventing Gen Z from going on holiday, it is forcing them to be more mindful of the cost of their trips and 76% of those planning a trip say that the rising cost of living is influencing their holiday plans, such as choosing lower-cost accommodation.
In order to attract young travellers, operators should offer flexible payment options. Contiki has responded to this trend and now offers a payment plan that allows customers to pay a £60 initial deposit and then the remaining balance up to 60 days before departure. To further ease the cost of trips, operators could explore offering BNPL options such as Klarna or Clearpay, with 23% of Gen Z already using these services. However, it is important that the risks associated with these services are clearly explained.
Gen Z Beauty Trends
Transparency and sustainable beauty
Gen Z consumers are increasingly making purchasing decisions based on their ideological values and beliefs. Mintel's US Gen Z Beauty Consumer report found that over a third of Gen Z adults and 13% of Gen Z teens do not use brands that act unethically, indicating that this generation is choosing to support brands that align with their ethical values. While more brands leverage their eco-ethical position, there is a risk of "greenwashing", something which Gen Z are attuned to with 58% agreeing that they don't believe mainstream brands that say they are sustainable. To avoid such accusations, brands should avoid vague language and offer evidence of their sustainable efforts.
This desire for authenticity and morality can be seen in other areas as well. Gen Z consumers are pushing back against unrealistic beauty standards, they demand more realistic and attainable representation from brands and will increasingly expect brands to destigmatise flaws. Additionally, the popularity of the social media app BeReal is a testament to Gen Z's desire for authentic content, as it enables users to share unfiltered photos within a two-minute window.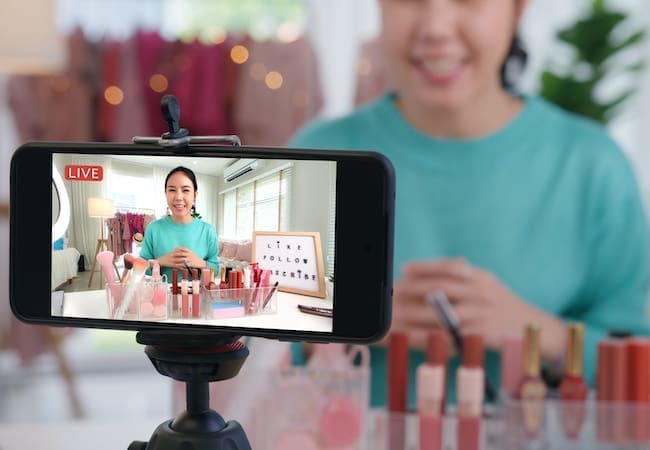 Power of virtual experiences for the digital native generation
While Gen Z is more likely to buy BPC products in-store rather than through online channels, social media, in particular, TikTok, has reshaped the way Gen Zers research, purchase and use products across the beauty and personal care industry: 69% turn to TikTok for learning about beauty, and this influences their buying decisions.
For example, a single viral video on TikTok led to a complete sell-out of Maybelline's Lash Sensational Sky High Mascara overnight. Brands can capitalise on the increased traffic to TikTok for beauty shopping by partnering with makeup influencers and makeup artists on the platform to share honest reviews since 54% of Gen Z adults trust online beauty influencers and makeup artists.
Gen Z Food Trends
Super snackers
Gen Z is the super-snacking generation and our research shows that a quarter of them snack more than once a day, while many have little affinity for the traditional rules of three meals a day. Gen Z's snacking habits represent an opportunity for brands to target them with smaller, exciting bites that are designed for different dayparts and moods. Nightfood Sleep Friendly Cold Brew Decaf Ice Cream, for instance, targets Gen Z's 'nighttime cravings' and is advertised as an emotional pick me up.
Contrary to widespread assumptions, Gen Z isn't the generation that craves healthy eating. Instead, they have adventurous palates and embrace food that stimulates their senses, partly driven by their early exposure to international flavours. Gen Z's love of discovering new flavours is tapped into by the monthly subscription service by Universal Yams by delivering a selection of snacks from different countries.
Gen Z Alcohol Trends
Compared to other generations, Gen Z has the highest usage of low- and non-alcoholic drinks peaking at 64% for 18-24-year-olds. There is ample opportunity for the main players to create non-alcoholic products that can be consumed at various occasions such as relaxing evenings in, 'high-tempo' nights out and mealtime accompaniments. By investing in ingredients that deliver a calm feeling, brands can create functional drinks that imitate the feeling of the first drink, without consuming any alcohol.
However, it is important not to pigeonhole Gen Z consumers. They may spend less on alcohol but many do still drink it. As Gen Z's purchasing power increases, companies can target them with exciting innovation which triggers their FOMO, such as alcoholic drinks with glitter or changing colour. By doing so, they can appeal to Gen Z's curiosity and willingness to experiment while still remaining respectful of their sobriety journey.
How can your brand respond to Gen Z's unique consumer demands?
It's imperative for brands to recognise Gen Z's significance as a critical demographic to engage with, particularly as their purchasing power and disposable income increase. Moving forward, Gen Z consumers will increasingly expect brands to act with authenticity, commit to diversity, improve their eco-credentials and delight them with entertaining content and unique digital experiences.
Is your brand challenging Gen Z stereotypes? Is your brand well positioned to market to the next generation of consumers? Mintel's leading experts have conducted market research to identify the latest trends and growth opportunities that will help you align your messaging with Gen Z's aspirations. Visit the Mintel Store to browse all our research on Gen Z, or alternatively, fill out our contact form, and an industry specialist will be in contact.