Metaverse is one of the trending technologies potentially transforming the next version of the internet and digital platforms. The concept of metaverse is nothing new — it is traced back to 1992 when a science fiction novel called Snow Crash was published. The story formed the idea of the metaverse by combining "meta" and "universe," where all the characters lived an alternate life.
Since then, the concept of metaverse has been widely used in movies and games primarily. The concept propelled growth for some popular games including Roblox, Minecraft, and Fortnite. The environment allowed characters to interact and play with each other while gathering in 2D environments.
The Metaverse Market in 2022 
This concept has gained momentum in 2021 since Facebook changed its name to Meta and announced an investment of USD $10 billion to build the metaverse environment. The platform will allow users to interact with friends, families, and colleagues using digital avatars.
Later, some other tech giants such as Apple, Sony, Google, Microsoft, and many others have joined in the race to build the next generation of the internet around the concept of metaverse and are spending billions of dollars in the process. They aim to combine the powers of AR/VR headsets, smartphones, personal computers, and cloud connected servers to provide an immersive experience to end-users. In a broader sense, these innovations will enable users to meet, interact with others, and carry out business in the metaverse environment. The metaverse concept has also attracted many other stakeholders including various social networks, technology leaders, retail and consumer companies, online game makers, education firms, and many other companies to make a presence within this new environment.
A huge number of investments, industry collaborations, and partnerships are expected to follow the metaverse trend. It is expected to create massive opportunities across industries. The metaverse solution will be used to carry out various purposes including gaming, content creation, social interaction, learning and training, online virtual shopping, and many other applications. It is expected to achieve industry goals like improving the existing structure, enhancing productivity, expanding customer experience, and many others.
The metaverse will transform the entire functions of an industry including sales, marketing, business operations, and various technological innovations. It will affect industries in various ways including enhancing social media experiences, improving business communication, optimizing overall productivity, creating immersive experiences across sales and marketing, revolutionizing online education, creating futuristic blockchain applications, and creating the future backbone of the new internet.
The concept of metaverse refers to a convergence of physical, augmented, and virtual reality in a shared online space and can be explained as an interconnected, intuitive, and immersive set of experiences. The platform is decentralized and not owned by any single organization. It is rather collectively created, managed, and optimized. The mandatory properties of the metaverse platform include 360-degree digital environment combining both physical and virtual worlds, the presence of a full-fledged economy to carry out financial transactions, and interoperability as a means of shifting seamlessly from one metaverse to another metaverse.
Metaverse will overlap across physical and virtual worlds to create an entire new universe where digital consumers and business will go hand in hand. Companies have started spending millions to buy a space within the metaverse. Even some countries are thinking of opening an embassy in the metaverse. It is expected to enrich our society and boom the digital economy.
Metaverse Market Share and Forecasts
Mind Commerce predicts that the metaverse market will be a combination of infrastructure to support the metaverse environment such as devices, equipment, the internet, haptic devices, and other hardware, software engines, and associated services. We predict that the hardware segment of the market will hold the largest market share, whereas the software segment will be the fastest growing segment, potentially superseding in the next couple of years.
From a solution and technology perspective, the asset marketplace segment and the AR and VR technology will be the highest contributor. From an application perspective, the gaming and game related application will lead the market.
From a regional point of view, North America will be the high adapter of the metaverse concept, attracting a huge number of customers and users performing business and entertainment in a virtual space. The growing number of start-ups focusing on establishing a commercial platform will propel growth in the region. The APAC region will be the second largest market.
Metaverse Market Report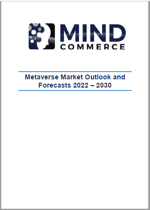 For more detailed metaverse market research, see the newly published report Metaverse Market Outlook and Forecasts 2022-2030 by Mind Commerce, a trusted market research firm focused on digital technologies.
This comprehensive 219-page report explains the building blocks of the metaverse and provides metaverse technology and application analysis, metaverse company analysis, and metaverse market analysis and forecasts from 2022 to 2030. The report also includes recommendations for a broad range of players in this industry. 
About Mind Commerce
Mind Commerce is a trusted source for research and strategic analysis focused on digital technologies and the telecommunications industry. Mind Commerce reports are designed to provide decision makers with technological insights to improve business intelligence. Mind Commerce reports provide key trends, projections, and in-depth analysis for infrastructure, platforms, devices, applications, services, emerging business models and opportunities.