One of the most dramatic changes caused by the Coronavirus pandemic was an immediate boom in online activity of all types, from ecommerce to streaming of entertainment to wider adoption of online access to financial tools, as well as utilization of online education.
This soaring activity put a severe strain on many existing networks and systems. Unfortunately, it also opened up vast new opportunities for cyberfraud, particularly in the U.S., where trillions of dollars in new government support was offered almost immediately, to businesses, education, households and cities. Much of this aid and support was in the form of easy-to-get business loans, unemployment benefits and household welfare payments.
Criminals correctly saw this as a vast opportunity, in particular an opportunity to create false identities or otherwise fraudulent applications for funds. Government systems were overwhelmed and under-protected.
Fraud in the PPP (Payroll Protection Program) small business program alone was in the neighborhood of $100 billion. In addition, unemployment benefits claims saw fraud likely totaling from $100 billion to $200 billion—no one really knows the correct amount. Elsewhere, fraudulent activity increased at ecommerce companies and financial companies. Email-based scams proliferated. Ransomware ran rampant—abusing small businesses, large businesses, hospitals and local governmental units.
Meanwhile, knowledge workers began working from home in unprecedented numbers. This created millions of new weak points in enterprise security, as these workers' own devices, their internet activities and their methods of logging into work-related networks created new opportunities for criminals to hack into major systems.
As a result, global demand for enhanced cybersecurity solutions and better online identity (digital ID) technologies soared from 2020-2022. There is every reason to think that demand will continue to be extremely strong, and that enterprises and government organizations of all types will spend immense amounts of time and money on cybercrime prevention.
Increasing Investments in Cybersecurity
The Coronavirus pandemic made it obvious that better habits, better solutions and increased investment in cyberfraud deterrence exist in many areas. For example:
Working from home by knowledge workers boomed, and to a large extent that practice will continue. This means that at-home workers need better antivirus solutions and better practices, while the enterprise-level networks they log into need much more effective user authentication and threat detection/deterrence for systems and servers. The rapidly growing use of the cloud by enterprises makes this all the more vital.
Next, consumers have, to a big degree, accelerated their adoption of ecommerce as well as online management of financial accounts. Such online activities and systems have opened the door to much greater risk from fraud. (This includes the theft of billions of dollars' worth of cybercurrencies from online accounts, even though the keys to those cybercurrencies are encrypted.)
Fraudsters are learning how to take better advantage of the proliferation of mobile devices and related apps to commit scams and take over accounts.
Continued rapid growth in cloud computing and remote file storage means that more and more data is susceptible to theft and manipulation by hackers and fraudsters.
The so-called "dark web" has grown exponentially, thanks to massive hacks at systems including government agencies and credit bureaus—making it simple for fraudsters to anonymously purchase vast quantities of personal login and ID information at modest cost, including name, address, Social Security number, driver's license number, passport number, username and password.
 Opportunities in the Cybersecurity Market
Today's heightened need for enhanced cybersecurity will boost demand for:
Better digital identity (Digital ID) technologies.
Artificial intelligence- and machine learning-based tools.
Stronger network security, such as enhanced firewalls.
Better personal device security, including for mobile devices.
Increased use of advanced personal login methods, including biometrics (iris scan, fingerprint, facial recognition, voiceprint), behavior recognition, device recognition and geolocation.
Strong demand for cybersecurity consulting.
Strong demand for employees skilled in technologies and best practices for cybersecurity.
Security platforms that deploy multiple avenues of deterrence from one vendor, such as Digital ID, multi-factor authentication, antivirus, network-wide security hardware/software and constant monitoring and vigilance.
Virtual private networks (VPNs).
Access a Comprehensive Cybersecurity Market Report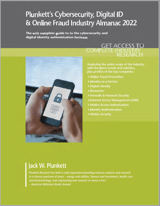 This article is an excerpt from a newly published report Plunkett's Cybersecurity, Digital ID & Online Fraud Industry Almanac 2022 by Plunkett Research, Ltd.
This detailed report presents a complete cybersecurity market overview—covering cybersecurity market growth, key market segments, and industry trends. Use this report to access up-to-date industry statistics and learn about top cybersecurity companies. 
Visit the report page using the link above to learn more.
---
About Plunkett Research, Ltd
Plunkett Research, Ltd. is a leading publisher of business and industry research, with a global client list of top corporations, consultancies, investment firms, universities and government agencies. Our core focus on is on the analysis of industry trends, industry benchmarks, technologies and opportunities. This allows us to leverage our research methodology to deliver accurate, timely information that our clients need to develop business strategies, determine market scope and consider investment opportunities