With the increasing adoption and popularity of electric vehicles and consumer electronics, the demand for battery materials such as lithium is also growing, putting pressure on already limited resources in the environment.
The manufacturing of lithium-ion batteries requires the extraction of finite resources such as lithium, cobalt, and nickel, leading to concerns about their availability in the future.
Moreover, the disposal of used batteries poses a significant environmental risk due to their toxic components.
To address these challenges, battery manufacturing firms are now recycling batteries and recovering potential metals from the black mass for producing first-hand affordable batteries.
In this blog, we will explore the importance of recycling lithium-ion batteries and the new technology developed by Aqua Metals for extracting superior-quality lithium from the black mass of spent lithium-ion batteries.
Importance of Recycling Lithium-Ion Batteries
With the demand for lithium-ion batteries in electric vehicles (EVs) and advanced electronics, the amount of waste is also increasing, putting a burden on the planet.
According to a report released by the International Energy Agency (IEA) in September 2022, the number of electric vehicles on the road is expected to reach 350 million by 2030. This will result in the creation of a massive pile of spent lithium-ion batteries ready to be disposed of.
As a result, recycling batteries can help to recover valuable metals, such as cobalt, aluminum, and lithium, from spent lithium-ion batteries.
These recovered metals can then be used in the production of new batteries, reducing the need for new mining activities, conserving resources, and saving costs.
Expensive metals and infrastructure requirements for battery manufacturing have also made recycling a more attractive and financially viable option.
This has enabled several multinational companies, such as BASF SE, Umicore, and Aqua Metals, to invest in recycling technology and infrastructure.
Furthermore, government initiatives all around the world have implemented recycling rules and grants, which support the recycling initiatives to improve battery recycling efficiency and effectiveness.
For instance, the U.S. Department of Energy (DoE) announced the execution of a $335 million battery recycling scheme in 2022.
Moreover, due to rules and grants by Chinese governments, recycling firms in China are more inclined toward integrating battery collection, black mass manufacture, black mass refining, and production of cathode active materials (CAM).
Aqua Metals Launched Li AquaRefining to Recover Superior Lithium Hydroxide
Aqua Metals, a U.S.-based sustainable metal recycling company, is transforming the metals recycling industry with its revolutionary AquaRefining technology.
On 22nd February 2023, Aqua Metals announced the successful recovery of high-purity lithium hydroxide from lithium-ion battery black mass at its Li AquaRefining recycling facility situated at the Tahoe-Reno Industrial Center (TRIC).
Lithium hydroxide is a key component in the production of lithium-ion battery cathodes, which are essential to electric vehicles (EVs) and energy storage applications.
Moreover, recovering lithium hydroxide from spent batteries is a critical step in creating a closed-loop recycling process for lithium-ion batteries, which will reduce the dependence on virgin materials and improve the sustainability of the EV and energy storage industries.
The Li AquaRefining technology enables the company to recycle spent batteries in a sustainable manner directly from the black mass using its regenerative electro-hydrometallurgy process, replacing polluting furnaces and hazardous chemicals with electricity-powered electroplating.
Instead, the patented technology utilizes electricity-powered electroplating to recover valuable metals and materials with higher purity, lower emissions, and minimal waste.
Moreover, the immediate recovery of high-purity lithium hydroxide is especially beneficial for recycling advanced battery chemistries such as lithium iron phosphate (LFP), which are becoming more popular due to their safety, relatively low cost, and prolonged usable capacity.
For instance, leading companies, such as LG Chemicals, ES Chemicals, and SK Chemicals, are set to include LFP in their portfolios, whereas automotive giant, Tesla, sold half of its vehicles with LFP batteries in 2022.
In the words of Steve Cotton, the CEO and President of Aqua Metals, "Li AquaRefining technology is unique as it can produce lithium hydroxide at scale without requiring additional costly and polluting refinement methods."
According to Steve Cotton, the ability to produce sustainably recycled lithium can have a profound impact on the lithium battery industry in North America. It can ensure a robust supply of critical metals to meet the Inflation Reduction Act.
The act is aimed at reducing dependence on foreign sources of critical materials and strengthening the U.S. supply chain for advanced battery technologies.
Furthermore, this lithium hydroxide can be economically produced according to the specific requirements of the manufacturers.
Moreover, Aqua Metals' Li AquaRefining facility has been designed to extract lithium hydroxide and manganese dioxide, as well as pure cobalt, nickel, and copper metals from spent lithium-ion batteries.
The company has planned the campus for phased development and is expected to process up to 10,000 tons of lithium-ion batteries annually.
Furthermore, Aqua Metals' success in achieving a negligible carbon footprint and significantly reducing chemical waste streams compared to traditional hydro recycling processes is a game changer in the black mass recycling industry.
This achievement not only sets a new standard for sustainable and environmentally-friendly recycling practices but also provides a significant advantage for Aqua Metals in terms of market competitiveness and profitability.
Moreover, it has paved the way for other black mass recycling companies to adopt similar sustainable practices, resulting in the growth of the market as a whole.
According to data insights from BIS research, the global black mass recycling market is projected to reach $52.99 billion by 2031 from $9.22 billion in 2022, growing at a CAGR of 21.45% during the forecast period 2022-2031.
Conclusion
While the potential of lithium-ion battery recycling is significant, there are still challenges that need to be addressed, such as the collection and transportation of used batteries as well as the complexity of expensive recycling processes.
Developing more efficient and cost-effective recycling processes will be essential for the widespread adoption of lithium-ion battery recycling that can help to reduce the environmental impact of their production and disposal, conserve valuable resources, and reduce greenhouse gas emissions.
Learn More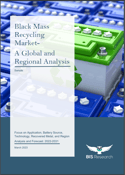 For more information on this fast-growing market, please see Black Mass Recycling Market – A Global and Regional Analysis, 2022-2031, a detailed report packed with data and insights covering market segmentation, recent market developments, market demand, drivers and challenges, the competitive landscape, and key players. This report draws on extensive primary and secondary research to help industry players design the right business strategies for this competitive, ever-shifting market.
---
About the Publisher: BIS Research is a global market intelligence, research and advisory company that focuses on emerging technology trends that are likely to disrupt the market. Its team includes industry veterans, experts, and analysts with diverse backgrounds in consulting, investment banking, government, and academia.