The U.S. pet market has shown extraordinary resilience and sales growth in the wake of COVID-19. The overall pet market grew a remarkable 14% in 2021—topping the 10% growth rate it achieved in 2020, according to a recent video interview hosted by Packaged Facts Research Director David Sprinkle.
"The last couple years have been banner years, and it's difficult to overestimate the positive impact of COVID on the pet market, ironically," explained David Lummis, Senior Pet Market Analyst for Packaged Facts.
Given the unique set of circumstances shaping the current market environment, can we expect the high growth rate to continue? And what other trends will impact the pet industry in the foreseeable future? Watch the video interview for expert insights into these questions, or read a recap of the key points from the video discussion below.
Strong M&A Activity in the Pet Market
The first trend Sprinkle and Lummis discussed was the record number of transactions in the pet market in 2021, including several very large deals. According to Lummis, the high level of M&A activity and outside investment is continuing in 2022.
Recent deals of note include:
Swedencare, a pet healthcare company, acquired the pet supplements company NaturVet for nearly $500 million.
Mars Inc. acquired fresh pet food company Nom Nom Now for an unspecified amount, rumored to be around $500 million to $1 billion.
Expected Pet Market Growth Amid Uncertainty
While the pet market attracted strong investment activity in recent years, an array of macro uncertainties could have the potential to darken the overall outlook, including economic, political, international, and supply side factors. However, as Lummis pointed out, many of these factors were at play all through the pandemic, and the pet market continued to perform extraordinarily well.
"The biggest new X factor is the war and all the uncertainties that brings with it, including the possibility—according to some economic analysts—of a recession," Lummis said. "It's really too soon to tell. The reports of economic projections are very mixed, and you still have a lot of bullishness in the pet market, so even in the advent of a very negative downturn for the economy overall, the pet industry very well may remain a safe haven for investors, and it could even represent opportunities for acquisitions, as has been the case in the past."
Ongoing Digital Innovation and E-Commerce Growth
Alongside market growth, the pet market has continued to evolve rapidly. In particular, e-commerce has helped changed the competitive landscape:
The internet has become a pet care influencer, impacting the types of products and services pet owners choose.
Pet products with Bluetooth technology connect pet owners more directly with pet care service providers, including veterinarians. This trend also helps reinforce the boom in veterinary telehealth that took off during the pandemic.
Brick-and-mortar stores are turning digital to their own advantage by offering buy-online, pick-up-in-store options, which allows them to get products to consumers faster than pure-play internet providers like Amazon or Chewy.
Digital pet care innovation pervades all areas of the pet industry, including the way people adopt pets, locate their pets, and access vetted pet care service providers such as dog walkers and pet sitters.
Direct-to-Consumer Business Models in the Pet Industry
Direct-to-consumer (DTC) business models are also taking off, as seen with Mars' recent acquisition of Nom Nom Now and PrettyLitter. DTC connects marketers directly to consumers and often cuts out the middleman, but major retailers are working to curtail that trend, because they don't want to be kept out of the mix.
"For example, Mars, after acquiring Nom Nom Now, made the announcement that it's going to also be distributed exclusively through PetSmart as well as online," Lummis explained. "You have PetPlate moving into Pet Supplies Plus, and then you have Petco, which made an alliance with JustFoodForDogs a couple years ago."
Lummis predicts that DTC will increasingly become omnimarket, because companies can't afford to completely bypass brick-and-mortar opportunities.
Sustainability Initiatives Among Pet Companies
Another key trend to watch is sustainability. The importance of health and wellness surged during the pandemic, but consumers are not only concerned about their own health—they are also increasingly focused on the health of their pets and the health of the planet. This is particularly true of younger pet owners, including Millennials and Gen Z, who see the future of the planet closely linked to their own health, according to Lummis.
Millennial and Gen Z consumers are the future of the market, and they are already inordinately high spenders in many areas of the pet market. Because of this, sustainability is becoming an increasingly important way for pet marketers to differentiate their products.
"You have marketers who are positioning both their companies and their brands on sustainability," Lummis noted. "A new cat litter brand called Sustainably Yours actually places 'sustainable' in the name of the brand, which is something I don't think we've seen until very recently."
Pet companies are not just 'greenwashing,' they are making real steps toward sustainability in terms of product sourcing and manufacturing. One of the big remaining areas is packaging, which is a major issue in the pet food business, where most of the packages are not recyclable, but there are already major moves underway to change that. For example, Mars Petcare Europe is preparing to release recycled cat food packaging.
Premiumization as a Powerful Growth Driver
Recent data from MRI-Simmons shows that during the pandemic a small boom in pet adoption occurred among middle income and upper income households, but this was largely offset by attrition among lower income demographics and more budget-conscious households.
However, even though the "pandemic pet boom" does not match earlier reports in the media, and pet adoption trends were more nuanced than previously understood, the near-term prospects for pet market growth remain strong. Premiumization continues to be a powerful driver, with upper income households very willing to spend large amounts on their pets.
"One of the best examples of the premiumization trend is the fresh pet food boom," Lummis said. "Fresh pet food costs a multiple of kibble. It's far more expensive, and it's really taking off, so it's proving once again that the sky is the limit in terms of spending compared to what we may have thought it was in the past. Of course, we want the pet population to increase, but it's almost a moot point."
Where to Learn More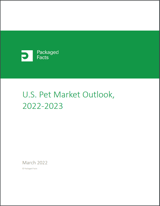 The data cited in this video discussion is drawn from the recent report U.S. Pet Market Outlook, 2022-2023 by Packaged Facts. This report analyzes retail sales and trends across the U.S. pet industry, factoring in the longer-term impacts of the coronavirus pandemic.
The report examines pet food, non-food pet supplies, veterinary services, and non-medical pet services — paying particular attention to the market impact of e-commerce and technology.
---
About Packaged Facts
Packaged Facts, a division of MarketResearch.com, publishes market intelligence on a wide range of consumer market topics, including consumer demographics and shopper insights, the food and beverage market, consumer financial products and services, consumer goods and retailing, and pet products and services. Packaged Facts also offers a full range of custom research services. Reports can be purchased at our company website and are also available through MarketResearch.com.