The fast-growing global wearable electrocardiogram (ECG) devices market offers exciting growth opportunities for competitors. A recent report by The Business Research Company (TBRC) highlights some of the key strategies that can be adopted by companies to benefit from the latest industry trends.
According to the report, the global wearable ECG monitors market size is expected to grow from $1.92 billion in 2021 to $2.7 billion in 2022 at a high compound annual growth rate (CAGR) of 40.6%. The global wearable ECG monitor market size is expected to grow to $6.27 billion in 2026 at a CAGR of 23.4%.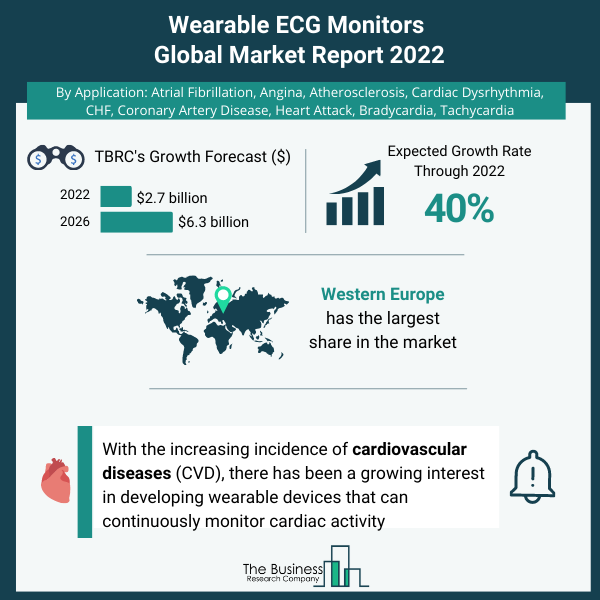 The wearable ECG monitoring market consists of sales of wearable ECG monitoring devices and related services. Wearable ECG monitors are embedded with electrical sensors and are designed to be affixed to points on the human body to monitor physiological information anytime and anywhere. Wearable ECG monitors are considered an essential healthcare tool that capture continuous signals to provide real-time heart rate and other vital cardiac signs.
Some of the key strategies for success found through global wearable ECG monitors market analysis include the following.
1. Use of Artificial Intelligence
Healthcare systems can intervene early by using AI technology to anticipate which patients are most likely to experience problems. Artificial intelligence is being developed in order to facilitate ECG interpretation. AI can analyze ECG waveforms to identify patients who are more likely to die within the next year, or experience an arrhythmia that could be harmful.
2. Technology and Analytics in Patient Care
Healthcare service providers are increasingly using the data provided by medical devices to improve patient monitoring and overall care quality. Companies are integrating medical device data with electronic medical records (EMR) to improve transparency and collaboration. Hospitals that are becoming paperless and using EMR to retrieve patient reports and data like ECGs now need an easy IT interface, interoperability, and digitally saved waveforms. As consumer wearables are becoming more common, patient data volumes are increasing, and companies are investing in deploying data management, warehousing, and security technologies.
3. Investment in Wearables and Mobile Applications
Health monitors, wearables, and mobile apps have received huge investments from medical device manufacturers, technology companies, and other investors. As these devices are marketed to track personal health and can be critical tools to monitor chronic illnesses and the safety of children and the elderly, they are of great importance – especially with increasing incidence of such illnesses.
4. Advances in the Use of Cardiovascular Monitoring Technologies
Innovative breakthroughs in cardiovascular monitoring technologies that have the potential to provide personalized care include the use of portable sensors that are easy to carry around, and machine learning algorithms. Wearable sensor technologies can incorporate various modalities and can detect a wide range of biosignals, including blood pressure and heart rhythm. In addition to medical, legal, and ethical difficulties, the use of novel biosignals for diagnosis poses questions about accuracy and actionability within clinical standards. The use of data obtained from cardiovascular monitoring devices is associated with a number of difficulties, including issues with data security, ownership, and accessibility, as well as other ethical and legal considerations.
Further information on trends along with key drivers, opportunities, and strategies can be found in Wearable ECG Monitors Global Market Report 2022, one of a series of reports from The Business Research Company that provides wearable ECG market overviews, analyzes and forecasts wearable ECG monitors market size, wearable ECG monitors market players, wearable ECG monitors market segments and geographies, the market's leading competitors' revenues, profiles and market shares.
About The Business Research Company
The Business Research Company is a market intelligence firm that excels in company, market, and consumer research. Located globally it has specialist consultants in a wide range of industries including manufacturing, healthcare, financial services, chemicals, and technology. Find the company on LinkedIn, Twitter, Facebook, or YouTube for more.