For more than a decade, Mintel Trends has been tracking how the rise of on-demand and unlimited content has shaped how we pay for everything.
Subscription surge
10 years ago, subscriptions seemed limited to newspapers and gym memberships, but now you can purchase just about everything on a month-to-month schedule, from your movie tickets to your luxury home goods. Major players in the foodservice sector are jumping on board with subscription offerings to boost traffic and frequent visits post-pandemic.
In the market
In February 2022, our Trends team reported on Sweetgreen's subscription program pilot, Sweetpass*. The subscription service was piloted in January, and offered a discount of $3 on meals every day for a month (when ordering from the app or website) for an upfront cost of $10. Sweetgreen hoped that launching the subscription at the start of the year when most consumers are creating new health resolutions would create a boost of loyalty from current and new customers. The pilot was anticipated to last one month, but given the success of this limited run, the company decided to continue testing the idea in select markets (Colorado) with a plan to rollout both a free and paid loyalty offering under the "Sweetpass" name nationwide in April.
Panera is also doubling down on their Unlimited Sip Club* by offering consumers the option to sign up for an unlimited annual beverage subscription. Mintel reported on Panera's first iteration of the program in March 2020, which started as a subscription program for coffee and tea* and has since pivoted to include the brand's specialty beverages such as its flavored energy drinks. In the summer of 2022, Panera offered new subscribers a free month of membership to test how often they used the subscription, giving the brand an outlook on how successful this model could be as a permanent offering. 
The newly expanded option to sign up for an annual membership highlights the success of this subscription program, and allows consumers to pay a higher fee upfront in exchange for a year's worth of beverages at a reduced price. According to Panera, one out of every four purchases is from an Unlimited Sip Club member, making this program an effective way to drive consumer loyalty and sales of non-beverage products. 
Local coffee shops such as Go Get Em Tiger* in Los Angeles have piloted similar membership initiatives. For $13 a week, consumers can sign up for the GGET Unlimited program which allows members to get a free drink once an hour at their preferred Go Get Em Tiger location. For an additional $5 a month, members can upgrade to a subscription that allows them to redeem their membership at all Go Get Em Tiger locations across Los Angeles county. 
This membership is pricier than other loyalty programs, such as Panera's, but appeals to those who want to support local businesses in their neighborhoods or near their place of employment. The GGET Unlimited program is another example of how community-oriented businesses are leveraging loyalty initiatives to build relationships with their customers to keep them coming back for continued service.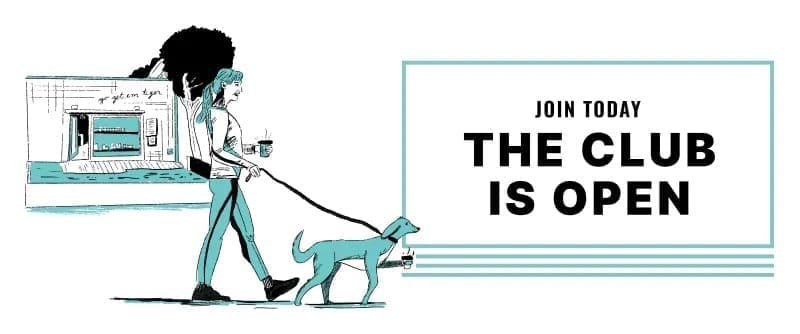 What we think
For better or worse, most people are creatures of habit. Whether at work or at home, consumers likely have a few go-to restaurants where they grab an occasional coffee or quick lunch. From the consumer perspective a subscription plan that offers discounted or free food and beverage is all upside. According to Mintel's latest Foodservice Loyalty report, 55% of restaurant goers are part of a restaurant loyalty program and 48% want to see more restaurants offering subscription programs. For diners, subscription programs feel like they are subsidizing already ingrained purchase behaviors. 
In reality, these subscription programs are driving frequency of visits and average order values. If a guest is getting what feels like a free coffee, they might be willing to splurge on a morning muffin to go with it; they will likely visit twice a week instead of once a week or turn their local coffee shop into a coworking location. 
What's happening next
We are nearing "peak subscriptions." Mintel's 2023 Global Consumer Trend Intentional Spending reveals that consumers are embracing a more mindful approach to spending, with a focus on meeting their immediate needs. While low unemployment has continued to motivate consumer spending, economic circumstances are tenuous. If rising interest rates push employers to reduce staffing, we will see more households examine their discretionary spending and those monthly subscription fees for $3, $5, $10 a piece will look like an easy place to cut back. Tiered subscription schemes may be a failsafe here, allowing consumers to trade down – but not out – of a loyalty program.