After several disrupted holiday celebrations due to pandemic lockdowns and economic crisis, the future outlook for US holiday retail sales is improving. Although value remains a top priority for many US consumers and they continue to take budgeting measures, especially those still affected by high prices, experts expect a record high in seasonal retail this year.
Read on below to find out how inflation shapes US holiday retail trends and buying behavior this year. How engaged are consumers expected to be in seasonal events? What are they buying and how are they making these purchases?
Browse Retail Market Research on Mintel Store
How Spooky are Halloween Sales Expected to be this Year?
Mintel experts think that retailers have little to be afraid of this Halloween, as despite continued uncertainty, the economy is in a better place than last year. The National Retail Federation (NRF) expects Halloween spending to be record-breaking and reach $12.2 Billion.
Compared to the UK or other markets, engagement in Halloween celebrations is high in the US. In 2022, more than half of US adults celebrated Halloween which ranked as the third most celebrated non-winter holiday after Easter and Mother's Day. This engagement translated into US holiday retail, with nearly 8 in 10 of those who celebrated, shopping across various categories. Data from the NRF shows that household spending in the US on Halloween is an upward trend.
Although consumers remain cautious with their finances due to inflation still impacting their spending power and are cutting down on non-essential expenses, it doesn't seem to be dampening holiday celebrations. Compared to 2022, when consumer confidence reached an all time low in June, things are looking brighter this year round. More than 6 in 10 US consumers say celebrating holidays is important to them, which comes as no surprise after having endured several pandemic lockdowns. People are eager to break out of their confines and explore, play, and embrace novel experiences. Celebrating Halloween is an excuse to unleash their creativity, get together with peers, and even tap into a sense of community.
Candy, seasonal decorations, food and beverages, clothing and accessories (likely in the form of a costume), and party supplies are among the items purchased for Halloween. Compared to last year, more US consumers plan to hand out candy, decorate, dress up, carve a pumpkin, and throw or attend a party. This is not limited to households with kids; plenty of adults are dressing up and partaking in the fun. What's more is that they are extending the fun to their fur babies too. Mintel research on pet owners finds that 68% purchased apparel and accessories for their pet in the past year and while this isn't specific to Halloween, it is an indicator of the number of people who would be open to purchasing costumes for their pets.
Although spending on Halloween is expected to hit record levels this year, inflation has not completely left consumers' minds. Therefore, value-oriented retailers such as mass merchandisers, discounters, and dollar stores will be the most appealing this Halloween. There will be more focus on low prices to stay within budgets, private label items, DIY costumes and decorations, and flexible payment options as consumers try to stretch their dollars further this spooky season.
How Black Friday Swoops In to Save Budget-Conscious Consumers
Although consumer confidence in the US is on the rise again, shoppers still feel the pinch of the economic squeeze and are responding to high prices by purchasing fewer gifts or by setting limits on how much they spend this holiday season. Taking this into consideration, discounts and promotions have been critical for most shoppers who turned to coupons, deals and major shopping holidays such as Black Friday and Cyber Monday. This is especially true for households with a tighter budget.
Looking ahead to this year's Black Friday, promotions are expected to once again have a key impact on the season. An effective promotional strategy and value-based messaging will be crucial in the season ahead as consumers are trying to rebound from peak inflation.

Black Friday and Amazon's Deal Days have become a staple in seasonal retailing in the US.
Following the retail giant's lead, US chain Target introduced their Target Deal Days in October, launching just five days before Amazon's sale. Similarly, Walmart shifted their Black Friday sale as the retailer sought to reinvent the Black Friday and Cyber Week calendar. They promoted their sale, leaning on nostalgia and comic relief to provide value-centric messaging to a stressed and inflation-weary crowd.
With the extensive messaging and marketing campaigns that retailers are rolling out for Black Friday and Cyber Week year on year, it is turning into its own massive holiday, partly over-shadowing Thanksgiving the day prior to Black Friday.
Christmas Reigns Supreme over Seasonal Retailing in the US
Christmas continues to be the largest retail period, with 91% of US adults shopping for the holidays.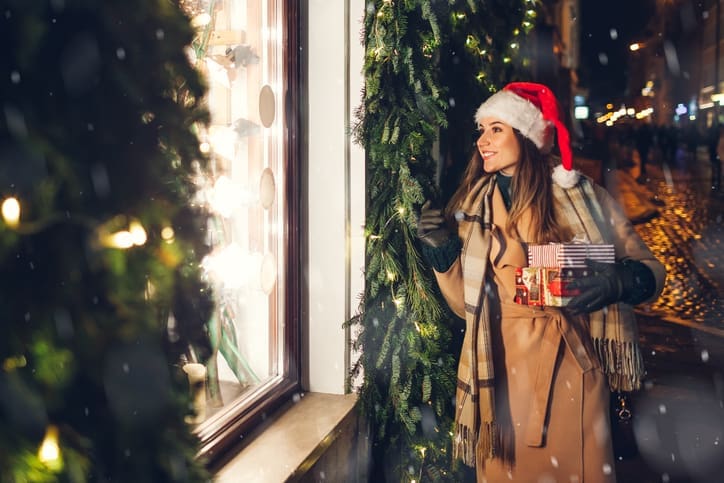 2023 will be no exception, as US holiday retail sales for Christmas are predicted to reach $1.07 trillion, which will exceed the previous year. Despite continued disruptions and inflationary prices, spending on seasonal events has reached record levels even throughout the pandemic and economic crisis, demonstrating US consumers' resilience during an important time of year. However, rising prices were a primary driver of increased spending in 2022, and consumers went into the season prepared to spend more and get less. That said, consumers took a range of approaches to manage their spending, including an increased emphasis on deals, setting limits on gifting, or looking to new ways to save money, e.g. browser extensions that highlight saving opportunities and secondhand shopping. A compelling value proposition will therefore again be front-and-center in shoppers minds. Nevertheless, 2023 presents promising opportunities for retailers and brands to recapture the winter holiday spirit.
Convince Consumers with Multi-Channel Convenience
The shift toward eCommerce has had staying power, especially during the winter holidays, but most consumers are spreading their shopping across channels in equal measure as omni-channel flexibility allows consumers to shop most efficiently. Moving beyond a pandemic-era habit, digital tools have added value to the shopping process in the form of convenience and seamless deal-seeking. Looking ahead, consumers will continue to leverage omni-channel flexibility that allows them to shop however and wherever they choose. Brands who can provide the most seamless multi-channel shopping experience are best placed to tap into consumers' needs this holiday season.
It's the Most Wonderful Time of the Year
Consumers have been resilient through years of disrupted festivities, but a feeling of fatigue is creeping in that could affect US holiday retail sales. Consumers are eager for ways to escape their stress and focus more on the moments that matter. Retailers and brands that leverage nostalgia and promote the warmth of the season will resonate with weary shoppers in need of a holiday pick-me-up. Shopping participation for gathering-focused holidays such as Thanksgiving, New Year's Eve, and Christmas has dropped over the last year as consumers reign in spending or otherwise struggle to redefine holiday traditions after pandemic precautions. To reinvigorate the holiday spirit, brands need to take a supportive tone, offer solutions, and make an emotional connection with shoppers. Nostalgia is likely to resonate with a consumer that could use a reminder of what holiday celebrations can and used to be.
Pop-up Stores Are a Growing Trend
The holidays are an ideal time for brands to explore new concepts at a time when consumers are eager to discover and experience new products and brands. Pop-up stores have proven to be a great way for retailers to revive interest in in-person experience and are a way for online-only brands to test the waters of brick-and-mortar stores. Additionally, the limited-time concept makes consumers feel they are getting something extra special, which helps create interest.
Consumers Are Going Loco for Local
Conscious consumerism has been on the rise in recent years as consumers have become more cause-oriented and want to support brands and retailers that align with their own values. In 2023, 38% of adults plan to shop from a local or small business to support their community, while more than one in five plan to shop for a specific brand or retailer because it is either affiliated with a cause or charity, is a minority-owned business, or because the company is known to take care of its employees. These behaviors are among the major US holiday retail trends and are expected to grow in the upcoming holiday season now that consumer confidence is on its way back in the US, as inflation may have had an impact on their ability to give back.
What to Expect This Holiday Season
While inflation may be moderating, budget-consciousness and other savvy shopping behaviors picked up during the pandemic years and times of economic crisis, are sticking around. And, although seasonal retailing in the US promises a brighter outlook, value remains a key priority for shoppers, with deals and discounts, as well as second-hand retail expected to play a major role. Brands and retailers should be prepared for more intentional buying strategies with a focus on price and quality over quantity, and for a more flexible retail calendar, as consumers try to spread out the costs of the holidays across the year, leaning on retail events like Black Friday and Cyber Week.
Don't be a Scrooge and join in the festive season with more Mintel insights by signing up to our free Newsletter 'Spotlight' below.