Consumers are concerned about high prices and supply chain issues at the grocery store, but these troubling issues are only one aspect of the overall market landscape.
Investors and food industry players should also take note of several other important food trends that have grown recently and are expected to gain further traction in the coming years, according to the newly published report Food Market Outlook 2022 by Packaged Facts, a leading market research firm and division of MarketResearch.com.  
1. CEA-Indoor Farming
Also known as controlled-environment agriculture, CEA has surged in the last few years. Because CEA often relies on vertical farms and pesticide-free hydroponic or aeroponic processes, it requires less water and land and is more sustainable than traditional farming. Even though the CEA industry is still small, it's growing rapidly and could account for a large percentage of the salad category in the next 10 years. Big companies are getting involved in this increasingly competitive space: Walmart partnered with and invested in vertical farming company Plenty in early 2022, for example.
2. Plant-Based Alternatives
Another big trend is plant-based food alternatives, which continue to proliferate. Plant-based food alternatives have been hot items among vegans and vegetarians for years, but they are also popular among flexitarians and omnivores. More and more consumers are choosing to make all or some of their diets plant-based to support their health, protect animal welfare, and help the environment. A growing number of plant-based alternatives can be found in a variety of food categories, from cheese and ice cream to snack bars and salty snacks.
3. Non-Plant-Based Alternatives
However, not all consumers are satisfied with meat and dairy alternatives made from plants, and the push continues to make meat and dairy alternatives from animal cells and other natural materials that more closely mimic the appearance, taste, and texture of conventional products. Cultivated meat products—also known as cell-based, lab-grown, or cultured meat products—could disrupt the meat market, but they are not yet available to consumers in the U.S. Animal-free dairy is also being developed. Perfect Day has raised $750 million to develop animal-free dairy ingredients using fermentation.
4. Ethical Impact and Sustainability
An increasing number of consumers make purchasing decisions at least partly on environmental, social, and governance (ESG) issues. Younger consumers are especially concerned about protecting the environment, animal welfare, and other social issues. Some food marketers have responded by developing products to address these concerns. For example, Chobani is converting some of its packages from plastic to paper. The company also added Fair Trade Certified versions of its 32-ounce Greek yogurt  containers during 2021.
5. Better-for-You Formulations
Health and wellness became a top concern for many consumers during the COVID-19 pandemic, and food marketers are producing better-for-you products that offer additional appeal to health-conscious consumers. Although consumers want products that are nutritious, they must also taste good, and (surprise, surprise) parents only want to buy food that kids willingly eat. Opportunities in better-for-you snacks focus on natural ingredients, decreasing or eliminating sugar, incorporating more protein, enhancing energy, and meeting specific dietary preferences and needs.
6. Easy Meal Prep
Many consumers are still cooking more at home than they did before the pandemic, and they are eager to snap up convenient meals such as prepared and pre-seasoned meat, pre-made sheet pan meals, ramen, frozen pizza, and chopped salad kits. The use of meal kit delivery services also rose during the pandemic. However, many people view meal kits as a more expensive option than purchasing food in the grocery store, and budget-conscious consumers may cut back on meal kit subscriptions if they worried about inflation and rising food prices.
Where to Learn More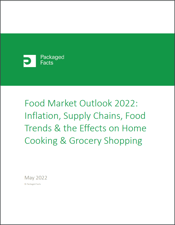 These are just a few of the food trends covered in the report U.S. Food Market Outlook 2022: Inflation, Supply Chains, Food Trends & the Effects on Home Cooking & Grocery Shopping by Packaged Facts. This report is packed with actionable insights about consumer trends, behavior, and motivations.
With a focus on "what's next" in the food industry, the report provides specific recommendations to guide retailers, services providers, wholesalers, food processors, packaging firms, and investors in making business decisions. Read the report's abstract to learn more.
---
About Packaged Facts
Packaged Facts, a division of MarketResearch.com, publishes market intelligence on a wide range of consumer market topics, including consumer demographics and shopper insights, the food and beverage market, consumer financial products and services, consumer goods and retailing, and pet products and services. Packaged Facts also offers a full range of custom research services. Reports can be purchased at our company website and are also available through MarketResearch.com.