A Rolls Royce, a Holiday Inn, anywhere within 50 feet of an Abercrombie & Fitch store—nothing smells quite like a scent marketing gimmick that works.
Scents have more mystery than sights and sounds. They make themselves known in the background, long before you can name them. They feel personal; they surface memories. And brands want in. They're using custom scents to establish emotional connections as subtle as they are powerful. Scent marketing is a way for brands to take control of their physical environments to hammer home a consistent ambiance that complements more classic—and obvious—sensory elements.
It's not just consistency, though. It's also the way scent connects a brand to a consumer on a personal level. By establishing their own brand identities with something like scent, which surfaces distinct memories for each person, companies can set the tone of the customer relationship. From our consulting work at Mintel, we know that when a brand elicits the right emotions, it can drive positive associations—and even purchases and loyalty.
One industry that has been particularly permeated by the scent trend is travel. Because travel is all about providing people with the ultimate "experience," it's a space that seeks to satisfy all of the senses. Westin was one of the first hotel chains to use scents in branding, with a signature scent of white tea, vanilla, and wood cedar. The Four Seasons Hotel in Chicago uses a blend of "local violets, water lilies and clean citrus with hints of cedarwood" provided by Air Aroma. The Mandarin Oriental Hotel & Spa in Hyde Park, London, uses warm sandalwood, floral jasmine, and frangipani, and guests can bring candles home with them to take their experience beyond just their stay.
These smells are not just random, pretty smells. Some brands look to location and audience to create specific concoctions, even hiring "olfactory branding specialists" to curate particular scents to align with their target consumers. So if a hotel is in the center of a bustling city full of business travelers, it might prioritize smells like eucalyptus to get people energized, whereas a small mountain lodge catering to yoga retreaters might go for lavender instead.
American Express is another brand that has embedded itself within the travel narrative, especially through promotions of its Platinum card. Adopting bold statements like "experience a world of inspiration with Platinum," it homes in on the ways this premium travel card elevates travelers to another level, with everything from artistic card designs to TSA PreCheck credits to exclusive airport lounges.
And its lounges—you guessed it—have a smell of their own. Last year, American Express put on perfumer gloves and blended an American Express Signature Scent, which combines the likes of pink peppercorn, lavender, bergamot, and leather. This smell is available exclusively to the noses of Centurion Lounge patrons, and American Express even brought the scent into a direct mail campaign, urging potential Platinum cardholders to "gently rub the Centurion logo to take in the American Express Signature Scent."
This strategy not only made a direct mail piece more interactive and interesting, but it also brought to mind a potentially nostalgic experience to consumers who may remember Scratch 'n Sniff stickers or perfume advertisements in magazines.
What's more, a scent itself can become linked to a memory of a place. So if a hotel or lounge smells good in a specific way, a traveler will forever connect that scent to fond memories of their vacation.
But scent's about more than memory. It's also about the here and now, a crowded landscape of logos, taglines, and overall aesthetics that have become so mushy, ubiquitous, and boilerplate that they often blend together. "Millennial blanding," the grays and pastels and sans-serif typefaces that have come to dominate creatives, is just that: bland. And though legacy brands can still rely on established visual identities and memorable taglines, it's easy for consumers to forget which bank, specifically, asks what's in your wallet.
That bank, for the record, is Capital One. And it's one of the few financial brands that's already hinted at olfactory branding.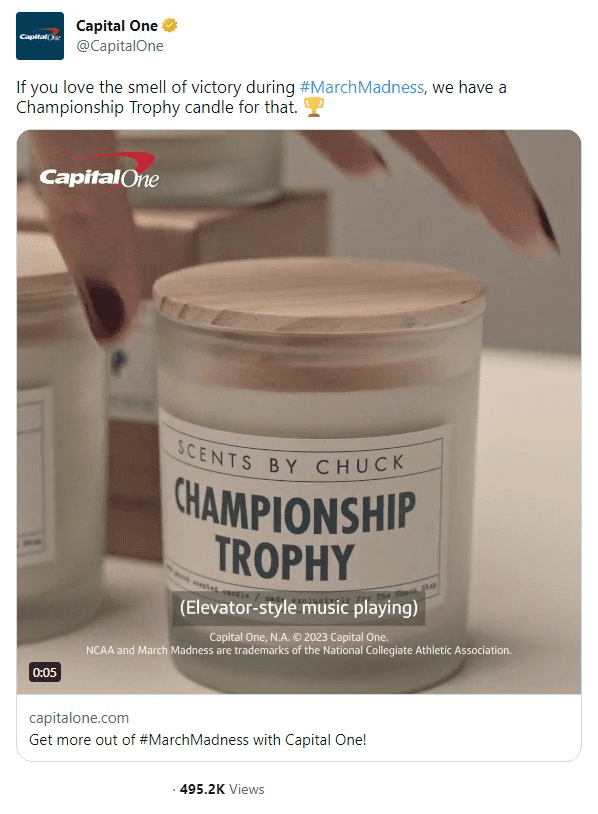 Chime took it a step further, not just hinting at a candle but actually making one.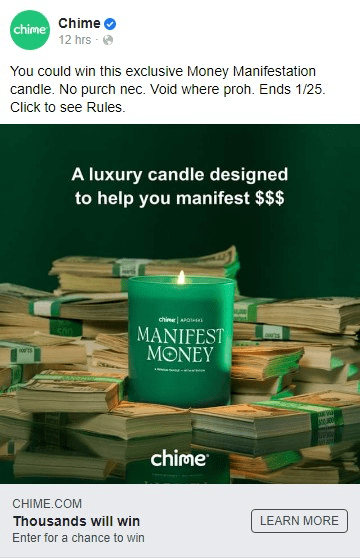 Chime's surprise-and-delight "Manifest Money" campaign ran from mid-January to the end of the month and spanned owned social media, paid social media, and online display advertisements. It involved sweepstakes for people to win a "Manifest Money" candle made by candle company Apotheke. The idea capitalized the "manifestation" trend, prevalent across social media, to elicit a feeling of confidence. Chime chose cedarwood, patchouli, and amber to evoke fire, which it said would help drive consumers' rituals—in this case, manifestation practices. Like the candle, Chime insinuated, Chime's products themselves could help people manifest a strong financial future. 
Travel and financial services are not the only industries that have, and will, benefit from scent branding. Disney uses scents at certain shows to give them more realism, and popcorn smells waft through its parks to encourage the purchase of snacks. Rolls Royce extends the "new-car smell" throughout its shops to subliminally influence potential buyers.
In this sense (ha), think of scent as the next step in the race to stand out in new ways. Consider the timeline of branding elements in a timeline: First, visuals and text. Next, sounds, like jingles and sound effects. These can be wildly effective: Consider State Farm's jingle: "Like a good neighbor, State Farm is there." We all know it well—so well, in fact, that after State Farm removed the words, we still recognize the melody. 
But that melody is the same for everyone. Not so with fragrance, and if State Farm wanted to evoke more personal associations, it might turn to a signature scent, often thought to be the strongest trigger of memories. The caveat there, though, is that the signature scent must also make sense. Scent branding is great if it's done right – if it aligns with the nature of a brand's audience, the way the brand wants them to feel, and the other sensory experiences they are having, from sound to sight to touch.
The biggest limiting factor is space since scent can exist only in the physical realm (at least for now). While this further adds to its allure as something that can drive connection through in-person experiences, it's also an obstacle: Not all brands have physical spaces. Even those that do will have to one-up each other on aromas as they become a more common tactic. So keep an eye—and nose and hand and ear and mouth—on whatever feeling is next. It may take a sixth sense to get there.
For more information on how Mintel Consulting can help your brand strategize your next marketing campaign, reach out today.